Our Findings Give You Business Decision Making
Monthly Business Brief, November 2023
1 December, 2023
Economy
Martial law orders in 8 townships in Northern Shan State
              Two weeks after the attack by ethnic armed groups called Northern Alliance, the SAC imposed martial law in eight townships in the Northen Shan State, where fighting was the most intense. The affected townships are: Kunlong, Kutkai, Namhkan, Muse, Lashio, Theinni, Laukkaing and Konkyan. Under martial law, executive and judicial powers in these regions have been transferred to the corresponding North-East Military Command and Laukkai Regional Command.     
Terrorists attacked with drop bombs near Myanmar China border that destroyed 120 loaded cargo trucks
              The fighting has escalated to new heights when on November 23rd, the SAC reported that ethnic armed organizations (EAOs) had launched a drone strike in Muse, destroying 120 cargo trucks out of 258. The trucks were carrying household goods, consumer goods, clothes, and building materials which were lost as a result of the subsequent fire. The attack was centered near a trade terminal, and has caused the most property damage since the operation began.
Since the fighting began, Myanmar-China bilateral trade has been heavily disrupted as vital transportation routes have been marred by conflict. Muse, which normally facilitates US$60 million in trade monthly, has not overseen any passage of goods. Similarly, Chin Shwe Haw, located near China's Yunan province, has halted all trade movement. Essential items, particularly rice, have seen price increases, putting pressure on local residents.
Banking and finance
CBM announcements on rumour of bank deposit
              The CBM has moved to quell rumors of cash withdrawals being restricted at certain banks, and that there is, in fact, no limits of any kinds being imposed on any kind of cash withdrawal. It has reassured the populace that the banking industry has been performing excellently and that there is no need to panic. The rumors were suggested to be the result of needless fearmongering on social media intended spur to public into a state of uncertainty. The CBM has been cooperating with the relevant organizations to take action.
CBM assures fully guaranteed on public loss of bank deposits
              In the interim, the CBM has assured that mechanisms are in place to assure all customer's deposits accounts are guaranteed. In the case of bank branch failure or closure, customers can withdraw their money at other branches. Arrangements have been made to reimburse customers if they have lost their deposits due to unforeseen circumstances, provided that evidence is provided. Mobile banking services and digital financing services remain functional to ensure customers can access to their accounts at all times.
              However, at the same time, the CBM has cautioned against excessive withdrawals, citing the dangers of inflation. Irregular amounts of money in outside circulation encourages speculation in property, gold, and FX, leading to higher inflation rates. The CBM has warned that individuals who withdraw abnormal amounts of cash may be monitored for suspicious activity.
KBZ announced old deposit accounts can be used as before
              KBZ has removed all restrictions on its deposits accounts as of November 15. All deposits accounts, including savings, call, current, and fixed deposits accounts are no longer subject to any restrictions on deposits, withdrawals, or transfers. Currently, KBZ is the first major bank in Myanmar to do so.
              This has been the first instance since 2021 that there have been no transaction limits imposed on customer's accounts. During the bank run in 2021, KBZ was one of many banks that were forced to limit the amount of money that customers could withdraw from their accounts through various channels. The limit was Ks.400,000 per card. When long lines began to form at ATMs, they were soon disabled and withdrawal services shifted to appointments only. As the crisis subdued, KBZ gradually resumed normal operations, setting a new limit of Ks.10 million per week.
Equity market in downward spiral
              The Yangon Stock Exchange (YSX) has reported its lowest valuation in terms of total trade value in October. After a shaky performance in the first half of 2023, the YSX hit a record high of Ks. 2 billion in total trade value in July alone, nearly matching the total values from January to June put together. Part of the reason for this massive upswing is due to the addition of a new listed company, Myanmar Agro Exchange Public Co.Ltd (MAEX). However, from that point onwards, total valuation and total trade volume have seen a steady decline. In August, it almost halved to Ks.1.3 billion with 509,827 traded shares; in September, Ks.1.4 billion with 302,164 shares; by October, it has dropped to Ks. 772 million with 305,102 shares.
              The YSX was first established in late 2015 and began operations in earnest around 2016 with three listed companies. Today, there are a total of eight companies listed on the exchange, spanning a wide range of industries, from banking, investment, to hospitality and wholesale.
Discussion of direct payment in Taka and Kyat in Myanmar Bangladesh Trade
              On November 10, the CBM Governor Daw Than Than Swe met Bangladeshi Ambassador Dr.Md. Monwar Hussein in Naypyidaw and discussed the possibility of using direct Kyat/Taka payments to facilitate banking and trade between the two countries. The Bangladeshi currency joins the Indian Rupee as part of the Myanmar government's plans to expand its foreign reserve portfolio and reduce the economy's reliance on the US Dollar. The Chinese Yuan and Thai Baht have already been implemented to facilitate trade payments earlier this year, and there have been talks to include the Russian Ruble as well.
Trade
Companies to face legal actions of failing to deposit export earnings
Starting from November 17, 2023, the Trade Department is enforcing strict measures against companies that do not deposit their export earnings into designated bank accounts, as outlined in the existing law since November 6. Exporters must deposit earnings in foreign currency within 45 days for Asian countries and 90 days for countries outside Asia. Failure to comply results in legal action under the Foreign Exchange Management Law, as per the CBM's notification 27/2022. The Trade Department reiterated the deposit requirement on November 6 and warned of legal consequences. Exporters failing to comply face suspension of registration for two weeks, with subsequent legal action if non-compliance persists. The process involves notifying the Ministry of Commerce, AD banks, and the Union of Myanmar Federation of Chambers of Commerce and Industry. Export/import registration is restored only upon confirmation from the CBM that earnings have been settled.
Traders allows to shift licenses from Muse/Chin Shwe Haw route to other posts
              As a result of the conflict that disrupted trade in Northern Shan State and the ensuing closure of the Mandalay-Muse Highway, the Ministry of Commerce has permitted exporters to repurpose their licenses from Muse and Chin Shwe Haw to other posts along the Myanmar-China and Myanmar-Thai borders. Moreover, trade over sea will also be permitted on a case-by-case basis. According to observers, traders will most likely shift over to Lweje, located in Kachin state, and Mong La in eastern Shan State. The alternative routes are not without issues, however, in the form of additional overhead and logistics costs. For one, cargo trucks cannot directly enter China through Mong La, and would have to instead transfer their goods using Chinese short-haul truck services there. While entry into China is possible in Lweje, there is no direct trade route that links Lweje with major cities, requiring traders to make an additional stop at the city of Bhamo. Transport costs and duty fees have also increased. Muse's infrastructure is able to handle large volumes of trade as one of the main trade hubs in Myanmar, which cannot be said for Lweje and Mong La. Traders have added that sea routes are also unfeasible due to the time constraints and distance.
Muse traders trying to export fruits to other borders- Loije and Mong La
              These challenges disproportionally affect Myanmar traders over Chinese traders. Chinese exporters primarily transport non-perishables, such as building materials, over to Myanmar. The value of their goods is not as affected as much by the change in the logistics situation. In contrast, Myanmar exports agricultural products, the quality of which can easily decline due to damage from longer transport times. Currently, traders are only transporting fruit, in lieu of rice, peas, and other agricultural products. Particularly, watermelon traders have reported that damages can devalue their cargo to the point of not covering transport costs by the time it arrives in China. The demand for watermelons has also settled down, leaving the Myanmar watermelon industry in a difficult situation.
Rubber prices drop in Mon State due to trade route blocked
              The closure of major trade routes has also affected the price of rubber in Mon State. Rubber prices for the RSS-1 variety were around Ks.1700-1800 per pound in October, and has since fallen to Ks.1450 in November. According to one farmer, normally, prices would normally be around Ks.2000 per pound this time of year. Other rubber varieties, including Local-3, has similarly fallen. The closure of the roads has not only prevented the export of rubber, but has also prevented the arrival of local traders and buyers, further exacerbating the situation. Farmers have added that if the current prices continue, their business may soon become unsustainable, notwithstanding the numerous security concerns.
              The majority of Myanmar's rubber production is exported to China. It is also shipped to neighboring ASEAN countries, including Thailand, Vietnam, and Malaysia, as well as South Korea and Japan. There are over 1.6 million acres of rubber plantations total, with Mon state accounting for over 30%. 360,000 tons of rubber were produced last year, of which 200,000 tons were exported. In 2021, the rubber trade accounted for more thanUS$449 million.
Mandalay to host International Trade Fair & Investment Forum in December 2023
              The Mandalay Region Chamber of Commerce and Industry (MRCCI) has announced that the city will host the Mandalay International Trade Fair and Investment Forum for the second time in December 2023. The event will feature 262 booths from various countries, including China, India, Bangladesh, among others, showcasing a wide range of products such as foods, cosmetics, medicines, and machinery. The event will boost investment, create new opportunities, and promote business between the countries, according to MRCCI President U Win Htay.
Investment
Re-constitution of Kyauk Phyu SEZ Management Committee
The Kyauk Phyu SEZ Management Committee has underwent a change in constitution, as of November 20, 2023, as per Directive 3/2023 from the Myanmar SEZ Central Committee . Most notably, Ministry of Commerce Officer on Special Duty U Kyaw Shwe Tun replaces U Myint Thein as Chairman of the committee. U San Shwe Maung from the Rakhine State Government has stepped down from one of the Vice-Chairman seats and has assumed the role of a member, leaving retired Department of Urban and Housing Department Deputy Director-General U Win Myint as sole Vice Chairman. The committee serves an overseeing role and assumes the duties and responsibilities as laid out in the Myanmar SEZ Law.
Extension of Call for EOI on formation of public company in Kyaw Phyu SEZ
Kyauk Phyu SEZ in Rakhine State is one of three SEZs in development in Myanmar, the others being Dawei SEZ in the Tanintharyi Region and Thilawa SEZ in Yangon. In order to bolster further investment, the SEZ central committee will call for an Expression of Interest (EOI) for the establishment of the Myanmar Government Designated Entity Consortium to collaborate in the deep-sea port project in Kyauk Phyu SEZ. To join the consortium, Myanmar-owned companies must be domestically owned private or public companies and must be legitimately registered under the Myanmar Companies Law 2017. They should have continuous operations, possess the relevant documentation issued by the Directorate of Investment and Company Registration (DICA), and not be suspended on its online platform.
Moreover, eligible companies must have a minimum of 10 years of incorporation or five years of experience in successful infrastructure development. A company must have a minimum turnover of US$20 million or an equivalent amount in foreign or local currency over the past three years. Entities seeking inclusion in the consortium must not be blacklisted or disqualified by the ministry, Naypyitaw Council, or regional and state governments.
Energy
Formation of a leading committee for the purchase of fuel from Russia
The SAC as announced the formation of a committee to oversee the purchase of fuel from Russia. The committee will be responsible for: the proper storage of fuel; reviewing prices and costs; ensuring proper quality control; drafting standard procedures and regulation and assuring compliance; coordinating between relevant public and public organizations; reporting monthly foreign currency; tracking logistics; and among other tasks as deemed relevant to the country's policy goals. The committee will be chaired by Lt.Gen Nyo Saw, along with membership by various ministries, including the Ministry of Transportation and Communications, Ministry of Electric Power, and the Ministry of Commerce. In addition, individuals from the private sector also constitute membership, including STAR HIGH, Yetagon Energy Trading, and SWAN Energy.
The Myanmar government continues to forge stronger relations with Russia, with collaborative projects in energy, finance, and tourism. There have been discussions between the two countries to facilitate direct Kyat-Ruble payments for fuel, as well as adopting the Russian card payment system Mir in Myanmar. Furthermore, Russia has expressed interest in developing Myanmar's renewable energy goals, with projects such as nuclear power plants and wind plants currently in progress.
Myanmar, China signed agreement to purchase electricity from three solar projects
Myanmar's renewable energy efforts continue to show progress, as the Myanmar government has signed an agreement for purchasing electricity from three solar projects, Kyeeon Kyeewa, Kinda and Sedoktaya in the Magway and Mandalay regions. The total capacity from the three projects will be 90MW, which while modest, nonetheless signals further development in the developing renewable energy sector of Myanmar, especially solar energy. Currently, there are 14 power projects in development, and six in operation providing 180MW of power to the country. China continues to invest in Myanmar's development as part of its Belt and Road Initiative, which will further improve relations and cooperation between the two countries.
Transportation
Security forces clear and restore Pyin Oo Lwin to Kyauk Me road
The conflict has affected many key transportation routes along Myanmar's northern region. Not only was the Mandalay-Muse highway affected, the highway that connects Pyin oo Lwin to Lashio was disrupted at thirteen separate locations. Regional transport between villages along these points were reportedly blocked by deep ditches, earth mounds, and felled trees. The relevant authorities have managed to clear twelve of the blockades since 19 November and are actively attempting the clear the rest. In the interim, they have assured travelers that much of the highway has returned to normal conditions and they have guaranteed safety by conducting security patrols around the region.
Authority temporarily closure of Land routes and waterway in Rakhine State
The fighting has also escalated in Rakhine State as well. The Yangon-Sittwe Road has been closed by the authorities; there have been reports that EAOs have also been conducting their own stop-and-search operations along some sections of the road. Waterways have also been blocked. The authorities have begun increasing their security efforts in order to restore normalcy for residents in the region, as they are the most likely to be affected by the disruptions. 
COVID
In order to continuously control the infection of COVID-19, the rules and restrictions have been extended until the end of December 2023. 
Monthly Business Brief, October 2023
1 November, 2023
Economy
It is estimated to 56.2 Million People living in Myanmar as of October 2023 based on 2014 Census by Department of Population. By States and Regions, Yangon Region has highest population of 9 Million people and followed by Shan State and Mandalay Region with 6.8 Million respectively. Among the States, Kayah and Chin are lowest populate states with 0.4-0.5 Million population while Tanintharyi Region has been lowest populate region with 1.6 Million people among any other regions. Compared to 2019 Inter-census population, 2.2 Million people has been increased within 4 years. Populations by States and Regions are as seen in the following Figure: 2023 Estimated Population of Myanmar by States and Regions
Figure: 2023 Estimated Population of Myanmar by States and Regions
Source – Department of Population
The Copy Rights Law of Myanmar came into force on 31st October 2023 with the issuance Notification No.218/2023 by the State Administration Council as the effective date of the Copyright Law 2019 (CRL) of Myanmar. The law protects the literary and artistic works of not only the Myanmar Citizens but also the Foreigners residing in Myanmar who first publish their works in Myanmar or first publish their works outside Myanmar but re-publish them in Myanmar within 30 days of the first publication date.
Likewise CRL, the Industrial Design Law of Myanmar also came into force on 31st October 2023 with the issuance Notification No.217/2023 by the State Administration Council as the effective date of the Copyright Law 2019 (CRL) of Myanmar. Since 31st October 2023, creators of Industrial Designs can file applications for registration of their Designs with the Intellectual Property Department (IPD).
Central Committee on Ensuring Smooth Flow of Trade and Goods Chairman State Administration Council Member Deputy Prime Minister General Mya Tun Oo has highlighted the importance of reviewing the work processes at all the trade camps of Myanmar to revitalize the trade sector. Traders need to ensure that imports of basic necessities should be met while maintaining the capacity to export as well. The 13 member committee will try to facilitate export goods by minimizing interruptions in production, and work towards ensuring the smooth flow of official currency.
The Supervisory Committee on Fuel Oil Import, Storage and Distribution was reorganized on 13th October 2023 in order to effectively steer the oil import, storage and distribution sector and ensure standard quality for the imported fuel oil and stable prices for energy consumers, incorporating the stakeholders from the public and private sectors into the committee. The Committee is chaired by the Deputy Minister for Energy, Permanent Secretary as secretary for the committee, Director General of the Petroleum Products as Joint Secretary and followed by members such as DGs of Trade Department, Petroleum Products Regulatory Department, DDG of the Foreign Currency Management Department. The committee is majorly responsible for supervisory measures on stabilizing fuel prices, import license issuances, managing and distribution of imported fuel oils and so on.
Trade
There are 505 Garment factories, 48 footwear factories, 8 wig manufacturers and 177 factories associated in manufacturing of bags, sports units, sports shoes, and socks in Myanmar and the majority of them are residing in Yangon and operating under Cut-Make-Pack (CMP) System. CMP Garment system has been one of top FDI Sectors of Myanmar and China has been major FDI Investor in Myanmar and followed by Chinese Taipei, Thailand, South Korea and Japan. Finished products are majorly exported to ROK, Japan and EU countries and as of presence, 37.5 % of orders are by Japan and other 25.3 % by ROK.
For the first six-month of FY 2023-24, Garments exports has reached USD 4.3 Billion.
Ministry of Commerce issued the notification of the measures to be taken against companies whose export earnings will not be allowed to take into the country with the Notification No.27/2022 issued on 6th October, 2023. According to the Notification, export earnings of goods to the Asian countries shall be deposited within 45 days, and those to other countries deposited within 90 days and if non-compliance is found, action will be taken in accord with the Section 42-A of the Foreign Exchange Management Law.
In order to be more getting involved in legitimate exports and bolstering exports, the Ministry of Commerce has been paving ways by granting special privileges to exporters who are earning Foreign Currencies for the country. Besides, The Union of Myanmar Federation of Chambers of Commerce and Industry (UMFCCI) also planned to give another special privilege to the exporters on top of that.
The Ministry of Commerce has revealed three priority sectors for imported goods. Traders are encouraged to spend foreign currency to make these goods available. The first promoted sector are goods essential for everyday use and the benefit of the population: pharmaceuticals, medical devices, fertilizers, pesticides, seed, diesel, petrol, edible oil, raw materials used in livestock businesses, veterinary drugs, industrial raw materials, PET chips, food materials, plastic raw materials, medicine and herbal raw materials, packing materials, lubricants, engine oil, other industrial oil, tar and LPG gas.
The second sector covers raw materials and other inputs required for manufacturing: iron and steel, paper and stationery, equipment for electricity generation, transmission and distribution, construction material, machine and spare parts, transmission and distribution, tires and rubber products.
Finally, the third sector promotes various electronic electrical goods, telephones and telecommunication devices, as well as foodstuff, consumer products, vehicles for commercial purposes and machinery.
To incentivize Myanmar expatriates working abroad to remit a portion of their income, the Ministry of Commerce has announced that expatriates would be eligible for an EV import license for an EV worth 5% of their remitted income. Under this program, those who transfer $200,000 would be able to import an EV worth $10,000, and remittances below that threshold and above $50,000 would be able to import an EV worth $2500.
The announcement is part of a series of moves to shore up the administration's foreign reserves. However, it is unlikely to have any substantial impact. Firstly, few Myanmar expatriates are actually able to earn enough income to be able to remit $50,000 annually, let alone $200,000. Secondly, even among those that meet the requirement, few would feel that an EV import license would be an attractive enough offer. Thirdly, with current EV import restrictions, there would be difficult to find vehicles on the market that hit the $10,000 price-point. Realistically, the license to import an electric motorcycle, which fits the $2500 criteria, would be the only tangible benefit from this scheme.
Regarding food product imports, FOOD and Drug Administration under the Ministry of Health notified food importing companies to seek import recommendations (IR). They can seek IR through the FDA website http://fda. gov.mm.
Investment
The Myanmar Investment Commission (MIC) has approved six new investment projects in various sectors, including power, manufacturing, hotels, and tourism. These projects will bring a total investment of approximately Ks.314.73 billion ($72.98 million), as well as creating over 2,600 job opportunities for locals. Additionally, eight existing businesses were granted permission to expand their capital.
As of the end of August 2023, out of 52 foreign countries, Singapore, China, and Thailand were the leading nations in terms of foreign direct investments (FDI) in Myanmar. The power sector attracted the most FDI, accounting for 28.45% of total investments, followed by the oil and natural gas sector (24.46%) and manufacturing sector (14.38%). In addition to these sectors, the agriculture sector attracted $2.578 million from three enterprises, while the transport and communication sector saw capital expansion of $77.82 million. The livestock and fisheries sector also received over $23 million in increased capital.
Myanmar received a total of $484.155 million in foreign direct investments in the past five months, which included capital expansion by existing enterprises. During this period, the power sector remained the top choice for FDI.
Singaporean asset management corporation Keppel has completed the sale of the 5-star rated Sedona hotel to Springfield Blossom Ventures, another Singaporean registered company. The luxury hotel was sold for US$ 57.4 million, higher than its managing company Straits Greenfield's net asset value of US$43.9 million, as of February. The sale was first announced earlier this year in March and according to Keppel, is "in line with asset monetization plans to unlock value that can be invested to pursue new opportunities."
Sedona Hotel Yangon is one of Myanmar's oldest international hotels, being in business since 1996. In 2016, it expanded by adding an all-new 30-storey building, increasing its capacity by 430-beds. Sedona, like many other hotels during the COVID-19 epidemic, operated in a reduced capacity, not accepting any new bookings.
Energy
The 500kV Phayargyi Substation is on track to be completed by December of this year. The substation would be able to transfer electricity from power stations located in the northern areas of Myanmar into the south with greater transmission capacity, efficiency and reliability. The substation, located near milestone 40 on the Yangon-Mandalay highway was part of the National Power Transmission Network Development Project along with Hlaingtharyar Substation and began implementation in 2018.
The Tha-Htay hydropower project in Rakhine State is 77.5% complete as of July 2023, and would be completed during the 2025-2026 fiscal year. Situated on the Tha-Htay River in Rakhine state, the project has a total planned capacity of 111MW and would be able to provide clean renewable energy to over a million people. The dam is being developed with assistance from Japanese engineering consulting group "The Kansai" to ensure compliance with modern standards.
On October 11, Russian Energy Minister Nikolay Shulginov and Myanmar's Energy Minister U Ko Ko Lwin met in Moscow to discuss bilateral energy cooperation. If Myanmar were to cooperate with Russian energy company INTER RAO, they would provide assistance with the petrochemical sector, focusing on the development of oil, coal, and natural gas resources. Myanmar would focus on pursuing renewable energy sources, such as solar and wind, while greatly appreciating the help of its allies. Both countries agreed to discuss further discussions in the future.
On the same day, U Ko Ko Lwin and Science and Technology Minister Dr. Myo Thein Kyaw participated in the Sixth Russian Energy Week International Forum. They discussed the issue of worrying carbon dioxide emissions and the potential of nuclear technology as a potential solution for clean power. The Myanmar government has been eyeing nuclear power as a way to solve its own energy issues; the Ministry of Energy has signed a memorandum of understanding with Rosatom Chairman Alexey Likhachev to develop nuclear infrastructure.
COVID-19
In order to continuously control the infection of COVID-19, the rules and restrictions have been extended until the end of November 2023.
Monthly Business Brief, September 2023
1 October, 2023
Economy
The State Administration Council was reformed again on 25th September 2023 with 18 Members. Two new members are General Maung Maung Aye and Lt. General Nyo Saw.
With reform of SAC, the government has reshuffled the cabinet with the following reassignment: Lt-Gen Soe Htut, Union Minister for Union Government Office (1) to the original military duties, U Aung Naing Oo, Commerce Minister to Union Minister for Union Government Office (1), U Tun Ohn, Deputy Minister of the Ministry of National Resources and Environmental Conservation to Union Minister for Commerce.,
According to the amending the Union Taxation Law 2023 on 12th September, 10 % of income tax shall be levied over the total foreign exchange income obtained aboard except the salaries of the citizens living in the foreign countries and will be effective from 1st October to 31st March 2023.   Without subtracting the amount of exemption, 2% tax shall be levied over the incomes. Moreover, the taxpayer shall have the right to subtract the amount paid as tax abroad from the calculated amount of tax under this law.
In Myanmar, 90% of Fuel Oil is imported by neighboring countries and only 10% locally produced. Due to Foreign Exchange rate fluctuation and high global oil prices, regular diesel and octane 92 prices increased by 47 per cent and 27 per cent respectively during May to mid- September. The Supervisory Committee on Oil Import, Storage and Distribution of Fuel Oil is steering the fuel oil storage and distribution sector effectively so as not to have a shortage of oil in the domestic market and to ensure price stability for energy consumers. The Petroleum Products Regulatory Department regulates daily reference oil for oil with a reasonable price and also inspects the fuel stations whether overcharging or not. Fuel prices have decreased to 2 to 5%, MMK 11 to 130 per liter on average towards the end of September. As of 21st September 2023, prices were MMK 2,330 for Octane 92, MMK 2,435 for Octane 95, MMK 2,530 for diesel and MMK 2,610 for premium diesel.
Banking and Finance
Central Bank of Myanmar has provoked 166 Money Changer Licenses alongside March 2023 to September 2023 as its fail to comply with the rules and directives by CBM in which 123 Money changer companies were provoked on 19th September, 13 Forex Exchange License on 12th July, 10 Forex Money Chargers and 20 Money chargers on 12th July.
Even though the Central Bank of Myanmar CBM has set MMK 2,100 as a reference rate for USD transactions, the Unofficial Grey Market rate is 1.5 to 2 times much more than the reference rate. In September 2023, the Market rate was 25% lower than that in August 2023 with the highest exchange rate up to about MMK 4,000.
Compared to two and half-years ago, prior to 2021, the banking sector of Myanmar has been in dire straits such as poor banking operations and Foreign Currencies have always been run out. However, since 2021, the Competency of the Central Bank of Myanmar and Ministry of Finance has been carried out strictly in order to address the banking crisis and financial service sector and economy on those issues: the bank structure/size (1/6 size of Singapore bank); banking loan issues; building trust between Savers and banks; and restriction on withdrawals. Banking sector operates smoothly even in difficulties.  
The 8th Eastern Economic Forum (EEF) took place in the Russian city of Vladivostok from 10th-13th September, 2023 and Myanmar has done bilateral agreements with Russia in different sectors, especially Tourism and Energy Sector. As it is direct payment transacted with MMK to Yuan in procuring Russian Petroleum, the Union Minister of Ministry of Investment and Foreign Economic Relations has prepared and developed mutual agreement between Rubles to MMK (Direct Transaction between Myanmar (Kyat) and Russian (Rubles) in procuring Russian Petroleum at Eastern Economic Forum. Besides, the Russian payment "MIR" system will be available in Myanmar in October.
Trade
Myanmar normally produces 2.5-3 Million tons of Corns per year and Corns are majorly cultivated in Shan, Kachin, Kayah and Kayin States and Mandalay, Sagaing and Magwe Regions. It is planned to export 60,000 tons of corn from Shan State to China in October, 2023 and expect 2 Million tons in 2023 as same amount as the 2022 Corn Season. Corns are normally delivered through China, Thailand border points and also exported to India, the Philippines and Singapore. Thailand is the major export country and the rest to those countries.  In terms of tax, Thailand exempted Zero Percent on Myanmar Corn exports from 1st February to 31st August 2023. Current FOB prices on corn are between USD 270 and 290 and MMK 1,150-1170 per viss in the domestic market (YRCCI).
Online Sales or Online Shopping businesses can be registered at eComReg System of Department of Trade under the Ministry of Commerce coming 2nd October 2023 and registration period is from 2nd October to 31st December when registration fees will be exempted. For those Online Businesses which haven't done registration, will be faced action coming 1st January 2024. The applicants need to submit their business names, logos and recommendation letters of respective wards, police stations and have to pay MMK 4,000 for online application form. The Online Businesses are granted only for Official businesses.
Investment
In the Mandalay Region Trade, Investment and Tourism Promotion Conference held in Nanning, China on September 16, 2023, Union Minister for Commerce pointed out that Mandalay and the surrounding region was a strategic location for cooperation with China, which includes the China-Myanmar Economic Corridor, and the China-Myanmar railway project. The increased ease of doing business should encourage Chinese businesses to invest in rising industries such as food production, garments, jewelry, renewable energy, and logistics. Additional projects such as Mandalay Myotha Industrial Zone project, Amarapura Tourism project, Mingala Mandalay project, Yetagun¬taung City project, and fruits and vegetables market were also discussed at the conference, and five agreements regarding economic cooperation, agreements, and honey trading were signed.
Manufacturing
Myanmar's manufacturing sector attract FDI surpassing US$63.5 million in April-August
In the first five months of the 2023-2024 financial year, Myanmar's manufacturing sector attracted over $63.5 million in investments from 26 enterprises, including expansion by existing companies. Chinese firms were the primary investors in this sector. The Myanmar Investment Commission approved 31 foreign projects from seven countries during this period, totaling $484.155 million in foreign direct investment (FDI). Most importantly, the power sector received the most FDI, amounting to $317.178 million from two enterprises.
Other sectors also received investment, with agriculture drawing $2.5 million from three enterprises, transport and communication seeing a capital expansion of $77.82 million, and the livestock and fisheries sector receiving an additional $23 million in capital. The focus in the manufacturing sector is on enterprises that require significant labor to create job opportunities for the local community. In particular, the garment and textiles industries play a vital role in the country's GDP.
In response to H&M Group's decision to phase out outsourcing from Myanmar, the Myanmar Garment Manufacturers Association (MGMA) is committed to improving the garment sector in collaboration with international brands and partners. The MGMA has implemented a Voluntary Labor Compliance Assessment (VLCA) since February 2020 to assess factories' compliance with national labor laws and international standards. An online version of the assessment was launched in November 2022, with over 220 factories completing it and more than 100 still undergoing assessment.
Tourism
The government has been eager to revitalize Myanmar's tourism industry. Since January, more than 750,000 tourists from China, Thailand, Japan, South Korea, and India have visited Myanmar through various channels. Sixty percent of all visitors arrived through the China-Myanmar border and the Thai-Myanmar border; and a further 190,000 by international flights. The Ministry of Hotels and Tourism aims to attract more Russian, Chinese, and Indian tourists in the next few years.
To further improve relations, visa-on-arrival services will be provided for Chinese and Indian tourists for a one-year trial period, and only valid for tourist visas. Visitors will be required to fill out VOA applications, readily available at all airports, and provide two recent photographs as well pay a VOA fee.
The Ministry of Hotels and Tourism has also revealed in a recent announcement a list of Myanmar's fourteen most important destinations for local and international tourists alike. On the list are some of Myanmar's already well known locations, including the culturally-rich sites of Bagan, Inle Lake, and Taunggyi and  Ngapali, Chaungtha, and Ngwe Saung beaches make up the country's coastal attractions. Kyauk Phyu and Manaung of Rakhine State stands out as a particularly hidden gem with much untapped potential: Manaung Island offers stunning beaches with plentiful opportunities to dive and snorkel in pristine waters full of marine life. The island appears poised to receive much investment and development in the coming years.
Previously, crossing the Myanmar-China border required special documents known as the one year Border Pass (BP) and the seven days Temporary Border Pass (TBP). Now, there are plans to streamline this process by allowing Myanmar and Chinese citizens to enter and exit the country using only valid passports instead. Officials say that this will improve security and coordination efforts between the two countries, as well as improving the efficiency of border checkpoint inspections. It will serve to attract more tourists, but more crucially, it will improve trade. The Myanmar-China border checkpoints are important junctions for bilateral trade, and it is important to facilitate the underlying processes as much as possible.
Transportation
The city of Sittwe in Rakhine State is establishing direct trade ties with Kolkata, India, using a cargo ship via the Sittwe Jetty, part of the Kaladan Multi-Modal Transit Transport Project. Previously, goods from all across Myanmar were exported to Bangladesh, but now a new route from Sittwe to Paletwa via maritime routes is enabling goods from Rakhine to India. This project includes dedicated jetties in Sittwe and Paletwa and a completed road connecting Mizoram, India, to Chin State, Myanmar. The Sittwe Jetty was inaugurated on May 9, 2023, as part of the India-Myanmar Friendship Programme, involving a $484 million investment from India.
Despite sharing an extensive land border and close cultural and historical ties, India is only Myanmar's fourth largest trading partner, behind China, Thailand, and Singapore. India is a crucial source of pharmaceutical goods, and India's strategic importance has only grown in 2023 as Myanmar seeks to bolster relations with its closest neighbors when relations with the West become strained. Myanmar, likewise, is part of India's ambitious "Act East" policy, a counterpart to China' Belt and Road Initiative (BRI); both policies strive to establish strategic economic relations in the Southeast Asian region.  The expansion of trade routes is the latest in a series of moves to facilitate bilateral trade between the two nations.
COVID-19
While COVID-19 cases in Myanmar have been lowered due to the arrival of vaccines and other preventative measures, there is still a need to remain vigilant. The Central Committee on Prevention, Control and Treatment of Coronavirus Disease has extended COVID-19 restrictions until 31th October 2023. The restrictions include social distancing requirements and a ban on public gatherings.
Monthly Business Brief, August 2023
1 September, 2023
Economy
New Union Cabinet was reformed with 32 members in Union Cabinet in which Prime Minister is Senior General Min Aung Hlaing and 4 deputy prime ministers such as Vice Senior General Soe Win, General Tin Aung San (Union Minister of Ministry of Defense), General Mya Tun Oo (Union Minister of Ministry of Transports and Communications), U Win Shein (Union Minister of Ministry of Planning and Finance) and U Than Swe (Union Minister of Ministry of Foreign Affairs).
The U.S. Government has announced sanctions on three Foreign Companies such as Asia Sun Network: Asia Sun Group Co Ltd, Asia Sun Trading Co Ltd, and Cargo Link Petroleum Logistics Co Ltd and two individuals such as Khin Phyu Win and Zaw Min Tun for their roles which are doing procurement with the Government in Jet Fuel Industry on 23rd August 2023.
Banking and Finance
Singapore United Overseas Bank puts a stop to doing banking activities (i.e. restricting all incoming and outgoing payments to and from Myanmar Accounts) or cut off counterparts with Myanmar in Bank Relationship in coming 1st September 2023 which makes a bit burden in the government inaccessible to global financial system. In cutting ties, there is also curb in Visa Card and MasterCard transaction with all Myanmar Individuals and banks. Besides, all nostrum accounts at the Hong Kong branch will have been closed by September 2023.
The Central Bank of Myanmar set the reference rate at MMK 2,100 per USD while one USD is exchanged around MMK 3,700 in the grey market which is a large price difference between the reference of the CBM and the unofficial market rate. Even though August has hit the highest price up to MMK 4,000 in grey market in previous year 2022, it was MMK 3,700 in 2023. In order to control the soaring dollar in the Market, the CBM has injected a total of USD 443.8 million in 2021 and 65 million USD sold in the January 2022. Besides, the CBM revokes money changer licenses of 43 companies in half a year and revoked the licenses of 13 companies and 20 Money Changers on 14th August 2023 for being failed to comply or abide with rules and directives issued by CBM.
Foreign Currency Exchange for Petty cash, foreign currencies of USD 300 to 500, can be exchanged at the Yangon International Airport and 12 Private Banks such as KBZ bank, CB Bank PCL, MAB, AFDB, Yoma Bank, UAB, ADB, MOB, MCB, GTB and Innwa Banks in order to curb currency transactions at grey markets. Besides, the authorities also arrange three AD banks to sell Foreign Currencies every day. People can exchange seven foreign currencies such as US dollar, Euro, Singapore dollar, Baht, Ringgit, Yuan, and Yen.
Central Bank of Myanmar announces to shift to Online Gold Bar Transaction as same as the online trading of the foreign currency market (Forex Market) which has been launched since 22nd June, 2023 in order to ensure gold price stability and gold quality. In order to more stabilize the gold market and access whether registered businesses or not, The CBM instructed the supervisors to inspect whether the price manipulators make price instability at gold shops, and whether the shops have relevant work licenses and other certificates including the legal trading price and payment methods.
In order to be more facilitated in official cash transferring of Myanmar Remittance workers in Thailand to their motherland, "Dee Money Mobile Application" was jointly developed by two Myanmar-Thai Fin-Tech companies which is more reasonable transferring fee and more reliable than any other remittance ways. There will be only charged 49 baht per service fee in transferring baht equivalent to 10 Million Kyats through the application.
The new partnership between KBZ Pay, Myanmar's pioneering and largest e-wallet and KBank's digital banking solutions – K PLUS Mobile Banking, a leading digital banking solution provider in Thailand, partnered in offering Joint cross-border digital remittance services for Myanmar Migrant Workers in Thailand. The service has been available since 16th August 2023 and any transaction will be free of charge up to 31st October, 2023.
Trade
On 7th August 2023, sections of the Myawaddy-Kawkareik Asia highway collapsed due to a massive landslide caused by heavy rains.  A few vehicles were initially caught under the debris, but it was reported that no one was seriously injured. In the meantime, to the Ministry of Construction has constructed a temporary bridge to connect the highway within a month. Due to the COVID outbreak in 2020-21, Myanmar-Thailand Trade through Myawaddy-Mae Sot border and all trading activities has been cancelled. When it has been resumed, it is prone to temporary closures due to frequent clashes between ethnic militia and insurgents.
Zero-tariff corn exports to Thailand under a preferential tariff scheme ended on 31st August 2023 and Certificate of Origin Form D (An issue for goods eligible for preferential tariffs under CEPT scheme for ASEAN countries) since the initiation of tax exemption on February 2023. As a consequence, Thailand will impose a maximum of 73% tax to protect its domestic production. Although demand will decrease temporarily through Thailand's growing season, it is anticipated that the market will overcome such setbacks and continue expanding steadily.
The trade agreements between Myanmar and Laos were signed on 8 May 1995, and the bilateral border re­gion management and cooperation agreement was signed on 27 March 1997 in Yangon by the foreign ministers of the two countries. The Opening Ceremony of Kenglat Border Trade Post established between Myanmar and Laos funded by the Lancang- Mekong Cooperation Special Fund 2021 was held on 26th August 2023. Even though the trade post was constructed in 2013 and finished by and temporarily opened in 2015, the opening ceremony was held in 2023. By opening the trade post, there will further increase promotion of bilateral trade between two countries.
Investment
Power Sector has been leading FDI sector among others for many years and likewise from April to July 2023, there are total USD 317 Million from two enterprises from Singapore and China. Among by Foreign investors, Singapore majorly invests in power sector with investing USD 335 Million by 4 enterprises and followed by china with USD 124 Million by 10 enterprises. The others are India, ROK, Samoa and USA.  
Pact Myanmar Microfinance shut down
Pact Global Microfinance Fund closed down in late June, after 25 years of operation. PGMF was the leading microfinance institution in Myanmar, forgiving US$156 million in loans to 890,000 borrowers before its exit. According to the Myanmar Microfinance Association, the 3 largest MFIs after PGMF were Vision Fund, Sathapana, and Dawn Microfinance. International MFIs also face difficulties in acquiring credit from abroad. This shift in climate is likely to result in the microfinance sector leaning more and more towards commercial purposes, with altruistic enterprises falling behind. 
Manufacturing
The Taninthayi Regional Government has unveiled plans to construct a 20-tonne refined cooking oil mill in a collaborative effort with local businesses. Highlighted by the growing demand for cooking oil, the refinery aims to simultaneously increase domestic production as well as reduce reliance on imports. With the local Resources of having 556,000 acres of oil palm plantations in the Region (especially in Bokpyin and Kawthaung townships), there is potential growth up to a net exporter of cooking oil on top of local consumption. However, there is an environmental issue or impact that mass production leads to further deforestation, especially in coastal region.
The Swedish garment company H&M announced that it would cease operations in Myanmar over concerns of labor abuses. An investigation revealed various cases of workplace abuse, including numerous counts of wage theft and unpaid overtime. There are 26 suppliers and 39 factories of H&M in Myanmar. According to the Myanmar Garment Manufacturers Association, Myanmar exported US$384 worth of textiles in April 2023, and the textiles industry brought in US$ 5 billion for the country in 2022. As a consequence of ceasing operations in Myanmar, there would come as a huge blow to Myanmar's garment and textile industry, which operates on a cut, make, and pack (CMP) system. With H&M's exit, Myanmar's garment factories might face diminished output. There are fears that mass layoffs could occur; the majority of Myanmar's textile workforce are women. The MGMA is encouraging to deepen the ties between the international garment brands and local factories and foreign-owned factories established in the country. MGMA is willing to work together with international brands and partners to carry out responsible businesses in Myanmar and commit to keep improving the situation of Myanmar's garment sector
Energy
The Ministry of Electric Power has reopened tenders for investors regarding the Shwe-Li 3 Hydropower project on the Shweli River in Shan state. The tender includes implementation, power generation, maintenance, and eventual retransfer from the private to the public sector. Power projects are crucial for the current administration to address Myanmar's energy needs. Additionally, the hydropower project is also part of their efforts to expand to renewable energy sources and thus lessen the need for fuel and gas imports. Shwe-Li 3 was previously managed by Électricité de France (EDF), a French energy company, that exited the country in early 2021. 
COVID
While COVID-19 cases in Myanmar have been lowered due to the arrival of vaccines and other preventative measures, there is still a need to remain vigilant. The Central Committee on Prevention, Control and Treatment of Coronavirus Disease has extended COVID-19 restrictions until September 30, 2023. The restrictions include social distancing requirements and a ban on public gatherings.
Monthly Business Brief, July 2023
1 August, 2023
Economy
Generally, Myanmar normally consumes about one million tons of edible oils per year in which 0.6 million tons of palm oil are imported annually. In FY 2022-23, 8.3 Million Acres of edible oil crops such as groundnut, sesame, sunflower, and mustard have been grown up and it is estimated to produce more than 680,000 Tons of edible oil for the whole fiscal year. The edible oil sector cultivation and production are called for the local and foreign Investors to invest and government provides tax incentive such as three to seven year tax exemption on income tax for self-sufficiency of edible oil in Myanmar.
Banking and Finance
CBM allows export earnings by 50:50
Central Bank of Myanmar announced to lower Mandatory Conversion of Export Earnings to Myanmar Kyats from 65% to 50% with the Notification 15/2023 on 13th July 2023 which amends Notification 36/2022, issued on August 2022, "Exporters required 65% of the export earnings to be converted into Myanmar Kyats". Hence, it is the gradual improvement in Foreign Exchange issues and shortage of Foreign Exchange Currency of Myanmar.
Mobile financial services and digital payment growth
With the accelerative effort of the Central Bank of Myanmar on Digital payment system throughout the country in line with National Payments System Strategy (2020-2025), the Financial Technology Payment system has been enormously increased and Mobile financial services and digital payment system of Myanmar including for bank institutions, i-banking, mobile banking, mobile pay and mobile financial services have become remarkably boomed to 31.67 Billion in 2022, which was 47 percent increase compared to the previous year 2021.In order to develop financial services sector, CBM has already permitted those services and launched MMMQR Specification Version 1.0 for QR code payment in January 2019, achieving interoperability between payment systems of financial institutions through MMQR Specification Version 1.0 and stepping up to use crop-border QR code payment interoperability, the notification mentioned. On top of that, the Central Bank of Myanmar, is endeavoring to improve payment service providers' platforms providing digital transaction services across the country to, especially, Nay Pyi Taw to become a digital city with the latest financial technology. Since May 2023, the CBM has been implementing digital salary payments to the officials and staff under the ministries to strengthen digital payments in the capital city.
The Central Bank of Myanmar has granted licenses to the public in terms of clearing system with QR Code Payment system in areas which are not easily accessible to use. Hence, Digital Payment system is widely available in places, re­gions, various strata, and var­ious areas where there are no banking services Those clearance licenses are provided to those companies such as Nature Link Pay Co Ltd (brand name: Trusty E-Commerce), Zego Pay Co Ltd (brand name: Zego Money), and Internet Wallet Myanmar Ltd (brand name: OK$) in February, and Univer­sal Pay Co Ltd (brand name: Unipay) in compliance with the terms and conditions of the license on 10 July, according to the statement of the CBM.
A new type of "twenty-thousand-kyat" banknote was officially released in 31st July 2023, with a commemoration of the completion of the Maravijaya Buddha Image in order to propagate the Theravada Buddhism and bring peace towards the country and in celebration of a year birthday of a white elephant, "Rattha Nandaka. Those note will be issued within a limited amount and be distributed only by exchange of the same value with various types of old banknotes that should not be appropriate for circulation in Myanmar. To being with, the old banknotes will be exchanged with the equal value at CBM Nay Pyi Taw, Yangon Branch and Mandalay Branch. As soon as the official announcement is released on 24th July 2023, there is fluctuation in Foreign Exchange Currency at the Market Rate of 1 USD is equivalent to MMK 3,450 and 1 Baht is 100 MMK and 1 RMB is 450 MMK.
Trade
The Regional Comprehensive Economic Partnership (RCEP) is a free trade agreement between the ten member states of ASEAN, Australia, China, Japan, the Republic of Korea, and New Zealand, came into effect in January 2022.Since July 2023, the authorized producers and exporters get benefits from preferential tariffs through the Certificate of Origin (CO) Form RCEP. That CO Form is available for products originating in Myanmar and intended for Export to ASEAN member countries, except: the Philippines and Vietnam. Interested parties can easily apply through export and import offices and border checkpoints under the Department of Trade, with established rules and regulations. Besides, for manufacturing related products, traders can obtain approved exporter status through the Online CO Application System (https://on­lineco.myanmartradenet.com . Specifically, Cambodia, Laos, and Myanmar have been granted access to preferential tariffs, while Viet Nam receives moderate tariff benefits. Furthermore, the least-developed countries will enjoy additional exemptions as outlined in the United Nations charter supporting the Least-Developed Countries (LDCs), especially CLM countries. According to the agreement, RCEP members have to grant a 65 per cent customs tariff exemption. However, Myanmar, Cambodia, and Laos are only entitled to give a 30-per-cent tax-exempt to other entities a 30 percent tax to other entities. Furthermore, ten years after the agreement's implementation, members are obligated to grant an 80 per cent tax exemption. Myanmar, however, has been given a transition period of up to 15 years for its trade sector
Online Shopping and sales have been strong since the pandemic periods, however, there is no handle tax issues and controlling over the products. As a matter of fact, Taxes should be paid wherever transactions are conducted. By doing this, it can save taxes for the country. Therefore, in accordance with the Section 4 and Sub-section (c) of the Essential Goods and Services Act, Online Sales have been declared as "Essential Service" by Ministry of Commerce, starting from 4th July, 2023. The Ministry has also empowered to issue prohibition orders, regulatory orders, supervision orders, protection orders, and necessary actions related to this service. This is done in order to restrict and prevent goods and services that may harm the interests of citizens, and to prevent the domestic transportation of goods and animals that may cause dangers, epidemics and unacceptable problems. Violation of the law is punishable by a minimum of six months to a maximum of three years in prison and a fine of not more than MMK 500,000, according to the law.
Energy
Renewable Energy has been enormously used throughout the world in order to fill up the Energy Demands and it's environmentally benefits so that Governments throughout the World majorly focus on the Renewable Energy Sector. Among renewable energy, the countries have been using Gasohol called biofuel, which is a mixture of Ethanol 5% and Diesel 95%. Not only in European Countries but also in ASEAN Countries has majorly focused on renewable energy and ASEAN Countries planned to have 23% Bioethanol Fuel generation in 2025 and 35% in 2030. In Nationally Determined Contributions (NDCs) report, Myanmar is a country trying to reduce carbon emission by 2030 and start using Biofuel energy.  Myanmar will produce 70,000 tons of bioethanol (2 million gallons per month) from Maize and Molasses.
Transportation
Road Transport Administration Department (RTAD) under the Ministry of Transport and Communication released that there are registered 3,206 electric vehicles as of June 2023. Among those, 77% (2,474) are two-wheelers vehicles, 15% (467) are passenger vehicles and 8% (263) are three-wheelers vehicles. Besides, as of June 2023, there are registered 6.3 million (6,366,854) gasoline cars, 512,283 diesel cars, 12,888 CNG cars, 69 LPG cars and 3,884 HV cars. The Steering Committee for the National Development of Electric Vehicles and Related Industries is mainly responsible for establishing policies for the development of electric vehicles and related industries, implementing tax exemptions for use of electric vehicles and provide other reliefs, setting necessary command instructions, rules and regulations and building public charging stations.
COVID
As of 31st July 2023, there are (641,053) 639,740 active cases of COVID-19 in which 97 % have been recovered from the disease and compared to previous month, 1313 cases has been increased. Compared to previous month, only 2% active cases have been increased. However, the government has been continuously controlling the infection of COVID-19 and the rules and restrictions have been extended until the end of August 2023 by the Ministry of Health.
Monthly Business Brief, June 2023
1 July, 2023
Economy
According to Myanmar Economic Monitor June 2023, the World Bank forecasted that the economic conditions in Myanmar has become stabilized in the first 2023 and GDP is being increased by 3% in the year up to September 2023 which is still 10% lower than in 2019 but higher than in 2021 and 2022. Its current account deficit is expected to widen to almost 6% of GDP in 2023, 3.6% boost up than previous year and the fiscal deficit is estimated to have widened to 5.4% of GDP in 2023. Exchange rate has remained steadily while CPI inflation has become eased. Average Inflation rate is projected to ease to 14% this year up to September 2023.  Even though the economic situation is gradually bounding back, the household incomes still remain weak which limit the ability of domestic demand to drive growth. Higher prices and electricity shortages still make it difficult for many businesses to operate feasibly.
One article from New Light of Myanmar newspaper pointed out that the remarkably risen in commodity prices such as foodstuffs and foods amidst 2023 and the majority of dwellers living in Yangon City areas have been trying to overcome daily challenges of hiking prices to cover the cost of their families' households. The basic breakfast meals such as tea, noodle and Monhinga on the roadside has risen to two times than the previous year. Even, consumption rate of breakfast for the personnel can range between MMK 1,000 to 1,500 per daily. Besides, most of the residents in Yangon city critically face unbalance between income and expense due to rising prices of goods.
2020-2023 Labor Force Report was released by Directorate of Labor, Ministry of Labor in March 2023. The Report was accumulated based on projection method under the great support by Meikhtila University of Economics as there was difficulties to collect data in some areas of countries due to security concerns. The report has not been publicly released yet but sooner or later it will be publicly released through www.mol.gov.mm . According to the findings observed through projection, 90% of the male workers in Myanmar are in the late thirties (30-50) with the highest while 70% of female workers in the late twenties (25-29) with highest among other age groups. It is analyzed that the male workers work until 65 while small amount of female does. 60% of male work until 65 while only 20% of female work until 65. (Reference to "Myanma A Lin" Newspaper, 18th June, 2023.)
Banking and Finance
The United State Government made one-sided economic sanctions on Myanmar two state-owned banks: Myanmar Foreign Trade Bank (MFTB) and Myanma Investment and Commercial Bank (MICB) with the issuance of 20th June, 2023. As the banks do not sign up Foreign Currency Accounts at the US-based banks or branches, there will be neither any losses of currency nor does not make harmful on payment services in International trading. As foreign banking services can be done in almost local private banks and their foreign bank branches apart from those two, public should not be worried about it. In line with rules and regulations adopted by the Foreign Currency Supervisory Committee under Central Bank of Myanmar, the transfer, payment and receiving of foreign currencies, imports and exports, and transfer of employees' and seafarers' salaries will continue to be conducted conveniently.
In 2013, the Central Bank of Myanmar implemented a forex market in which interbank transactions can be made between AD banks (Authorized Dealers) and Bank-customer transactions for the Foreign Exchange Market. The system is also supported by International Forex Trading Platform to make the authorized dealers to deliver a complete function for inter-bank transactions. Since 22nd June 2023, the CBM has led the online trading platform for bank-customer transactions and transac­tions between clients. The total turnover for the trading of the six authorized banks was US$6.89 million with an exchange rate of MMK 2,920 in 2023. Furthermore, the CBM also provided USD SWAP Financing and sold 1.2 million dollars. The CBM also issued that exchange rate transaction on the platforms are the actual value and do not rely on other platforms on social media as they are grey market rates. However market rates are still known as K 3,150 to 3,200 on 29 June 2023.
In line with the Notification issued on 23rd June of CBM, the Monitoring and Steering Committee on Gold and Currency Market under the CBM suppressed on the Foreign Exchange Manipulators, as known as "Illegal Hundi Business Operators", in Big cities; Yangon and Mandalay because of illegally transferring money without relevant license, also doing Online Gambling businesses and has already been escalated those during June with prosecution under the existing laws. According to the law, Inspection and prosecution against those unscrupulous traders who intend to interfere with the free and fair operation of the market and are involved in illegal foreign currency hold­ing and illegal money transfer businesses will be carried out under the Foreign Exchange Management Law and the re­lated laws.
The launching ceremony of the Aungbarlay Online Lottery System was held at the Myanmar International Convention Centre – II in NayPyiTaw on 8th June, 2023. The sole purpose of upgrading to Online Lottery system is to solve the problem of higher prices of lottery tickets in set price. Online system has many impacts that will allow people to buy within set price, easily through an online lottery application system by using their mobile phones at any times. Not only being easily accessible to buy the tickets not only Payment system can be through the application and small prizes for winning lottery will also be delivered through online or their banking accounts. The system is jointly implemented by relevant ministries and department under the leadership of the Ministry of Finance and Revenue and Myanmar Telecom International Co Ltd.
Trade
In accordance with the new bulletin (9/2023) released by the Trade Department under the Ministry of Commerce, Import licenses can be commenced through Automatic and Non-automatic licensing systems on Myanmar Trade 2.0 platform since 22nd June, 2023. As being digitalized licensing system, import license for certain lines (1,525 lines) through both Sea and Border Trade will be automatically passed on the system. Under Non-automatic licensing system, Seaborne trade and commodities lines which did not require Import licenses are mandatory to import licenses during the licensing process after 60 days initiated since 22nd June, 2023 and will be allowed to be imported within 30 days from 22nd June, 2023. In line with Customer Tariff of Myanmar 2022, there are altogether 3,075 commodities lines with 10 digits HS code were notified to be permitted license automatically on Trade Net 2.0 and since June 22nd, 2023, Only 1,525 lines have already been granted licenses through automatic import licensing system.
In order to promote Border Trading between China and Myanmar and facilitating bilateral currency transaction, the CBM has allowed Myanmar eligible banks to open Renminbi-Myanmar (RBM) accounts for importers and exporters engaged in border trade and it is required to have RBM to do directly border trades in China-Myanmar Border points since 14th June, 2023.  The banking transaction for imports in Myanmar-China border trade will start from 1st August 2023. The importers must use the banking system with for­eign currency (Yuan) pur­chased from local banks or export earnings deposited in local bank accounts, the CBM directed. Additionally, companies need to show export earnings or income statements, cred­it advice or bank statements while seeking a license from the department. The import license will be granted for the amount not exceeding the account balance after screening the bank statement or export earnings or foreign currency purchase records. Importers who have already sought import licenses are required to bring in the goods by 31 August 2023. If they failed to import before the deadline, their import licenses will get cancelled. Regarding export earnings and income statements, the bank deposits put in the account after 1 January 2023 can be used. Exporting companies can use their earnings for imports or transfer them to other entities for import purposes at border checkpoints.
Permits to import New Vehicles from Foreign Countries have been suspended since September 2021. According to Car Importing Polices for 2022, Car sales centers have not been approved to import and at the present, commercial vehicles are allowed only to be imported at a rate of five vehicles per week. In June, 2023, the Customs Department has issued an announcement on the easing of custom duty taxes/rates on imports of domestically semi-knocked down (SKD) and completely knocked-down (CKD) system vehicles. According to the Statement, the tax rate of SKD system passenger cars with above 2000 CC and 2001 CC has been reduced from 7.5 percent to 5 percent while the CKD system passenger cars with above 2000 CC and 2001 CC from 5 percent to 3 percent respectively.
Investment
U.S based Pact Global Microfinance Fund (PGMF), the largest microfinance in Myanmar, announced that the loss of USD 156 Million in debt taken by 890,000 people would be waived and the operating in Myanmar will be closure on June 30, 2023. PGMF has served nearly 15,000 villages in rural areas and 2.3 million clients over 25 years in which 99% of clients are women.
Manufacturing
In order to accelerate the development of Iron and Steel Businesses in Myanmar, the Myanmar Iron and Steel Association (MISA) was opened its office at the 13th Floor of the Union of Myanmar Federation of Chambers of Commerce and Industry (UMFCCI) on 21st June, 2023. MISA has been a cluster of Myanmar Industries Association (MIA) since 2014 and has also joined the South East Asia Iron and Steel Institute (SEAISI) since December 2018. The MISA will move forward to the development of industry standards which are compatible with the country and the production of iron and steel products that meet international standards and cooperate with international organization to promote Small and Medium Steel Enterprises and disseminate iron and steel information and receive technical assistance from the regional countries by holding seminars and research paper reading sessions. Up to today, Myanmar's steel demand is estimated at 2.5 million ton per year which covers 92 percent of which are being imported and forecasted to grow up to 5.4 million tons per year in 2023.
Energy
Deapin Hydro Power Station I has been operating safely for more than 10 years continuously in Myanmar with the exceeding amount of 10 billion kWh since the beginning of operation. The Power Station is the first hydropower station project invested in and operated by China Datang Corporation in Myanmar, distributing electricity from Bhamo, the second largest city in Kachin State since 2012.  Up to recent year, DAPEIN 1 Hydropower Station has already delivered 620 million kWh of free electricity to the Bhamo Area.
Transportation
Kolkata- Bangkok Highway is a trilateral highway connecting Bangkok (Thailand) with Kolkata (India) as part of BIMSTEC (the Bay of Bengal Initiative for Multi-Sectoral Technical and Economic Cooperation) and is likely to be opened in coming 4 years and. According to the plan, that trilateral highway will start from Bangkok in Thailand across the different cities such as Sukahothai, Mae Sot in Thailand, Yangon, Mandalay, Kalewa and Tamu in Myanmar, Moreh, Kohma, Guwahati, Srirampur, Silguri in India and end in Koltaka (India) with the approximate distance of over 2,800 km. The longest stretch of the highway will be in India and smallest in Thailand. According to the plan, portion of the highway in Thailand has already completed while in Myanmar, be possibly finished in coming three years.
COVID
Currently, new COVID-19 Variants, XBB 1.16 has been spreading around not only in Myanmar but also countries through the world. As of 29th June, 2023, there are 639,740 active cases of COVID-19 in which 97 % have been recovered from the disease and compared to previous month, 1283 cases has been increased. However, the government has been continuously controlling the infection of COVID-19 and the rules and restrictions have been extended until the end of July 2023 by the Ministry of Health.
Monthly Business Brief, May 2023
1 June, 2023
Economy
Cyclone Mocha hit three distinct states and regions of Myanmar, Rakhine State, Chin State and Magway Region on 14th May, 2023 and destroyed home and infrastructure of local communities living there. Aftermath, it has also major impact on commodity prices such as the price of basic commodities has been very high. On top of it, there is soaring prices and being double prices in basic shelter materials such as tarpaulins, GI sheets, and iron nails. Not only being higher in commodity price but also the running out of the commodity including medicines at the current situation.
Banking and Finance Sector
Market Foreign Exchange rate has increased from MMK 1890 to MMK 1950 in official Market Exchange counter at the end of May 2023 due to the speculation. The rumor has it that the reference exchange rate will also have been increased to market rate by Central Bank of Myanmar. However, the Central Bank of Myanmar announced on 26th May that it would not change the reference exchange rate and promotes Foreign exchange currencies instead and support USD liquidity and MMK liquidity. Besides, the CBM stated that actions will be taken if the AD licensed private banks participate in speculation.
Myanmar has gained the remarkably raising Inflation rate throughout history. Myanmar Annual Rate of Inflation or (CPI) Inflation rate has climbed up to 18.25 % in the first quarter of FY 2022-23, and Year-on Inflation rate is 18.46%. Annual Rate of inflation is 27.98 % and average Inflation for Q2 (Jul-Sep 2022) was 28.14 %. Compared to the FY 2021-2022, it has gained 7 % increase of CPI and 4 % increase in annual rate of inflation.
Regulations on overseas remittance – Foreign Exchange Authorized Dealers Bank (AD) banks in Myanmar will scrutinize the companies whether they pay the personal and corporate income taxes to the government and allow the businesses to transfer above USD 10,000 remittances after checking tax bills.
According to the Myanmar Annual Tax Compliance Remainder for FY 2022-23, all taxpayers – including companies, organizations, or individuals – must file their annual tax returns especially Corporate Income Tax, Commercial Tax and Annual Salary Statement to their respective tax offices through in-person or applying through www.ird.gov.mm before the end of June, 2023.
Trading Sector
An MSME Fair 2023 was held on 7th May, 2023 in Lotte Hotel, Yangon and mainly conducted by UMFCCI (Union of Myanmar Federation of Chambers of Commerce and Industry) in order to promote the development of MSME sector within Myanmar. There are over 120 product shows displayed including Myanmar Traditional Costume Fashion Show.
Myanmar is the largest trade partner of Yunnan Province as well as the largest import source and export market. China and Myanmar has been closest business partners' countries throughout ages. China-Lancang Trade Fair between the Myanmar Trade Promotion Organization under the Ministry of Commerce, and the Lancang People's Government in Yunnan Province, the People's Republic of China, was conducted from 25th to 28th May in NayPyiTaw. A total of 65 businesspersons, organizations and companies from Myanmar and 70 businesspersons from China have participated on the trade fair. As a part of the program, Myanmar-China economic and trade cooperation discussion and the signing ceremony was took place on 26th May 2023 at the Plenary Hall of the Myanmar International Convention Center II (MICC- II). About 17 companies from both countries signed nine agreements on cooperation and trade in areas such as agricultural products, foodstuffs, soft drinks and beverages, pharmaceutical products, household electronics, and electric vehicles.
Foreign Direct Investment Sector
India-based Adani Business Group has sold Adani Ports and Special Economic Zone (APSEZ) Ltd, the largest port group developer of India, implemented in Yangon, to Solar Energy Companies with USD 30 Million. The business group has totally invested USD 195 million in Myanmar. In May 2022, the APSEZ had announced the signing of a Share Purchase Agreement (SPA) for the sale of its Myanmar Port. According to the Statement, the buyer will pay the said amount to the seller within three business days on completing all the necessary compliance by the seller. On receipt of the total transaction value, the APSEZ shall transfer the equity to the buyer and its exit will stand concluded.
According to a local newspaper, Myanmar Economic Holding Limited sued the HSL Group Joint Venture Company for USD 21 million and the defendant will confront witnesses in order to dispute their testimony and questions in coming June 2026.
Manufacturing Sector
By 2022-23 GDP by composition, the manufacturing sector is the second largest portion with (34%)and largely contributed toward national economy. Myanmar manufacturing sector is mainly comprised of the garment and textiles produced on the CMP (Cutting, Making and Packing). Throughout nationwide, about 541 factories are operated under the Myanmar Garment Association and mostly from China, and followed by Myanmar, the Republic of Korea. In April 2023, the manufacturing sector almost hit USD 3.7 Million investment which is mainly from a Chinese enterprise with USD 2 Million USD.
Although there was a terrible electricity shortage in hot season of this year,  Purchasing Managers' Index (PMI), Myanmar Manufacturing Index has bumped up to 57.4 in April 2023 with the fastest pace since the series began in 2016 and grew the most on record  due to increasing orders and production growth in last 18 months. 
Transportation Sector
The opening ceremony of Sittwe-Kaladan Jetty International Port under the Indian-funded Kaladan Multi Modal Transit Transport Project was held in Sittway Township of Rakhine State on 9th May 2023. It has major achievement for transportation sector through 2022-23 because of its mutual benefits to India and Rakhine and China States in Myanmar. Besides, as it is a multimodal transport system by linking the sea route, inland waterways and road, it has major impact such as the flow of the transport and goods between Rakhine State and also promotes the socio-economic status of residents living alongside the Port
COVID
There are eight cases of Covid-19 Omicron XBB.1.16 sub variant in Sittwe, Myanmar. The Ministry of Health has also warned that the XBB.1.16 is more infectious than previous one. As of May 27,2023, there are 638,491 Coronavirus cases in Myanmar and total 617,455 have been recovered from infection out of 10 Million specimen test. In order to continuously control the infection of COVID-19, the rules and restrictions have been extended until the end of June 2023 by the Ministry of Health.
Monthly Business Brief, April 2023
1 May, 2023
Economy
Throughout April 2023, National Planning Law, Union Tax Law, and Union Budget Law were released by the Government. The FY 2023-2024 National Planning Law was promulgated on 31th March 2023, enacted since 1st April 2023 and released on 7th April 2023. According to FY 23-24 law, the country achieved GDP growth by 3.4% in 2022-23 FY and the growth target will be at 4.1% in FY 2023-24. GDP by composition, the service sector has been the highest composition with 42%, and followed Manufacturing Sector by 34% and Agriculture Sector by 24%. It is targeted to grow 5.5% in Service Sector, 3.4% in Manufacturing Sector and 2.4% in Agriculture in FY 2023-24.
Trade
Throughout FY 2022-23, total foreign trade volume of Myanmar was USD 34 billion which is 9% increase compared to the previous year trading volume of USD 29 Billion. Among the development in trading sector with April 2023, after successfully implementing the Direct Trade Payment Systems Yuan/Kyat and Baht/Kyat at China and Thailand throughout 2021-2022 FY of Myanmar, the Central Bank of Myanmar has formed working committee on Rupee/Kyat direct payments for India-Myanmar trade with associated government departments, state-owned banks and private banks from Myanmar. In terms of Trade Statistics, India has been Top-5 major exporting countries after China and Thailand up to February 2023. Hence, it is estimated that Trading with India border will be increasing after implementing the Rupee/Kyat Payment Systems. 
In export sector, fishery product has been one of the major exporting products of Myanmar exported to 40 countries (especially Japan, European Countries, China, and Thailand and neighboring countries) through marine trading. In 2022-2023 FY, it mainly contributed towards Country's economy with an income of USD 765.947 Million which is however 8 % decrease (USD 59 Million) compared to previous Fiscal year (USD 826 million).In exporting to neighboring countries, they are normally delivered through Muse, Myawaddy, KawThaung, Sittway, Myeik and Maungtaw borders. There are 20 fish species products including hilsa, rohu, catfish, and seabass exporting to Foreign Countries.
In import sector, the automatic licensing and non-automatic licensing systems on Myanmar Trade Net 2.0 platform will have commenced on coming 1st June, 2023. As it is digitalized licensing system, it does not need to apply for import license for certain lines (3,075 lines) and those lines will be automatically passed through the system. According to Notification 19/2023 of MOC under the Customs Tariff of Myanmar 2022, 8,774 commodities lines with 10 digits HS Code for export are required to be applied for export/import licenses on Tradenet 2.0 and they will be granted licenses through non-automatic import license. Only after traders of those items have received licenses first in line with the export/import regulations through the non-automatic licensing process, the shipment by air, sea and road will be given the green light.
Recent developments of Electric Vehicles in Myanmar
There are four types of Electric Vehicles which can be imported to Myanmar notably as Battery Electric Vehicle (BEV), Hybrid Electric Vehicle (HEV), Plugin Hybrid Electric Vehicle (PHEV) and Fuel Cell Electric Vehicle (FCEV). On recent development, the first EV Express Bus will be initiated by Local Express Bus Transport Service, Mandalarmin Transport Co Ltd, in coming months on Yangon-NayPyiTaw-Mandalay Trips and the passengers can start using it in coming months. For Public Use, MG Myanmar launched MG4 Electric Vehicle at the Myanmar Plaza on 3rd April 2023. MG Myanmar has been one of the Authorized EV Vehicle Importing Companies of Myanmar and has been launching first to the Public. In terms of Power Station for EVs, there are 19 Charting Stations on pilot project, have been implementing within this year. However, on 5th April, 2023, the power station on the Yangon-Mandalay Highway Road in Bago Region was finished. It was mainly constructed by Earth Renewable Energy Co,.Ltd. In terms of Commercial Tax, it was categorized under the Special Commercial Tax and Tax on EVs has been exempted from 1st April 2023 until the end of March 2024 with Zero Percent Custom Duty. Besides, the Road/Bridge Tolls Fee, 100 percent wheel tax, city entrance fee, charges for overweight load, showroom fee and so on have also been exempted for two years from 1st April 2023 to 31st March 2025.
Banking and Finance
The FY 2023-2024 Union Taxation Law, Union Budget Law were enacted since 1st April 2023 and released on 7th April, 2023. The significant changes in 2023 Union Tax law stated that increasing tax rates on specific goods such as liquors and income tax threshold for SME companies, and the commercial tax exemption on Battery Electric Vehicles ("BEVs") including Battery-used electric 2/3 wheeled Vehicles, accessories, battery charging services and solar-related equipment..
In recent development in Banking and Finance Sector throughout the years 2021 to 2023, the savings at the private banks in Myanmar has significantly boosted up to 14.42 percent and 7.81 percent in loans compared to the previous fiscal year. The total credit to the GDP ratio is also 28 percent. Savings at the banks of the Central Bank of Myanmar and balance has also gained an increase of 35 and 36 percent compared to the previous year. The turnover of the Interbank Market also bumped up to 98 percent (MMK 1,166 billion) compared to the previous year and the turnover between the foreign banks and private banks get higher than previous years.
In Private banking sector development, even though there used to be are two prepaid card services such as Manchester United Prepaid Travel Card (Visa) and CB MNA Visa Prepaid Card at CB Bank Myanmar, , the prepaid card services newly launched by CB Bank can be used up to USD 1,000 per month since 21st April 2023. Moreover, it can be used to withdraw Cash from more than 210 countries around the world. The features can also topped up with CB Pay and ibanking. In transferring money, a total of 50 Million kyats can be daily transferred from CB Ban to any local bank by using ibanking service through smartphones, tablets and laptops. Ibanking account can be created at CB Bank Branches and Business IBanking account at CB Bank (UFC Tower 2nd Floor)
Investment
Throughout FY 2022-23, there were total USD 1.64 Billion of approved 87 Foreign Direct Investment projects by 12 Sectors which has been an increase of 39% compared to previous FY 2021-2022 (USD 0.6 Billion). In every years, Power Sector has been the highest FDI sector and mainly invested by China. In 2022-23 FY, more than half of total investment covered the sector with USD 820 Million and followed by service sector with 31% (USD 504 Million) and Manufacturing Sector with 17% (USD 271 Million). By countries, Singapore, China, Thailand and Hong Kong (SAR) are major investors of Myanmar.
Transportation
Major improvement within The bridge project is being implemented on Hsenwi -Kunlong-Chinshwehaw road (49/6 miles) in Kunlong Township of Lashio District with the funding of 140 Million Yuan by the Chinese Engineers and workers of China Yunnan Sunny Road and Bridge Construction Company Limited under the supervision of Ministry of Construction, Myanmar for improving the traffic and logistics sector of the Northern Shan State.  As of April, the construction period is scheduled within 30 months since 2021 and currently the project completion is on 92% and is planned to complete in June 2023. The 6-span Box Girder type bridge is 12 metres in width, and the approach road is 3.54 kilometres long on the Kunlong side and 435 metres long on the Hsenwi side. It has a load capacity of 75 tonnes.
China is major trading partners of Myanmar for decades and because of this project, This Kun long Bridge is going to be a major trading area between China and Myanmar across Lashio, TheinNi, Kunlong and Chinshwehaw and as it is exported main agricultural products such as sesame, peas, sugarcane and corn, it can become trade facilitation between two countries.
Energy
Electrification sector
There are five major types of electric power installation in Myanmar by types such as Thermal, Diesel, Hydel, Gas and Solar. In coming months, Myanmar has potential projects on Cross-border power line projects with neighboring countries such as Laos, China and Thailand to generate electricity across the country. Among electrification by types, over the half of the power generation  is by Thermal Power Stations with 52%, 45% Hydropower and the other 3% by Solar power. There are 28 hydropower stations generating 3,225 MW capacity, thermal stations generating 3,738 MW capacity and 6 solar power stations generating 180 MW to 2,143 MW. Currently, 3 solar power stations have been constructed near Naypyitaw and will be completed in 2025-2026.
 On 3rd April, 2023, the MoU amendment signing ceremony on Myanmar-Laos Power Cooperation and signing ceremony of Notice to Proceed (NTP) to conduct a feasibility study on cross-border power project to hand over to Consortium of PISASAI Energy and Mine Investment Pte Ltd and Primus Sapphire Power Limited between the two countries' Electricity and Energy Ministries were held in NayPyiTaw. The MOU has been signed since 2018 for 5 years and there was major progress in power transmission/selling project. The project will have been extended for next term and Mekong hydropower project development program as well and will be reached to Kengtung in 2024 and Meiktila in 2026 and is able to support the electrification of Myanmar.
Fuel and Energy Sector
According to the Myanmar Petroleum Trade Association, in the peak season of April, the country had stocked a total 4.3 million gallons of 92, 10.4 million gallons of 95, 1.7million galloons of 97, 30.9 million gallons of diesel and 2.9million gallons of premium diesel to fulfill demand. It is mainly imported from Singapore through THE tanker ships. There will be no more shortage of the Fuel oil in Myanmar.
COVID
The Ministry of Health and Sports has confirmed the new detection of Omicron Variant (SARs-CoV-2) since February 2023 and has conducted COVID-19 Molecular Disease surveillance. In April 2023, there was a slight increase of the outbreak of Omicron Variant XBB.16 in Myanmar. It is 1.27 times faster infection more than the previous ones even though the symptoms were not more severe. As of April 28th 2023, there have been confirmed Covid cases of 6.3 Million, death among lab confirmed was 19,490, and recovered cases were 6.1 Million out of 10 Million total specimen test.
In order to continuously control the infection of COVID-19, announcement of the extension of the restriction of COVID's rules and restrictions have been extended until 31 May 2023.
Monthly Business Brief, March 2023
3 April, 2023
Economy
According to National Planning Commission, GDP growth for 2022-23 was calculated by 3.4% however the National Planning Law 2023-24 is not released yet.
On 31 March 2023, financial institutions including banks and informal money exchanges are instructed to set a dollar value at K2,094 for buying and K2,106 for selling. However, in the market Kyat-dollar exchange rate was K2,855 for buying and K2,870 for selling meanwhile the Central Bank of Myanmar (CBM) set the reference exchange rate at K2,100. There is a large price difference between the reference rate of the CBM and the unofficial market rate for the whole year.
On the other hand, the fuel prices stood at K2,110 for Octane 92, K2,200 for Octane 95, K2,070 for diesel, and K2,150 for premium diesel on 31 March 2023. The octane exceeded diesel significantly in price. During March, there are some businesses which need diesel for power supplies since Summer season has started and there're power cut off everywhere. However, the consumption of diesel has been restricted to a certain extent. The fuel stations limit the amount of liter they can buy and also the businesses need to show a letter to buy it.
Banking and Finance
On 20 March 2023, ATOM – CB Co-branded MPU credit cards have been introduced to the market providing better benefits for Platinum Star users of ATOM. Starting on launching day, credit cards can be easily applied through the ATOM Store App and the ATOM Website.
Next Tax law and Union Budget Law have not been released till end of March.
Trade
In the fiscal year 2022-2023, Myanmar's total trade volume was $33.36 billion, while it was $29.33 billion in the same period last year. Total foreign trade was $4 billion more than the same period last year, according to statistics released by the Ministry of Commerce. During this period, the amount of exports to foreign countries was $16.28 billion, which was $1.39 billion more than the same period last year. Similarly, the amount of imports from foreign countries was $17.08 billion, which was $2.63 billion more than the previous year.
On 22 March 2023, the Department of Trade released a notification of seeking import licence for all types of goods including ones stored under customs warehousing before the goods arrive at the port is obligatory. Additionally, importers were notified to face legal actions in line with the Export and Import Law if early arrival of the goods without import licence or permit of the departments concerned was found. Therefore, an import licence is required for all items including goods to be stored at the Customs warehouse before arrival, intending to steer trading activities and maintain the quality of the goods due to failure to claim the goods from the Customs bonded warehouse for a long period. Thus, the statements will cease to be in effect for six months from 1 April 2023 and suspension might extend, if necessary.
According to Department of Trade, Export licences can be done through Myanmar Tradenet 2.0 portal starting from 1 April 2023. In order to facilitate the export/ import licencing process and conduct exports/imports systematically, traders are allowed to export the goods only after seeking an export licence via Myanmar Tradenet 2.0 platform. Having digitized the licencing system, licencing for certain lines that do not need to apply for export licence will be automatically passed on the system. According to 2022 Myanmar Customs, commodities lines with 10-digit HS Code are available to be apply for an export licence on Myanmar Tradenet 2.0.
According to the statistics of the Myanmar Garment Manufacturers Association, CMP garment exports generated over $4.7 billion income abroad during the first 11 months of the 2022-2023 financial year.
According to the statistics released by the Myanmar Rice Federation (MRF), the rice export by Myanmar during the last 11 months from April 2022 to February 2023 in the 2022-23 financial year was 2.09 million tons and earned $783 million.
Last but not least, Myanmar brought in over $1.2 billion from over 1.6 million tonnes of various pulses exports over the past 11 months of the current financial year 2022-2023, according to the statistics of the Ministry of Commerce.
Myanmar has been bringing in electric vehicles (EVs) under the customs tariff relaxation through seaborne and border trade routes, according to the Ministry of Commerce. On 3 March, a fleet of 30 Dongfeng EVs imported by Asia Pacific Automaker Corporation Co Ltd arrived in the Muse 105th mile trade zone in northern Shan State. Chindwin Shan Co Ltd also took out 7 kW GB AC five chargers for EVs on 21 February 2023 from the port terminal. The importation of the EV charger is exempted from Customs tariffs to enhance the EV sector in the domestic auto market. On 6 March 2023, another five sets of EV chargers for battery electric vehicles arrived at Yangon Thilawa Port. On 26 March 2023, next five sets of EV chargers arrived at Yangon International Airport.
Investment
In the first 11 months of the fiscal year 2022-23 starting from April to February last year, Myanmar attracted more than 1.62 billion U.S. dollars in Foreign Direct Investment (FDI), according to figures released by the Directorate of Investment and Company Administration (DICA). Throughout the year, the Myanmar Investment Commission (MIC) approved 73 foreign investment enterprises. During the period, the power sector attracted most foreign investment with capital of over 820.27 million dollars, followed by the services sector with over 500.91 million dollars and the manufacturing sector with over 258.02 million dollars. Singapore, China and Thailand are largest investors in Myanmar.
Manufacturing
The IHS Markit Myanmar Manufacturing PMI climbed to 55.5 in March 2023 from 51.5 in February. March data signalled a robust improvement across Myanmar's manufacturing sector. Production rose at the fastest pace on record and new orders increased at a near-record pace. Firms largely attributed the upturn to strengthening client demand and a growing client base. Moreover, supply chain pressures eased at the end of the first quarter, as average lead times increased to the smallest degree in one-and-a-half years.
Energy
The Department of Electric Power Planning under the Ministry of Electric Power signed a Memorandum of Agreement (MoA) on wind power projects to be launched in An, Gwa and Thandwe townships of Rakhine State with the Primus Advanced Technologies Limited, Asia Ecoenergy Development Limited and Yunnan Machinery and Equipment Import and Export Co Ltd on 1 March, 2023.
Tourism
The Kawthoung-Ranong border gate has been allowed to reopen as an international entry and exit point. The border crossing between Kawthoung city in southern Myanmar and Ranong city in southern Thailand has been approved on March 7, 2023. For this permission, travellers have been able to visit Thailand and Myanmar with passport and CI books.
Regional Cooperation
In honour of the 7th Anniversary of the Mekong-Lancang Cooperation on 23 March 2023, the Exhibition on the Achievements of Mekong-Lancang Cooperation Special Fund Projects in Myanmar was organized by the Ministry of Foreign Affairs followed by the commemorative reception in Nay Pyi Taw. The dignitaries observed the exhibition on the outcome of 92 MLC Special Fund projects implemented by 17ministries in 34 cooperation areas.
COVID
In order to continuously control the infection of COVID-19, announcement of the extension of the restriction of COVID's rules and restrictions have been extended until 30 April 2023.
Monthly Business Brief, February 2023
1 March, 2023
Trade
According to the Department of Trade, truck drivers need to seek QR code-based Vehicle Pass permits beforehand on digital platforms in order to export good in border trade. The department has launched an online system starting from 11 February to issue vehicle passes to facilitate the exports of various pulses, corn, sesame and peanut in the border channel like Muse, Myawady and Chinshwehaw. The trucks can pass the checkpoints with a QR code. Each truck will be charged K5,000. Those drivers which fail to show the QR code are not entitled to leave.
Based on the data from the Ministry of Commerce, Myanmar's trade reached over $4,500 million via Myanmar-Thai border trade posts within 10-month and half period, from 1 April 2022 to 17 February 2023 which indicates exports of goods having around $3,000 million and imports over $ 1,500 million. Myanmar carries out border trade with Thailand via Tachilaik, Myawaddy, Kawthaung, Myeik, Hti Khee and Maw Taung border trade posts. Myanmar mainly exports CMP products, agro-products and aquatic products to Thailand.
Since electric vehicles (EVs) and related sectors such as EV battery production, electric bus operation services are given priority by the government, businesses are preparing for the importations of machinery, essential equipment and accessories, spare parts, as well as launching of EV car showrooms. On 21 February 2023, the Ministry of Commerce released a directive stating the rules for the importation of battery electric vehicles (BEVs) and showrooms.
During the pilot project, the importing companies of EVs must register with the Directorate of Investment and Company Administration. They have to submit the sales contract with each EV manufacturer. The importers must abide by the standards and import quota set by the national-level steering committee on the development of electric vehicles and related business.
The companies also need to pay K50 million at the designated banks and present the bank guarantee. Those showroom operators must present a certificate of non-tax delinquency provided by the Internal Revenues Department and need to add K100 million to a special account of the authorized banks as a guarantee. Only vehicles with left-hand drive can be imported. The models for private vehicles are set to be one year older than the current year. The showroom operators can import the vehicles in line with the auto import policy issued every year.
Investment
On 12 February 2023, the Myanmar Investment Commission (MIC) approves 8 new projects including renewable energy-generating electricity. MIC greenlighted the expansion of the capital in eight ongoing investment projects and new investments in the electricity sector, the transport and communications sector, the petroleum and gas sector, the industrial sector, the hotels and tourism sector and the service sector. The investment amount of these businesses is US$ 143.634 million and K 98,078.094 million generating 1,374 domestic job opportunities. Out of 52 countries and territories investing in Myanmar, Singapore, China and Thailand ranked the largest shares of investments as of end-January 2023. Among the twelve economic sectors, the most invested sectors are 28.30 percent of the total investments in the electricity sector, 24.63 percent in the petroleum and natural gas sector and 14.34 percent in the industrial sector.
Tourism
On 20 February 2023, the No.1 Friendship Bridge of Tachilek-Mae Sai was reopened after being closed for three years due to COVID-19 control restrictions. It was reopened after officials of the two countries negotiated several times. Temporary border crossing passes are also issued at the bridge. Passers-by can use the bridge if they can show full vaccination for COVID-19.
Transportation
In 2022, the Yangon International Airport served over 2 million arriving/departing passengers and more than 33,000 flights, according to the Yangon Aerodrome Company Limited (YACL), which takes responsibilities of services at the Yangon International Airport.
Regarding International shipping, a total of 655 container ships which loaded 20,000 to 30,000 tons entered Myanmar in 2022. There were 45 container ships in January and 51 in February 2023. Kaladan Multi Transportation project will be started soon and 5,000 – 6,000 ton ships will be entered to Sittwe Port.
COVID
In order to continuously control the infection of COVID-19, announcement of the extension of the restriction of COVID's rules and restrictions have been extended until 31 March 2023.
Monthly Business Brief, January 2023
1 February, 2023
Economy
During January 2023, the foreign exchange rate in the unauthorized market is around MMK 2,850 to 2,900 while the CBM's reference rate is MMK 2,100, showing a large price difference of K700 compared to the unauthorized market rate.
The domestic fuel price is still high throughout January. On 20 January 2023, the prices of fuel oil were K2,200 per litre for Octane 92, K2,275 for Octane 95, K2,420 for diesel and K2,500 for premium diesel. Then on 28 January, the prices of fuel oil were MMK 2,275 per litre for Octane 92, MMK 2,355 for Octane 95, MMK 2,490 for diesel and K2,570 for premium diesel. The figures indicated an increase of MMK 70-80 per litre depending on the types of oil within one week. The rates for regions and states are way higher than Yangon since the costs are evaluated after adding the transportation cost.
Low and high grades of paddy fetch skyrocketing prices in January 2023. Low grade paddy like Thukha, Hnankar were traded with about MMK 1.5 million and high grade like Pawsan fetch MMK 1.7 to 2.2 million per 100 baskets (52 lbs).
Although production is lower than 2019 due to crises and electricity shortage problems, the world bank predicted Myanmar will achieve 3% growth in 2023.
Banking and Finance
Insurance market
The insurance market in Myanmar is profitable and growing but still at the nascent stage. More and more products are being introduced every year. People are becoming aware of the availability of insurance products as the agents get trained and push for sales. On the other hand, the insurance companies still need to build a good rapport and trust with the customers.
The most common one is the car insurance. Even though the payout ratio is 25 per cent on average across the industry, the car insurance payout is the odd one out with more than 50 per cent payout. Every car in Myanmar needs to have third-party liability insurance provided by Myanmar Insurance, at the time of vehicle license renewal. The cost is only around $10-$15 and the payout is only around $1,500 in the event of the death of a third party.
However, there is the downside of insurance market in here. That's people are experiencing more insurance frauds at the same time. It is time the insurance industry starts keeping a record of insurance fraudsters so that honest policyholders do not have to subsidize the criminal actions of these few people. All entities and individuals are encouraged to buy coverage from licensed insurers within the country. The growth of the insurance market is taking much longer than expected so far.
At the current moment, more agents are being trained in both life and general insurances. The agents work under one-year contract committing themselves to the insurer. The companies acting as agencies with teams of agents are likely to appear in the foreseeable future. People are also considering the issue of inflation and insuring in a soft currency.
Trade
On 14 January 2023, trade activity at the Muse-Mang Wein on some Sino-Myanmar border, which have been closed down for three years, reopened. They will be accessible by road vehicles (trucks, vans, motorcycles) again. Additionally, the driver-substitution system will be abolished along with the reopening of the border crossings. However, only six-wheel trucks driven by Myanmar drivers are allowed to pass the Mang Wein crossing. Other trucks are still not given the green light. Passengers are not entitled to pass it as well. General cargo is allowed through Mang Wein gate to trade except agri, livestock, fruits and mineral products which can be traded through Jinsan Jao gate.
Investment
On 25 January 2023, the Yangon Region Investment Committee (YRIC) endorsed nine foreign enterprises and one domestic business in the power and manufacturing sectors, creating 4,300 jobs for residents. They will execute solar power projects, milling and production of sunflower oil and peanut oil, refining and production of palm oil, printing and dyeing enterprises, manufacturing of electrical appliances and production of footwear on a Cutting, Making, and Packing (CMP) basis.
Tourism
In Myanmar-Thai border, on 12 January 2023, operations were resumed at the Myawady-Mae Sot Friendship Bridge I after nearly three years of closure. Therefore, people can enter the Mae Sot side by passing that bridge with the border pass as before. For a border pass document, Myawady residents can apply for it by presenting a citizenship scrutiny card, household registration and three pictures of the licence-sized photo. Licenced private cars are entitled to go over the bridge and the passengers need to present COVID-19 vaccination certificates.
Tachilek-Mae Sai Friendship Bride I will be reopened soon, which was also closed for nearly three years due to the COVID-19 pandemic.
In Myanmar-China border gates in Nantaw and Sinphyu of Sino-Myanmar borders reopened on 25 January 2023, which have been closed down for three years.
Transportation
According to the Rakhine State Chambers of Commerce and Industry, the new Sittway Port, a transit transport project of Myanmar and India, will be opened soon. The new port is a multi-modal transit transport facility on the Kaladan River connecting Myanmar and India. Currently, the port is ready for the entry and exit of international ships and plans are underway to admit the local vessels.
On 21 January 2023, Mandalay-Mangshi direct flight has been resumed which operates three days a week. Ruili Airlines had temporarily suspended flights due to the Covid-19 pandemic but has launched weekly flights on Tuesdays, Thursdays and Saturdays starting from 21 January.
COVID
In order to continuously control the infection of COVID-19, announcement of the extension of the restriction of COVID's rules and restrictions have been extended until 28 February 2023.
Monthly Business Brief, December 2022
4 January, 2023
Economy
Myanmar's economy has faced a series of external and internal disruptions which have impeded recovery from the large contraction in economic activity starting from 2021. The GDP growth target for 2022-23 budget year by Ministry of Planning and Finance (MOPF) is 3.7%. Based on the released data, achievement of first six months (Apr-Sep) was 3.4%.
Myanmar economy is currently facing a range of constraints which include a sharp rise in the prices of imported inputs and consumer goods with the increasing currency exchange rate, electricity outages, and other matters.
At the end of December 2022, Gold market price was still rocketed to K 2.69 million per tickal and FE market price was K 2,850 per US$. Fuel oil market prices in yearend stood as below;
K 2,010 per litre for Octane 92
K 2,080 per litre for Octane 95
K 2,365 per litre for Diesel
K 2,445 per litre for Premium Diesel
Banking and Finance
According to the released statement from CB Bank, all MPU Debit card holders of CB Bank can withdraw cash from its ATM. Starting from 1 December 2022, the MPU debit card holders can withdraw K300,000 per day from an ATM and the withdrawal limit per week from the ATM is K500,000.
The government provided K30 per dollar (an equivalent amount of foreign currency) in the salary remitted by Myanmar citizens abroad. The authorized CB Bank adds another K10 to this government's contribution of K30. When their family members withdraw cash, they will get an additional contribution of K40 per dollar that becomes K2,500 which is closer to market rate of K2,850. Those additional contributions cover the foreign income by Myanmar citizens including seamen and Myanmar migrant workers. Only the remittance of foreign salary through the authorized banks is entitled to this. In addition to the additional contributions and commission, they are exempted from tax on foreign income inward remittance under the Union Tax Law.
Yangon Stock Exchange
Due to the indication of the Yangon stock Exchange's monthly price data, the stock trading values by seven listed companies on the YSX were estimated at over K558 million with 103,292 shares traded in November 2022.
Shares can be traded using the call auction system or the block trading system. For those who would like to trade in the Yangon Stock Exchange's share market, they should learn the Trading Business Regulations issued by the Yangon Stock Exchange.
YSX launched a pre-listing board (PLB) on 28 September 2020 to provide unlisted public companies with fund-raising opportunities and build a bridge toward listing on YSX. Moreover, the YSX stock investment virtual series 2022 launched in December through the YSX YouTube channel and other social media platforms every weekend of December 2022.
Trade
According to the statistics released by the Ministry of Commerce, the value of border trade via the Myawady border post between 1 April and 25 November hit US$1.456 billion. The figures showed a drastic drop of $148.545 million recorded in the corresponding period last year. The trade policy changes and political instability in the border areas resulted in an extreme fall in export to Thailand. The border trade between Myanmar and Thailand through Myawady, Tachilek, Kawthoung, Myeik, Hteekhee, Mawtaung and Meisei amounted to $3.452 billion, which is an increase of $451.342 million from the year-ago period.
Referring to the Ministry of Commerce's statistics, Myanmar earned US$82.33 million from rice and broken rice exports in November 2022. Myanmar's seaborne rice exports to international trade partners amounted to $47.64 million from over 122,150 tonnes in November 2022, with over 105,750 tonnes to Asian countries and over 16,390 tonnes to European Union member countries.
In addition, maritime trade operations are served by 46 international jetties at the current moment.
The Ministry of Economy and Commerce announced that the vehicle import policy for 2023 will continue to be applied without any changes.
Investment
The Yangon Region Investment Committee (YRIC) endorsed one domestic project and one foreign enterprise in the manufacturing sector, with an estimated capital of over K4.08 billion and US$0.50 million during December 2022.
A total of 41 foreign enterprises pumped US$187.426 million into Myanmar's manufacturing sector in the past eight months (April-November) of the current financial year 2022-2023, including capital expansion by the existing enterprises, as per the statistics released by the Directorate of Investment and Company Administration (DICA).
COVID
In order to continuously control the infection of COVID-19, the rules and restrictions have been extended until the end of January 2023.
Monthly Business Brief, November 2022
1 December, 2022
Banking and Finance
The US dollar exchange rate in Market seemed to be stable during November, compared to the previous months. Last August, a dollar hit over MMK 4,000 in the black market. At present, the dollar was exchanged at MMK 2,860 for buying and MMK 2,880 for selling while the Central Bank of Myanmar (CBM) set the reference exchange rate at K2,100.
On 18 November 2022, the CBM announced that export earnings can be made in Chinese Yuan and Thai Baht in addition to the US dollar. In order to make Yuan and Baht payments, the traders need to apply for a license. As per the US dollar policy, 65 per cent of earnings must be exchanged for local currency at the CBM's reference foreign exchange rate, while exporters can use 35 per cent of export earnings or sell them on to others with an over-the-counter rate within one month.
Trade
Starting from 1 November, imports are to be allowed based on the export earnings or flows of funds and the initial stage of this move will commence in Myanmar-Thailand border areas, according to 31 October 2022 of the Trade Department under the Ministry of Commerce. To improve Anti-Money Laundering and Countering the Financing of Terrorism (AML/CFT) measures and follow the Action Plan of the Financial Action Task Force (FATF), banking will be utilized in settling border transactions. Imports will be allowed only with the banking system in border transport.
On 11 November 2022, the Ministry of Commerce released the announcement upon the import rules for electric vehicles (EV) in the pilot project. Here are some of the rules the importers have to follow:
The importers must abide by the standards and import quota set by the national-level leading committee on development of electric vehicles and related business.
The companies must register with the Directorate of Investment and Company Administration whether it is a joint venture or wholly citizen-owned business.
They must show the sales contracts with exporting companies. They have to be sought approval from a national-level leading committee on the development of electric vehicles and related business. There must be an EV warranty, spare parts availability, and service and maintenance of those vehicles.
The companies must seek permission from the MoC to register with the Road Transport Administration Department.
The rules in the directive are effective between 1 January 2023 and 31 December 2023. Further amendments are to be made if necessary.
Investment
In the past seven months (April-October) of the current financial year 2022-2023, a total of 35 foreign enterprises pumped US$179 million into Myanmar's manufacturing sector including capital expansion by the existing enterprises, as per the statistics released by the Directorate of Investment and Company Administration (DICA). Myanmar attracted foreign direct investments of $1.45 billion from 52 enterprises during April-October period 0f 2022. The majority of the investments brought into the manufacturing sector.
In addition, according to the Directorate of Investment and Company Administration (DICA), a total of 4,100 companies have been struck off the register in the past ten months as they fail to submit annual returns (AR) on the online registry system, MyCO. In 2022, 400 companies each in January, February and March, 300 in April and 500 in May, 400 each in June and July, 55 in August and 400 each in September and October did not file annual returns on MyCO respectively.
COVID
In order to continuously control the infection of COVID-19, the rules and restrictions have been extended until the end of December 2022.
The government issued an announcement on the control of COVID-19 to take tests with RDT will be relaxed for travelers to Myanmar by international commercial flights if they show COVID-19 vaccination record cards as a proof of being fully vaccinated or if the travelers who are not fully vaccinated show the RT-PCR test results within 48 hours before their arrival to Myanmar on 1-12-22. The details will be published in Public Health Requirements for travellers who wish to enter Myanmar through International Commercial flights on 1-12-22. However, the public health requirements for travelers by relief flights and travelers via land borders will remain the same as previous requirements on COVID restrictions.
Logistic Market of Myanmar, 2022
14, November 2022
Logistic market before COVID
Logistic is understood as a network of services that support the physical movement of goods, trade across borders, and commerce within borders. It comprises an array of activities beyond transportation, including warehousing, brokerage, express delivery, terminal operations, and related data and information management. For every country, logistics performance is the key to economic growth and competitiveness. Inefficient logistic raises the cost of doing business and reduces the potential for both international and domestic integration, especially for the developing countries like Myanmar.
Myanmar Freight and Logistics Market is segmented by Function (e.g., freight transport, freight forwarding, warehousing, and value-added services and others), End User (such as manufacturing and automotive, oil and gas, construction, distributive trade, etc.), and Other End Users (like telecommunications, food and beverage, pharmaceutical, and so on). According to Mordor Intelligence's report, Myanmar freight and logistics market is anticipated to record a CAGR of more than 7% during the forecast period which is from 2018 to 2027. The market was valued at USD 4.32 billion in 2020. The logistics sector in the country is under transformation, driven by increasing trade activity, improving connectivity, and the entry of major international players.
Logistic market in Post COVID
Logistic services in Myanmar have been substantially hit by COVID-19 since 2020 and political instability in 2021. Logistics companies have been affected by rising fuel prices, border closures, and a shortage of shipping containers. Higher fuel prices and currency liquidity shortages significantly increased the cost of inland transport services. Transportation and logistics services are expected to be severely impacted by continuing high fuel prices, mobility constrains, political instability, and evolution of the pandemic. The export and import via container are expected to recover gradually due to agricultural and garment industry-led demand.
By referring the report from Market Watch in August 2022, Myanmar freight and logistics market is expected to reach a market value of USD 7.52 billion by 2023. Currently, almost all international trade that is occurring in Myanmar via the sea route is being handled by the port area of Yangon (almost 90%). Hence, international inland water freight forwarding is heavily focused at the Yangon port area, with the ability to handle containers. The key area of focus to give the preference for cross-border land trade, instead of sea or air is that cross-border road transport is preferred more by Myanmar business owners when dealing with countries, such as China and Thailand.
New logistic routes in 2022
Other than normal sea trade in Yangon Port, a new sea transport is being started by shipping 2,605 ton of Myanmar rice export to Bangladesh from Ayeyawady International Industrial Port in Pathein Inddustrial City of Ayeyawady Region. In land route, China-Myanmar new transport mode is kicking off with one bill of landing for 1,220 kilometers through 20 checkpoints from Chin Shwe Haw to China market. Myanmar export goods are loaded to Chin Shwe Haw border with road access and those goods are to be delivered to bonded zone area through a rail link at Lanchang. The Ministry of Construction announced a feasibility study will be conducted on the Maei-Kyaukpyu road section as part of the Nay Pyi Taw-Aunglan-Maei-Kyaukpyu road project. The project is one of the Early Harvest Projects of the China-Myanmar Economic Corridor. Maei-Kyaukpyu section is the project aiming for the number of vehicles used in the Kyaukpyu Special Economic Zone and Deep Seaport Project.
Future of Logistic services
However, the road network in Myanmar is weak and underdeveloped compared to ASEAN nations, with more than half of the road network being unpaved. The improper infrastructure coupled with the lowest motor vehicle penetration in Southeast Asia results in high transportation costs and long travel times. This makes the trucking costs in the country comparatively higher than in other countries in ASEAN. As part of Myanmar's Sustainable Development Policy 2018-30, transport infrastructure development is a prioritized area.
In order to increase freight transport efficiency and maximize investments, a logistics corridor development strategy is being considered. Under this strategy, investments will be concentrated within six so-called logistics corridors, including major transport and cargo systems, such as roads and rivers linking large industrial clusters to border gates and ports.
According to the Director of World Bank Group, good logistics reduce trade costs, but supply chains are only as strong as their weakest link. Getting logistics right means improving the infrastructure, custom procedures, skills and regulations for the developing countries like Myanmar.
Monthly Business Brief, October 2022
1 November, 2022
Banking and Finance
At the beginning of October, seven private banks opened special counters to facilitate gold transactions with the banking payment system.
On 21 October 2022, social media released that the Financial Action Task Force (FATF) has placed Myanmar on its "Blacklist" that the country does not comply with international anti-money laundering standards. The consequences of the announcement led to a rocket increase in unacceptable dollar exchange rate in the market which was over MMK 5,000 per dollar due to panic buying and speculation.
However, CBM issued a statement on 22 October 2022 urging the people not to worry about the announcement of Financial Action Task Force-FATF in which FATF put the country to the list of High-Risk Jurisdictions Subject to a Call for Action under increased monitoring. It is not under blacklist. Myanmar has complied 24 points FATF's recommendations out 40 standard points and Myanmar has been implementing Action Plan to fulfill the standard requirement. CBM gave warning that any currency market manipulator or those who do not comply with the rules and regulations shall face action.
After the CBM announcement, the dollar exchange rate goes down a bit to around MMK 3,000 per dollar.
Trade
On 19th October 2022, eighteen types of imported pharmaceuticals are granted Customs tariff exemption, according to the Myanmar Automated Cargo Clearance System (MACCS) Division under the Customs Department.
They are Aspirin, Paracetamol, Chlorpheniramine maleate, Diazepam, Mebendazole, Gentamicin, Metronidazole, Propranolol, Oral Rehydration Salt, Chlorpromazine, Salbutamol, Intravenous Glucose, Rifampicin, Ethambutol, Isoniazid, Frusemide, Digoxin and Prednisolone.
Additionally, 21 types of medicines will be imposed five per cent of customs duty and 1.5 per cent of duty will be paid for the remaining, presenting HS code along with obelisk code 4 in the customs declaration form.
Starting from 1st November 2022, the Department of Trade will issue Certificate of Origin (CO) Form RCEP to the products that originated in Myanmar and are designated to be exported to China so that the authorized traders can enjoy customs tariff relief.
 Transportation
According to the Ministry of Transport and Telecommunication,
the scheduled flights in all routes of domestic flights are increased in frequency during this month.
there are also arrangements to increase frequency of scheduled flights to all international airports.
COVID
According to the order issued by Ministry of Health on 8th Oct 2022, there was relaxation of COVID restrictions at the international airports.
In order to continuously control the infection of COVID-19, the rules and restrictions have been extended until the end of November 2022.
Market Potentials of Myanmar Rice Export
17 October, 2022
Rice is a vital crop in Myanmar and also in other Asian countries. Rice dominates the agricultural sector of the Myanmar economy and is comprehensively tangled into the social and economic lives of Myanmar's people. Since Myanmar is a rice surplus country, it has the distinct potential to increase rice production, rice quality and exports over the medium and long run. Changes in rice economy might have a direct and profound influence on the entire economy. It is making important contributions to the country's GDP, income and employment generations.
There are good market prospects to accommodate higher rice exports from Myanmar over the next 10-15 years. China is becoming a large net importer of Myanmar rice, and the European Union has opened its markets for duty free imports from Myanmar. According to the released data, Myanmar bagged US$700 million from two million tonnes of rice exports to foreign countries in the past 2020-2021 financial year. In the first half (April-September) of the current financial year 2022-2023, Myanmar shipped 983,782 metric tons of rice and broken rice to foreign trade partners with an estimated income of US$339 million, according to Myanmar Rice Federation (MRF).
Myanmar Rice Federation and relevant organizations and departments strike for seeking the market in Africa and Southeast Asia for rice exportation. In the past six months, more than 40 exporter companies delivered over 773,446 MT of rice and broken rice to external markets by sea, whereas over 210,335 MT were sent to neighbouring countries via border trade camps. Myanmar shipped rice and broken rice to regional countries, countries in Africa and European Union member countries through maritime trade. It is also exported to neighbouring countries, China and Thailand through cross-border posts. Myanmar exported rice to over 20 foreign markets in the past months, mostly to China 123,520 MT and the Philippines 101,259 MT.
In 2022, MRF and the Directorate General of Food of Bangladesh's Ministry of Food signed the MoU to buy 250,000 tonnes of long-grain white rice with five per cent broken from Myanmar as the third time. Bangladesh bought 250,000 tonnes of white rice in 2017 and 50,000 tonnes of parboiled rice from Myanmar in 2021.
On the other hand, there is a strong competition from other exporters in the region – Thailand, Vietnam and Cambodia – and constantly rising demand for the higher-quality rice has put pressure on Myanmar's rice sector. Moreover, there are also some limitations of Myanmar rice like the low productivity, poor rice quality at the farm level and the milling sector which operates with obsolete processing units causes about 15-20 percent losses in quality and quantity during the milling.
The rice industry can be implemented not only for export promotion but for import-substitute measures. Some 80 per cent of the annual production of rice is consumed by the people and making snacks and 20 per cent of rice is exported. Hence, the government and farmers need to cooperate in local consumption and the stability of the rice market. In order to continue rising the rice export, Myanmar must concern about the use of paddy dryers for maintaining the quality of rice in the post-harvest sector, the increase of rice mills capable of milling high-grade rice, the promotion of rice export, and effective application of digital technology in the rice and paddy to adapt the work procedures.
Last but not least, another limitation of Myanmar in expanding the export of rice might be the main export gate of Yangon Port which is small, outdated and with a limited capacity during monsoon seasons. So, the export processing costs are some of the highest in the region. All export procedures and port charges should be revised with a view toward improving the competitiveness of Myanmar rice. So that the market potential of Myanmar rice export could be promising in the long run.
Monthly Business Brief, September 2022
3 October, 2022
Banking and Finance
During September 2022, kyat depreciates against the hard currency US dollar at approximately K3,000 on the over-the-counter market although the Central Bank of Myanmar (CBM) set the reference exchange rate at K2,100, according to local forex traders. On 21st September 2022, the U.S. Federal Reserve increased its policy interest rate from 2.5 percent to 3.25 percent and the possibility of further interest rate has increased the value of the US dollar. Comparing the USD Index on (31.3.2022) and (29.9.2022), it is estimated that the Myanmar kyat is depreciate by 28% due to the increase of 14% in the US dollar.
Consequently, the price of pure gold continues to plunge to K2.7 million per tical (0.578 ounces or 0.016 kilogramme), according to the domestic gold market. The downward trend of pure gold in the domestic market is due to the fall in gold prices in international markets and the slide in the Kyat-dollar exchange rate. At present, gold price is US$1,630 per ounce and a dollar is exchanged at around K3,000 in the black market.
Trade
19th China-ASEAN EXPO, Business & Investment Summit held in Nanning, China
The 19th China-ASEAN EXPO (CAEXPO) and China-ASEAN Business and Investment Summit (CA¬BIS) took place in Nanning, Guangxi Zhuang Autonomous Region in China, were held from 16 to 19 September. Myanmar participated in its showroom and Myanmar representative galleries in the Regional Comprehensive Economic Partnership countries' gallery area. In order to increase the export of Myanmar products, a total of 30 galleries including gemstones, wooden furniture, agricultural products and food products were displayed in the exhibition hall.
Exports market opportunity in European countries
According to the Ministry of Commerce, the value of trade between Myanmar and Germany from October to July of the current financial year 2020-2021 exceeded US$460 million. Myanmar's export to Germany surpassed its import, with $349.882 million worth of export and $110.79 million valued import. Germany is the biggest trade partner of Myanmar in European Union, followed by Spain.
The main export items are rice, pulses, tea leaf, coffee, garments on a Cut-Make-Pack basis and fisheries. Meanwhile, machinery, data-processing equipment, electrical and optical goods, chemical products, motor vehicles and parts and pharmaceutical products, cosmetics, food and beverages and consumer goods are imported into Myanmar.
Manufacturing
According to the latest PMI data from S&P Global, Myanmar's manufacturing industry contracted for the fifth month running during September. Both input and output price inflation rates hit record highs during September. The manufacturing performance in September is 43.1, falling from 46.5 in August. Firms linked the fall output to fewer new orders. At the same time, inflows of new business received at manufacturing firms across Myanmar also fell at the quickest rate in 13 months during September. In line with the fall in business requirements, firms continued to cut back on purchasing activity. Moreover, the pace of reduction in raw materials and semi-finished goods quickened on the month, as the respective index hit a 13-month low.
The overall dismal performance of Myanmar's manufacturing sector, meant that the outlook for the coming 12 months remained largely subdued with only 2% of the respondents expecting growth.
COVID
In order to continuously control the infection of COVID-19, the rules and restrictions have been extended until the end of October 2022.
Rising Commodity prices and purchasing power
19 September, 2022
Consumer price index and rate of inflation
Consumer Price Index (CPI) measures the average change in the retail prices of goods and services purchased and consumed by households. In Myanmar, the Central Statistical Organization produces the CPI and the rate of inflation monthly, with data collection from 82 townships across all states and regions. The weights used in the production of the CPI are based on the levels of household income and expenditure as observed in the 2012 Household Income and Expenditure Survey.
In April 2022, the CPI increased 3.30 points compared to March 2022, leading to an annual rate of inflation of 10.72% and year on year inflation of 17.78%. Relative to the 2012 base period, the index number for the food group was 206.82, the non-food group was 180.79 and overall CPI was 196.01. Since the data mentioned here are from 4 months ago, so it doesn't not reflect the current situation.
Rising commodity prices in August and September
In the current situation, people in the country are becoming more deprived as basic commodity and food prices have risen due to the rising dollar prices. The current exchange rate set by the CBM is MMK 2,100 while the market exchange is around MMK 3,300 per USD.  The steep depreciation of the Myanmar Kyat and the rapid rise in inflation has led to sky-rocketing prices for essential items like food, fuel and medicines.
Currently the price of rice has increased by 45 per cent, while the price of palm oil has nearly tripled since last year. At the same time, prices for basic foods such as onions and potatoes has more than doubled, according to local markets. Prices of locally-grown vegetables like watergrass, cabbage and corn have doubled since last year due to higher transportation charges. The prices of peanut oil, sesame oil and sunflower oil are surging. The palm oil prices stayed between K8,500-K9,700 per viss.
In addition, the price of imported fuel has almost doubled since last year, which has affected the transportation sector and commodity prices. Fuel prices went over 2,500 kyats per liter of diesel in September 2022, while it was just around 1,100 MMK per liter of diesel in September 2021. As a consequence, the bus fares of YBS buses went higher than before and for some buses, they even asked for MMK 500 and more. Moreover, the ferry service for the 200-mile-long Yangon-Mawgyun trip hiked the price up to K6,000 per passenger. Furthermore, the freight charge for the Yangon-Pyapon ferry trip increased from K200 to K300 per rice bag.
Rises in the cost of medicines in Myanmar are leaving many without access to treatment, too.  The prices of basic drugs are doubling and clinics often short of supplies. Even medicines commonly used for treating head colds or flu now cost twice as much as they did before the Feb. A packet of the widely used household medicine Mixagrip used to cost around MMK 600 but now sells for around MMK 1,800. According to the owner of a drug store in Yangon, it is difficult to keep pharmaceuticals in stock because the costs charged by suppliers keep changing every day.
Consumer purchasing power and pricing strategy
With the higher of commodity prices and everyday costs, the purchasing power of the consumer is significantly low. Last year, MMK 5,000 can be enough for a daily meal including rice and edible oil, but now at least MMK 10,000 is needed to buy the same thing. So, people started to stop buying non-essential things like snacks and drinks. People just focus on filling in the stock of staple food.
Nevertheless, when there is some news about exchange rate or other stuffs such as the lockdowns of COVID, people are ready to use all their money to stock up their homes. At that time, the prices of the goods go higher and higher with the increasing demand. It's quite easy for people especially the businessmen to increase a price with the increasing demand but drop down the price is a different story.
At present, lack of confidence on Myanmar kyat continues to deteriorate in the country and affecting access to markets, transport costs, and ability of shops to re-stock. Consumers and businesses are doing their best to confront the uninvited difficulties by using all the effort they've left. Only solution is to gain confidence on Myanmar kyat. Who will start and how to solve are still as big question marks in Myanmar economy.
Monthly Business Brief, August 2022
1 September, 2022
Banking and Finance
CBM orders in August
On 5 August 2022, the Central Bank of Myanmar (CBM) announced that exporters have to convert only 65 per cent of the foreign incomes obtained from exportation into Myanmar kyats.
On 16 August 2022, the CBM issued a statement that exporters can use 35 per cent of export earnings freely or make remittances to others.
On 30 August 2022, the CBM announced that wages or salaries earned in foreign exchange by Myanmar citizens abroad remitted to the country via the licensed banks (authorized dealers of foreign exchange) shall be spent on their own, transferred to others and sold to banks independently starting from 1st September 2022.
New CBM governor and deputy governor
On 19 August 2022, Daw Than Than Swe was appointed as CBM Governor and U Zaw Myint Naing was appointed as Vice-Governor of CBM.
Latest dollar and baht exchange rates
The dollar exchange rate in the market on 31 August, 2022 is around 3,700 MMK per dollar and the Thai baht has becomes MMK 110 MMK per baht while CBM reference is 2,100 MMK per dollar and 57.75 MMK per baht.
Trade
On 1 August 2022, the Ministry of Commerce released a notification that Importers are excluded from access to buy hard foreign currency at the regulated reference rate of the Central Bank of Myanmar.
On 1 August, the Department of Trade issued a directive that licences will only be issued with the approval of Myanmar Pulses and Beans, Maize and Sesame Industry Association in order to obtain an export license for the export of sesame, oil crops, and pulses.
On 27 August, it was eased to apply for a licence without seeking the approval. The relaxation will start from 29 August and export licence applicants do not need to seek a letter of endorsement from the association.
On 19 August 2022, Union Minister for Investment and Foreign Economic Relations U Aung Naing Oo was appointed as the Union Minister for Commerce.
Investment
According to the DICA's statistics, Myanmar Investment Commission gave green light to 29 foreign projects, with an estimated capital of $1.22 billion during the April-July period. Those enterprises are to execute in manufacturing, power, real estate and service sectors respectively.
Eight Singapore-listed enterprises brought in large investments of US$1.086 billion into Myanmar in the past four months (April-July) of the current financial year 2022-2023. Hong Kong SAR stood as the second-largest investor this FY with an estimated capital of over $64 million pumped by five projects. China is ranked third in the investment line-up with more than $55.7 million. One enterprise each from Belize and Japan also made investments in the past four months respectively.
Real Estate market
Currently, demand for high-end condos are strong and property prices are up along with the currency depreciation. The value of MMK is declining rapidly every minute and people are getting worried about getting poorer and poorer even though they are doing anything. So, people started buying real estate believing that it could keep them a certain value in the future. With the growing demand, the price of real estate in Yangon is getting higher and higher every day. But most of the buyers are Myanmar people as foreign investors are not thinking about investing in Myanmar's real estate at the moment.
COVID
In order to continuously control the infection of COVID-19, the rules and restrictions have been extended until the end of September 2022.
Growing demand on computers and accessories
15 August, 2022
Since 2021, Myanmar's computer and laptop market attained the peak level and is still like to continue growing in the next few years. Before COVID period, people were not concerned much about having an own laptop or computer since it wasn't an essential need for daily activity. However, during COVID period, the work from home habit started to adapt and everyone needed his own laptop or computer to carry on working through online. Besides, both teachers and students require those laptops or computers to have online classes.
Moreover, different kinds of online trainings, conferences and seminars are still holding which lead the demand of computers or laptops to increase more and more. At the current moment, even COVID isn't too severe like in the previous months, people still don't dare to hold meeting, or seminar or conference with a lot of people stuck in a single room. The government is also holding online training, meeting and conferences, so every government officer needs a laptop or computer. Besides, some companies find it effective in using online platform such as Microsoft tenant which is the set of services that they can assign to their organization.
According to the Trade Reports of Ministry of Commerce, import of computers and accessories were increasing overtime with 30-40% growth. Computers and accessories are being imported via overseas trade. Value of hand carry by air was not counted in the trade values. Past three year trends are seen as below:
2017-18 FY: US$ 80 mil
2018-19 FY: US$ 127 mil
2019-20 FY: US$ 147 mil
Due to market demand, popular brands in Myanmar markets are Lenovo, Asus, Dell, Acer and Apple, etc. Laptops with US$ 500-1,000 takes more market share followed by the value of US$ 1,500 – 2,000. Almost everything is becoming more and more expensive along with the increasing dollar prices in Myanmar. During August 2022, the dollar exchange rate set by the Central Bank of Myanmar is MMK 2,100 while the market price is from MMK 2,700 to MMK 3,000. People have to spend at least double to buy those computers, or laptops, or even its accessories nowadays. But people still have to buy one since laptop or computer is one of their basic needs at the current moment. We can see computer showrooms and sale centers occupied with customers even though the price of the products is rocket high.
Currently, China constituted the largest suppliers of desktop/laptop computers to Myanmar. Chinese assembled devices are also popular among Myanmar's buyers because of its affordable price and being functionable for general users. In the next year, it is known that 25% of the production will be shared to Vietnam where investment environment and labours are attractive.
People in Myanmar have to struggle everyday with the increasing cost of living despite the low income. The needs are changing everyday and people have to follow the trend and fulfill the needs in order to keep up with the market and continue working. In the past times, it's not a problem not having a computer or a laptop at a household, or just having one computer or laptop, but now it becomes essential needs for income earners and children in the household; to work, to learn, to be in the particular filed, and etc. As the computer consumption is growing, government should encourage FDIs to invest computer assembling and parts manufacturing in Myanmar so that the country enjoys technology transfer and consumers can access more products with affordable prices.
Monthly Business Brief, July 2022
1 August, 2022
Banking and Finance
In domestic banking, it is announced that old individual bank account can be withdrew up to MMK 1 mil in every two weeks without any token while token is still needed for the company bank account.
On 13 July 2022, CBM instructed AD banks to suspend transactions relating to the repayment of the principal and interest for offshore loans by Myanmar residents. It is also further instructed that companies have to inform the need to revise their payment schedules as needed in coordination with overseas lenders.
On the same day, the CBM revokes the exemption for the foreign-owned companies. So, these companies are also obliged to convert the companies' foreign currency into MMK within one business day of receipt. However, the other exemptions meant for the companies operating in special economic zones and the companies making investments approved by MIC remain valid.
As the result of these announcements, the foreign exchange rate in the market is over 1,500 MMK per dollar leading some exchange counters to temporarily suspend the selling and buying of US dollars.
On 29 July 2022, the world dollar price index was around 105 points and the foreign exchange rate set by the CBM was 1,850 MMK per dollar while the price in the black market is reaching around 2,900 MMK per dollar depending on the demand.
Trade
Myanmar's external trade between 1 April and 22 July of the 2022-2023 Financial Year (FY) tremendously rose to US$10.45 billion, reflecting a sharp increase of $2.066 billion as against the year-ago period. The figures surged from $8.386 billion in the corresponding period last year. Myanmar's export was worth over $5.203 billion whereas, the import was valued at $5.25 billion over the past two months.
The border trade dropped owing to the red tape and China's strict virus rules, with a decrease of $191.45 million as against the year-ago period. However, the maritime trade registered a significant rise of $2.257 billion in nearly four months.
The country's export sector relies more on the agricultural and manufacturing sectors. The external trade stood at $15.5 billion in the past mini-budget 2021-2022 (October-March) period while it was $29.58 billion in the 2020-2021FY.
According to the announcement of the Department of Trade on 14 July 2022, all applications for import/export licenses/permits including the exporter/importer registration certificate and its related documents can only be applied for during office hours from 9:30 AM to 2:00 PM using the Tradenet 2.0 system starting from 18 July, 2022.
On 27 July 2022, it is announced that allowed foreign companies and foreign joint venture companies to export of high-processed pulses, corn, sesame seeds has been canceled according to the Ministry of Commerce.
Investment
According to the Directorate of Investments and Companies, in the three months from April to the end of June of the fiscal year 2022-2023, only nearly 22 million dollars of foreign investment with 10 CMP and light manufacturing projects entered Myanmar.
Moreover, the Department of Hydropower Implementation of the Ministry of Electric Power have invited open tenders to develop six new hydropower projects with private investment.
The ministry invited hydropower companies interested in the project to be implemented in Phone In Kha, Kasan Ye, Namhmeseng, Nam Kan, Nam Tabat (Kayah) and upper Hsedawgyi. The statement added that interested companies need to conduct feasibility reports. Tender forms will be on sale until 8 August and bids must be submitted by 18 November, 2022.
Manufacturing
The reference rate of palm oil in the Yangon market for a week from 25 to 31 July is set at K3,665 per viss. However, the market price is higher than the reference rate. The palm oil price is estimated at over K8,000 per viss in Yangon Region. The domestic consumption of edible oil is estimated at one million tonnes per year. Local cooking oil production is just about 400,000 tonnes. To meet the oil sufficiency in the domestic market, about 700,000 tonnes of cooking oil are yearly imported from Malaysia and Indonesia. So, the government encourages to domestic production of cooking oil.
Besides, the State-run No 4 Fertilizer Factory (Myaungtaga) and No 5 Fertilizer Factory (Kangyidaunt) that suspended operations for three months have now resumed as usual and will produce urea fertilizer for farmers, according to the Ministry of Energy. They will produce 300 tonnes of urea fertilizers per day, respectively.
Furthermore, Suzuki stated on 20 July 2022, that car productions of the Suzuki (Myanmar) Motor Co Ltd and Suzuki Thilawa Motor Co Ltd will be temporarily suspended, however, there will be no change in terms of warranty and service. The suspension is reported because of delays in the import of car parts to be assembled and manufactured due to current circumstances, although the company is doing its best to address the needs of the customers.
COVID
In order to continuously control the infection of COVID-19, the rules and restrictions have been extended until the end of August 2022.
Anyone arriving to Myanmar will be required to present a negative COVID-19 test, no older than 48 hours, and will be tested again twice during quarantine if needed.
The Unvaccinated arrivals arriving in Myanmar will be required to quarantine for up to 5 days in an approved location. Fully vaccinated who tested positive upon arrival may be asked to quarantine.
Benefits of Mekong-Lancang Cooperation
18 July, 2022
Brief of Mekong-Lancang Cooperation
The Lancang-Mekong area is one of the regions with the greatest development potential in Asia and beyond. Lancang and Mekong differ in name, but refer to the same river—an important river running across China and the Indo-China Peninsula. Originating from China's Qinghai-Tibet Plateau, the river has its source in Yushu of Qinghai Province. Lancang River in China is flowing out of Yunnan Province, while Mekong River is running across Myanmar, Laos, Thailand, Cambodia, and Vietnam, measuring 4,880 kilometers in length, covering an area of 795,000 square kilometers, and feeding altogether 326 million people. The five Mekong River countries are home to 230 million people and boast a combined GDP over US$600 billion and an average annual growth rate of about 7%.
Lancang-Mekong Cooperation (LMC) aims at bolstering the economic and social development of the Sub-regional countries, enhancing the wellbeing of their people, narrowing the development gap among regional countries and supporting ASEAN Community building as well as promoting the implementation of the UN 2030 Agenda for Sustainable Development and advancing South-South cooperation. Since its launch in March 2016, the mechanism has achieved the fast progress. It has developed a Lancang-Mekong cooperation culture of equality, sincerity, mutual assistance, and affinity.
7th Mekong-Langcang Cooperation meeting in Bagan
On 4 July 2022, Myanmar hosted the 7th Mekong-Lancang Cooperation Foreign Ministers' Meeting in Bagan, Myanmar. The meeting was co-chaired by U Wunna Maung Lwin, Union Minister for Foreign Affairs of the Republic of the Union of Myanmar and Mr Wang Yi, State Councilor and Foreign Minister of the Peoples' Republic of China. With the Theme of the meeting "Solidarity for Peace and Prosperity", Union Minister stated that collective efforts with solidarity under the Mekong-Lancang Cooperation framework would be the best means to address current and future challenges. The Minister stressed prioritizing the cooperation for the economic revitalization and support of the "Global Development Initiative" of China as it effectively responds urgent needs of the Mekong-Lancang region.
Moreover, the other areas of cooperation such as water resources, agriculture, production capacity, power generation and renewable energy are also brought to the table. In addition, the State Councilor and Foreign Minister of the Peoples' Republic of China discussed the future direction under the Mekong-Lancang Cooperation which includes promoting strategic leadership for sustainable development, expanding agriculture cooperation, to promoting green development, to enhancing cooperation on digital innovation and strengthening people-to-people exchanges.
Benefits for Myanmar Businesses
With the aim of common development, there will have benefits via Myanmar-China bilateral projects, importation of fertilizer from China to Myanmar, exportation of Myanmar's agricultural and marine products to China, the re-entry of Myanmar scholars to China, maintenance of peace and stability along the Myanmar-China border, smooth flow of border trade between Myanmar and China. The Agreement of China-Aided Upgrading of No.2 Industrial Training Center (Mandalay) Project between the Ministry of Industry of Myanmar and Ministry of Commerce of China will also be a great benefit, too.
China will be implementing a lot of action plans on different sectors like the plan on Lancang-Mekong Agricultural Cooperation, the plan on Lancang-Mekong Water Resources Benefitting the people, the cooperation plan on Lancang-Mekong Digital Economy, the Lancang-Mekong Space Cooperation Plan, the Lancang-Mekong Talent Plan, and the Lancang-Mekong Public Health Cooperation Plan. All the plans share benefits of cooperation with the Mekong countries and add development momentum especially for least developing country, Myanmar.
Business sector could enjoy benefits in some extent from the Mekong-Lancang Cooperation programme.
Monthly Business Brief, June 2022
4 July, 2022
Banking and Finance
On June 9, the KBZ bank announced that cash can be withdrawn at 47 KBZ ATMs in four cities; Yangon, Mandalay, Nay Pyi Taw and Taunggyi. At the moment, 15 ATMs in Yangon, 10 ATMs in Mandalay, 13 ATMs in Nay Pyi Taw and nine ATMs in Taunggyi are set to withdraw cash. In Yangon, the maximum amount that can be extracted from an ATM is K 300,000 per week. Besides, mobile banking cardless withdraw can also be proceeded at those designated ATMs.
The dollar exchange rates stand at over K2,100 during June while the Central Bank of Myanmar (CBM) set the reference exchange rate at K1,850. The market rates are increasing steadily from K 2,058/K2,068 on 1 June to K 2135/2150 on 30 June, raised by around 4% just within a month.
Trade
Myanmar Rice exports – Myanmar's agricultural products such as rice and rice-related products are exported by bulk carriers yearly. This year, the products will be exported to Europe and African countries from seven jetties at the Sule Port Terminal. There were 143,400 tonnes of rice to Belgium, Spain and Togo. The country exports about 200,000 tonnes of rice per month and expects to ship two million metric tons in 2022-23, according to the Myanmar Rice Federation. The high-grade rice is mainly exported to the Europe market, China, some ASEAN countries and Bangladesh while low quality rice, broken rice and brans are exported to Europe and African countries. 
Myawaddy border trade news
Starting from 1 July 2022, all exports through the Myawaddy border are allowed to be denominated in US dollars according to some exporters. After that, it will be possible to export again only if the received bank slip of the export revenue has been shown. Currently, registered maize will be allowed to apply for export license from July 1 at US $ 360 per tonne. Moreover, trucks with Export Declaration (ED) are allowed to enter the Myawaddy Trade Zone till June 26, but trucks without EDs are to be allowed to enter the zone at a fixed price of US $ 360 per tonne, start from 1 July.
Import license period
From 1 July 2022, the import license validity period is 30 days for those which import from Asian countries, and 45 days for those imported apart from Asia.
Investment
On 29 June 2022, the Yangon Region Investment Committee (YRIC) announced that three domestic and three foreign enterprises in the manufacturing sector, with an estimated capital of over K4.44 billion and US$6.65 million entered in Yangon Region. Those six projects will execute the production of synthetic hairs, and manufacturing of brassiere, underwear and clothes on a Cutting, Making and Packing (CMP) basis. They will create 3,373 jobs for the residents.
New mobile player ATOM
On 8 June 2022, Telenor Myanmar renamed ATOM (Advancing Telecommunications of Myanmar) with the best 4.5G network. The change in name of the company is just a reflection the aftermath of the transfer of ownership and will not affect the former services. Telenor Myanmar, formerly owned by Norway-based Telenor Group, was sold in March this year to M1 Group in Lebanon for $ 105 million. Telenor Myanmar was taken over by M1 Group and its local partner, Shwe Byain Phyu (SBP Group), with 49 per cent owned by Shwe Byain Phyu. ATOM unveiled plans to invest more than $330 million over the next three years to improve its network, be the first to launch 5G service in the country and transform its operations.
COVID Restrictions Extension
On 29 June 2022, it is announced that public requests, orders, notifications and directives (except for easing the restrictions) released by the Union-level organizations and Union ministries up to 30 June 2022 have been extended until 31 July 2022 for prevention, control and treatment of Coronavirus.
Moreover, the Yangon General Hospital announced on the same date that they will vaccinate the people against COVID-19 at the special outpatient department every Wednesday. The service hours will be from 9 am to 12 noon on Wednesday. They will vaccinate the people over the age of 18 against COVID-19 and booster shots for the people over 40 who received second shots six months ago. The officials are also arranging an online booking system for the vaccination programme.
15 June, 2022
Myanmar relies on fuel imports to meet its demands. Myanmar imported refined mineral oil of US$ 2.9 billion in 2019-20 and US$ 2.3 billion in 2020-21. Myanmar needs to import $200 million worth of diesel and gasoline per month to meet its fuel needs. Singapore supplies the majority of the fuel, with monthly amounts exceeding 200,000 tonnes of gasoline and 400,000 tonnes of diesel.
Since April 2022, fuel shortages are reportedly occurring in parts of Myanmar. Long lines were witnessed at filling stations in Yangon and other cities, with customers being limited to 20,000 to 30,000 kyats worth of fuel. Suppliers were obliged to sell their stocks at fixed prices by the Ministry of Commerce. Myanmar's Energy Ministry denied on the country's facing a shortage of petrol and diesel stocks. According to the government, the country's stockpiles had 45 million gallons of gasoline and 70 million gallons of diesel, with petroleum cargoes parked at Yangon port.
Supervising on Import, Storage and Distribution of Fuel Oil
On May 14, Union Minister for Commerce Dr Pwint San presided over a virtual coordination meeting of the Supervisory Committee on Fuel Oil Import, Storage, and Distribution.
Union minister mentioned about the role of fuel in the country, coordination among the Myanmar Fuel Oil Importers and Distributors Association and fuel companies to ensure the adequate fuel and fair prices, the need to follow the policies and statements of government and further preparations for imports and distribution in time depending on the local demand.
The Chairman of the Supervisory Committee on Import, Storage, and Distribution of Fuel Oil, Deputy Minister for Commerce U Nyunt Aung, then reported on fuel imports and distribution of fuel stations, as well as challenges faced in the distribution sector and rules and regulations to be followed by companies, while the committee monitored for fuel shortages and price stability.
Internal causes of facing fuel shortages
Myanmar is experiencing fuel shortages, in part due to the regime's control on foreign exchange. The regime-controlled Central Bank of Myanmar issued an order in early April requiring FE earnings to be deposited with licenced banks and exchanged for kyats at the official rate within one working day. The regime also ordered that fuel could be sold at a set price. While tightening its control over the currency market, the regime has not sold off its US dollars. According to one oil importer, the lack of access to dollars has hampered fuel imports, which have decreased. "The volume of imports has nearly halved. Major importers are now only attempting to maintain the pumps operational, and they are unable to sell petrol to the wholesale market as before." Another fuel importer stated that firms did not have access to dollar.
So, it can be said that the scarcity of dollar caused the fuel shortage. Fuel imports have dropped by half. As long as the importer could not settle payment in USD, oil tankers were not unloaded. Market demand is stable while, supplies are limited, so stocks may run out.
External causes of facing fuel shortages
In fact, Myanmar is not the only one country which is facing fuel shortages. In Laos, long queues formed at petrol stations in May as the country struggled to secure sufficient fuel from its existing suppliers in Thailand and Vietnam. The crisis is mainly the result of the twin forces of recovering demand after the pandemic and sanctions on Russia over its invasion of Ukraine, which disrupted global flows of energy.
During the pandemic, when demand slumped, operations at refineries in countries such as Singapore, Philippines, Australia and New Zealand were reduced and inventories run down. So, the jump in demand hasn't been matched by a ramp-up in refining capacity. According to the world bank, energy prices are expected to rise more than 50 percent in 2022. Experts predict that current fuel crisis could become global recession in coming months.
How Myanmar should prepare
In order to control the rising of fuel prices, the supervisory committee sets the reference retail prices on 92 Ron, 95 Ron and diesel prices for 15 cities of states and regions and reference wholesale prices for Yangon and Mandalay on daily basis. Currently, every importing country is facing fuel problems. Authorities should find the solution not only by setting the fixed prices but also by relaxing of FE and import control to stabilize fuel supply and demand which is linked with transportation, production and business operation for consumers. Authority should prepare for incoming fuel crisis and its impact on economy.
Monthly Business Brief, May 2022
1 June, 2022
Challenging factors for business
The State Administration Council issued Order No (28/2022) that it organized the Foreign Exchange Supervisory Committee to conduct functions for stable exchange rate and effective usage. The committee will scrutinize the currency expenditures of Myanmar citizens who go abroad for medical treatment, education and religious matters. Moreover, it will supervise the use of currency in the services including local/foreign investment, manufacturing industries, exports/imports, education and health. It will also examine the general utensil import, repayment of loans and interest to foreign countries, service fees and transfer of profits from investments. The committee will also monitor the imports of needed types of machinery for investments and manufacturing sectors in local and things and raw materials for production industries. Moreover, it will supervise the spending of foreign currency on importing fuel, medicine, oil, fertilizer, insecticide and construction materials that cannot be bought locally.
There are some announcements of regulations released during May 2022 that have an impact on businesses. On 7 May 2022, it is announced that all export earnings received from the exports to Asian countries must deposit into the accounts of exporters in foreign currency in Myanmar within 45 days from the date of the shipment while within 90 days for the exports to countries except for Asian countries. It is also announced that exporters must deposit their export earnings into their bank accounts in foreign currencies within the set of time or the exporters'/importers' registration certificates will be revoked. The exporters/importers' registration certificates of 346 export companies were revoked for failing to follow the orders of the Central Bank of Myanmar (CBM).
CBM requested all union ministries, states/regions governments and cities development committees on 25 May that all local transactions must be settled in Myanmar kyat instead of US $. Although CBM tightly controls in FE regulations and sets exchange rate at MMK 1,850 per dollar, the market rates are MMK 2,065 per dollar as of 31 May. 
Another challenge will be the rising of fuel prices and its shortages in some areas. At the end of May, the prices soared to MMK 2,175 for Octane 92, MMK 2,285 for Octane 95, MMK 2,285 for diesel and MMK 2,310 for premium diesel while on 1 January 2022, the prices stood at MMK 1,390 for Octane 92, MMK 1,440 for Octane 95, MMK 1,375 for diesel and MMK 1,385 for premium diesel. This leads the producers, service providers and consumers have big problems in their everyday life by higher operation cost due to electricity generation and transportation cost in supply chain. During May, some fuel pumps also set the sales limit which panicked the consumers even more.  
Current challenges in FE control, high operation cost and unstable regulations are unfavorable situation for local and foreign investors. According to the Directorate of Investment and Company Administration, only $6 million of foreign investment entered Myanmar in April of the current financial year. 
Business opportunities 
On the other hand, there are some relaxations on the COVID restrictions especially in the tourism sector. The hotels are allowed to reopen so that tourism sector comes alive again in May 2022. 
Besides, starting from 1 April 2022, the Ministry of Immigration and population resumed the Online e-Visa services for business visa applications to facilitate the entry of foreign investors and businessmen to Myanmar with the allowance of commercial international flights operations in accordance with the COVID-19 rules and regulations. Attempting to promote tourism sector of the country, Tourist e-Visa applications are allowed and accepted starting from 20 May 2022.
The authorities are finding the possible ways in every aspect to stabilize the economy. However, it should be assessed positive and negative impacts of the new policies.
RCEP and Export Promotion of Myanmar
16 May, 2022
What is RCEP
The Regional Comprehensive Economic Partnership (RCEP) is a proposed agreement between the member states of the Association of Southeast Asian Nations (ASEAN) and its free trade agreement (FTA) partners. Member states of ASEAN and their FTA partners include Brunei, Cambodia, Indonesia, Laos, Malaysia, Myanmar, the Philippines, Singapore, Thailand, Vietnam, China, Japan, India, South Korea, Australia and New Zealand.
RCEP aims to create an integrated market with 16 countries, making it easier for products and services of each of these countries to be available across the region. The negotiations are focused on the following: trade in goods and services, investment, intellectual property, dispute settlement, e-commerce, small and medium enterprises, and economic cooperation.
The RCEP was discussed for eight years, starting in 2012, and the ASEAN countries, including Myanmar and China, Japan, South Korea, Australia and New Zealand, signed the agreement on 15 November, 2020. The RCEP agreement is the world's most significant trade agreement covering 30 per cent of the world's population, 30 per cent of global gross domestic product (GDP), 29 per cent of world trade and 30 per cent of foreign direct investment.
What Myanmar export items will be benefited
Among partner countries of ASEAN that signed in RCEP, China is the first one that recognized the letter expressing agreement with Myanmar comes into force starting on 1 May 2022. Myanmar can get the priorities in customs of China and other chances. The RCEP agreement carries multi-sectoral things in line with the trend. Myanmar entrepreneurs have previously used the ASEAN-China Free Trade Area- ACFTA and can enjoy the chances under the RCEP.
In RCEP, it pre-determines the products to be exported regarding the customs procedures that are not included in ACFTA, customs value and products by Myanmar and customs clearance within 48 hours from the time of products arrive. Therefore, the products exported to China can be taken out faster than before, according to RCEP. Moreover, it can protect the severe risks for the local enterprises such as the high import volumes, selling with discount, export with the help of other countries.
Myanmar exporters will be exempted from customs duty for 5,969 products from now on. They are 368 animal products, 389 agricultural products, 10 edible oil products, 163 foodstuffs, 181 mineral products, 1,127 chemical products and raw materials, 125 plastic materials, 67 leather products, 234 forest products, 146 cement, mirror and its related materials, 62 pearl and precious gems, 554 units of metal and metal-based materials, 1,058 machines, 124 vehicles, planes, ships and transportation parts, 240 pharmaceutical products, movie materials and instruments and so on. The remaining goods can also be enjoyed exemption of customs duty yearly. Therefore, Myanmar can enjoy duty-free and other reliefs for the exports to China, and it can earn export incomes, create job opportunities and increase the taxes.
Other incentives for export promotion
Regarding the services, Myanmar eased 52 sectors under ACFTA and 80 sectors in the economy, communication, construction, distribution, education, environment, finance, health, tourism, transportation and other services under the RCEP. China eased 88 sectors under ACFTA and 95 sectors under RCEP.
By easing service sectors, it can improve economic capacity, enhance the competitiveness of exports and products of developing countries in international markets, offer varieties of choices, foreign direct investment inflows into Myanmar, grab chances to create job opportunities and technological aid and extend service sectors and other relevant parts.
Myanmar and China can launch technological cooperation in the fields expressed in RCEP as electronic material trade, MSMEs, procurement of government, supports, and capacity building programmes for IP, which are not included in ACFTA.
Moreover, Myanmar is the least developed country, so it doesn't need to follow some commitments in the agreement, and can enjoy a one-sided chance for three to five years. During that period, Myanmar can draft a legal framework, develop the human resources and promote the capabilities of organizations.
Thus, Myanmar exporters should study RCEP and try to enjoy the benefits with the support of related departments and associations.
Monthly Business Brief, April 2022
2 May, 2022
New Laws for 2022
Three key laws relating to economic policies are enacted in 2022.
National Budget Law
On 29 March 2022, the State Administration Council promulgated the 2022-2023 Financial Year Union Budget Law which intends to encourage to resurge of the State economy. It came into effect on 1 April 2022.
Union Tax Law
On 30 March 2022, the State Administrative Council enacted the 2022 Union Tax Law which stipulates tax rates and procedures concerning income tax, Commercial Tax, Special Goods Tax and other levies for the fiscal period commencing on 1 April 2022. Some of the main factors include:
The corporate income tax rate remains unchanged at the same rate of 22% introduced in the 2021 UTL.
The personal income tax rates for resident citizens and foreigners remain unchanged at 0% – 25%, with a personal basic relief at 20% of the salary income (capped at MMK 10,000,000).
Any manufacturer, trader and service provider exceeding the statutory annual threshold is required to register for Commercial Tax. The general Commercial Tax rate on the import or sale of goods or provision of services remains unchanged at 5%.
Commercial Tax of 15% is levied on all income from internet services (e.g. mobile and WI-FI broadband services, communication services, web services) and a one-time Commercial Tax of MMK 20,000 is levied on the sale of new mobile phone SIM cards upon activation.
National Planning Law
The National Planning Law of the Financial Year 2022-2023 by the State Administration Council was enacted on 31 March, 2022, with the following targets. It is reported that it will take effect on 1 April 2022.
New budget year is started on 1 April 2022 and ended on 31 March 2023.
To achieve 3.7% growth of the gross domestic product (GDP) in current prices as it was achieved at 0.5% in last year.
To implement the share of GDP by agriculture 22.9%, industry 37.4% and service sector 40%
To target US $15.5 billion exports and US $14 billion imports
Trade Policy Brief
Department of Trade controlled import license application and apply for FE transfer on imports.
Department of Trade released an issue that permit for the import license after the arrival of goods at the port will not be granted starting from 20 April, 2022.
HS Code 10 Digit of 1,131 product lines including yeast, general food, pet food, soap, raw materials and general chemicals will be considered as good lines needed for import application, from 1 May, 2022.
Financial Brief (Foreign currency control and its consequences)
In the previous days, both individuals, companies and organizations created FE accounts. In February 2021, the dollar exchange rate was just MMK 1,350 per dollar. Then in accordance with the increasing exchange rate, the Central Bank of Myanmar (CBM) set the official exchange rate of MMK 1,780 per dollar. However, the market price exchange rate is over MMK 2,000 at the current moment which seems to increase along with the time.
On 3 and 4 April, the CBM announced an order to 44 licensed banks have to carry out that all FE that comes into FE account must be changed into Myanmar Kyat account with a rate of MMK 1,890 per dollar, hoping to control the soaring dollar price. It has an enormous impact on those who have FE account, especially the exporters. For importers, it is controlled with import license, saying that FE can be transferred only after getting an import license.
On 20 April, the CBM announced the exemptions for the foreign investment businesses, embassies and the donors since these organizations complained about the CBM's declaration. Actually, FE is essential for all trade, investment, service payment transactions, and etc. The economic crisis seems to get worse later after everything is under the strict control. In this case, FE means all kind of foreign currencies.
On 26 April, according to the CBM's announcement, the importers and exporters were exempted to use Yuan at Myanmar-China border trade, and Baht at the Myanmar-Thai border trade. It means that the goods can be imported with Yuan or Baht, and the received FE can be changed after one month. In other word, they are promoting to use Yuan and baht rather than using dollar in the foreign trade. It can be assumed that the act of using other currencies rather than dollar is encouraged to perform not only in border trade, but also in maritime trade.
The fuel and oil distribution case on 29 April is just an example of the impact. It can be expected that only a few FE from foreign countries will later comes into the bank account and people will try to work out in other ways. Although the CBM set the fixed exchange rate of MMK 1,850 per dollar, it is exchanged not less than MMK 2,000 in the current market.
Changing regulations on Foreign Exchange Control and Trade
18 April, 2022
Changing regulations on Foreign Exchange Control
On 3 April 2022, the Central Bank of Myanmar (CBM) issued an order to 44 banks holding authorized dealer licenses in Myanmar, instructing them on transferring FE income of Myanmar citizen to kyat account.
On 4 and 5 April 2022, CBM issued directives with detail instructions that foreign exchange earned by all citizens in Myanmar (from both trading and non-trading activities) must be deposited in FE accounts at AD licensed banks and exchanged for kyats at the official rate within one working day. The CBM sets the official exchange rate for conversion at MMK1,850 per US$1. The exchange rates for other foreign currencies have also been set based on the MMK1,850 to US$1. Such FE incomes includes export earnings, service incomes, investment capital without permission and loans without permission. In addition, FE remittances to abroad are tightly controlled by FE supervision committee of CBM.
As CBM rate is lower than current exchange rate in the market which is around MMK 2,050 per dollar, the exporters and foreign currency account holders are hurt by the new policy. The importers will also have to struggle to get US dollars on import process. New FE regulations put negative effects on all businesses, foreign organizations and individuals who are dealing with FE.
It is known that the embassies of Singapore and Japan have demanded Myanmar Ministry of Foreign Affairs for the exemption of Singaporean and Japanese organizations and companies due to difficulties with new FE regulations. Both Singaporean investment companies and Japanese businesses invest in Myanmar are facing serious challenges due to central bank directives. According to Ministry of Foreign Affairs, officials of foreign embassies in Myanmar and foreign experts/ employees in UN and international organizations will be exempted from new FE regulations.
Changing regulations on import license applications
According to the Ministry of Commerce, applications of import license after arrival of goods at the port will not be granted starting from 20 April, 2022. Back in the day, pre-shipment is allowed before the permit approval due to various difficulties in applying for import licenses and permits. According to that program, import licenses and import permits can be issued on the day of arrival at Yangon Port and even if the licenses and permits are not allowed until the arrival date, it can be valid for Prior Arrival. However, taking advantage of this program, some businesses have applied for import licenses only when the goods arrive at Yangon Port. In order to avoid such unnecessary losses, the ship can be loaded only after receiving the import license and import permit from now on.
Moreover, for the exporters and importers who would like to purchase foreign currency must meet the following requirements of the Ministry of Commerce; a BOD member must be present, their import license must be valid from March 28, 2022 to April 4, 2022, they must prepare a list of three priority banks that they want to buy from and submit the amount to be purchased, Company Foreign Exchange Account No. / Bank Name, Invoice, Bill of Landing, Transfer Company Name / Bank Account No. / Bank Name, delivery status, once the customs clearance, the release order must be attached. The central bank's directive issued on April 5 states that AD-licensed banks will be required to pay a service fee of only three kyats per dollar for foreign exchange transfers.
Monthly Business Brief, March 2022
1 April, 2022
Policy Changes
1 March – The Department of Trade issued that wheat, some food items, some plastic items, pulp, silk, cotton, carpets, textiles, home appliances made of glass, bicycle and vehicle spare parts with HS Code 10 digit, and 826 product lines need to apply for import licences.
2 March – The Department of Trade announced that 57 product lines with Code 6 Digit or 141 product lines with Hs Code 10 Digit, which includes wheat and plastic raw materials, are added to the list of goods need to apply for import licenses.
9 March – The Department of Trade announced that 11 additional lines with HS Code 6 Digit or 12 lines with HS Code 10 Digit which includes corn and related value added products would be allowed to export only after applying for export licenses starting from 1 April, 2022.
30 March – The Department of Trade has issued 1,131 product lines, including general foodstuffs, dyes, machinery and equipment, as the third-tier good lines for import applications starting from 1 May, 2022.
The Central Bank of Myanmar's (CBM) announcement
3 March –  The CBM issued the announcement on the allowance of Baht-Kyat direct payment on the Thailand-Myanmar border.
16 March – The CBM sold US$79 million to the palm oil importers so that the palm oil can be distributed at the fairer price
17 March – The CBM sold US$165.62 million for the fuel oil sector to distribute fuel oil at a fairer rate.
Foreign Exchange Rate
The global dollar price index is around 98 points and even the exchange rate set by the CBM is around 1,786 kyats per dollar, market selling rate was 1,990 MMK per dollar on 1 March and 2,065 MMK per dollar as of 31 March, 2022. Monthly average dollar rate was increased by 2.2% compared to February.
Gold Price
The world gold price was around $ 1922 and the local gold price reached around 2.02 million MMK, according to the gold traders on 31 March, 2022. It was increased by 5% from 1.92 million MMK on 1 March.
Fuel Price
Fuel prices went over more than 2,000 MMK per liter during March from around 1,700 MMK in February. On 30 March, it is 2,180 MMK per liter for diesel, 2,195 MMK per liter for premium diesel, 2,005 MMK per liter for octane 92, and 2,080 MMK per liter for octane 95 (Source: Denko Myanmar)
Commodity Prices
Rising fuel prices has a direct effect on basic commodity prices. It adds extra charges to trade goods from place to place within the country. On 1 March 2022, the price of a 108-pound bag of rice was ranged between K39,000-K40,000 for Paw San, while the price of a 108-pound bag of rice is ranging between K47,000-K50,000 for Paw San in the domestic market at the end of the month. So, there is a gap of K3,500-K10,000 per 108-pound rice bag in a month.
Likewise, the prices of Myanmar palm oil and other vegetable oils have risen. In early March 2022, the imported palm oil price climbed up to $1,881 per tonne. Consequently, the domestic palm oil price bounced to approximately K8,000 per viss. After CBM have sold foreign currencies for palm oil importers on 16 March, the price drops a bit. So, at the end of March, the imported palm oil price stands at US$1,792 per tonne and the palm oil price falls again to K7,000 per viss in the domestic market accordingly.
Rotation of Electricity Supply
There are power outages in some townships and many regions since the beginning of March. Starting from 18 March, there are scheduled power cuts by 8 to 12 hours per day throughout Yangon according to the districts. However, in regions, the schedule of electricity supply is unknown. Moreover, industrial zones in Yangon Region have electricity only from 9 am to 5 pm. Such power outages lead a lot of businesses and factories to a loss or even to the closure.
COVID situation and public order
Currently, the COVID-19 diagnosis confirmed rate and infection rate have dropped. So, the temporary suspensions on international flights are set until 16-4-2022 and the international flight schedules will be resumed as normal starting on 17-4-2022 (Myanmar New Year) in accord with the COVID-19 health rules as of 19 March, 2022.
Moreover, the online e-Visa system will reopen on 1 April 2022 for business visa applications in accordance with the COVID-19 rules and regulations of the Ministry of Health. However, domestic COVID restrictions are extended till 30 April 2022.
Trade Policy Changes, March 2022
15 March, 2022
There are some changes in trade policy concerning applications of import and export licenses for some product lines, the payment transactions in border trade, etc. in early 2022.
Product lines that require import licence
According to the Ministry of Commerce, some imported goods will be licensed under the import license system in order to be balance of exports and imports and regulate the effective use of foreign currency for imports.
Starting from 1 March 2022, the Department of Trade issued that wheat, some food items, some plastic items, pulp, silk, cotton, carpets, textiles, home appliances made of glass, bicycle and vehicle spare parts with HS Code 10 digit, and 826 product lines need to apply for import licences according to the Newsletter (1/2022).
On 2 March 2022, the Department of Trade announced that 57 product lines with Code 6 Digit or 141 product lines with Hs Code 10 Digit, which includes wheat and plastic raw materials, are added to the list of goods that need to apply for import licenses according to the Newsletter (2/2022).
The Department of Trade has announced 3,931 product lines with HS Code 10 Digit issued with Newsletter (68/2020), 3,070 product lines with HS Code 10 Digit issued by Newsletter (18/2021), 826 product lines with HS Code 10 Digit issued with Newsletter (1/2022), 141 product lines with HS Code 10 Digit issued by Newsletter (2/2022) which are needed to apply for an import license in accordance with the procedures whether it is imported via sea, or land, or air.
Product lines that require export licence
On March 9, 2022, the Department of Trade announced that 11 additional lines with HS Code 6 Digit or 12 lines with HS Code 10 Digit which includes corn and related value added products would be allowed to export only after applying for export licenses starting from April 1, 2022, according to the Newsletter (3/2022).
In order to protect the environment, 778 lines of products with HS Code 6 digit or 1224 lines of goods with HS Code 10 Digit have been designated as product lines that need to apply for export license since 2020. The Ministry of Commerce announced that any product line mentioned above are needed to apply for an export license when it is exported via border, or maritime, or air trade.
Payment transactions in border trade
On 3 March 2022, the Central Bank of Myanmar (CBM) issued the announcement on the allowance of Baht-Kyat direct payment on the Thailand-Myanmar border. So, the designated banks are to allow to open baht accounts of importers and exporters for cross border trade. This intends to boost bilateral trade between two countries, to simplify the smooth flow of goods since Myanmar mainly conducts border trade with Thailand, and to make easy access to cross-border payment between the two countries by promoting local currency in the line with ASEAN Financial integration.
With the same intention, back in 14 December 2021, the use of Yuan or Kyat in bilateral transactions was allowed in the border areas between Myanmar and China, according to the Central Bank of Myanmar.
The new trade policies seem against to trade deregulation and facilitation according to ASEAN agenda. However, the government and related ministries are finding ways to regulate through the trade and financial policies as tools to stabilize foreign exchange rates and recover the country's economy which has been greatly affected by many internal and external situations
Situation of COVID and Omicron in Myanmar, February 2022
1 March, 2022
Although Omicron is less severe than Delta virus, the daily infection rate is increasing throughout February, ranging from 1,000 to over 3,000 positive cases out of over 2,000 to 3,000 lab tests. As of 28 February 2022, Myanmar's COVID-19 positive cases rose to 587,891 after 1,693 new cases, which is 8.32%. The positivity rate is increasing day by day; on 5 February, the rate was only 5.38%, and then on 16 February, the rate became 9.3%. Among these confirmed cases since March 2020, 534,774 have been discharged from hospitals while death troll reached 19,368.
It is expected that the actual number of cases will be far higher than the officially released data since everyone, both who already vaccinated and unvaccinated can easily expose to Omicron virus. Throughout February, almost every household in Yangon has at least one person sick. As the Omicron virus is not as severe as others, most people usually recover after having mild symptoms such as sneezing and coughing. So, they don't usually have tests and only some isolates themselves at their home.
Yangon General Hospital, one of Myanmar's biggest public hospitals, announced on 15 February that it had closed outpatient departments for five wards because many doctors are suffering from COVID-19. Despite no deaths in 21 days from January 24 to February 13, 43 people died of Covid-19 in 14 days from February 14 to 27. Elderly people, young people and those with underlying health conditions are more likely to be infected with Omicron. Among them, few Omicron patients need oxygen.
The government has extended international travel restrictions, including a ban on entry for most international travelers and the suspension of on-arrival visas and e-visas, until 31 March 2022. For the foreigners who need to travel for essential reasons, they must meet Myanmar's COVID-19 entry requirements.
The vaccination program is continuously carried out throughout Myanmar. According to the Ministry of Health, people age 65 and above are receiving booster doses currently. As of 28 February, Myanmar has 20.91 million people vaccinated two times and 2.66 million people vaccinated one time, which is 23.58 million in total with 44.5 million doses in total, according to the Ministry of Health. It is an essential to everyone in the country to be vaccinated since the virus is still spreading and its variance can probably be emerged in the future.
Health care services of Omicron and COVID in Myanmar
14 February, 2022
COVID and Omicron
Starting from January 2022, the number of omicron patients are increasing every day, especially in Yangon. According to the released data from Ministry of Health (MOH), a total of 545,298 cases were reported after the 1,787 confirmed cases (7%) on 12 February, 2022. There were altogether 19,310 deaths so far. Based on the released data on 3 February, 2022, the number of Omicron patients were 348. But, the number of Omicron patients can be far higher than the statement as most of the confirmed cases were among the returning travelers who had been quarantined upon arrival.
However, the good news is that Omicron seems to be having only a limited impact and no patients were severely ill so far. Besides, the outbreak may not turn out to be quite severe because Omicron appears to be relatively mild, some people have already vaccinated and many others have a level of immunity from a previous infection. So, most of the infected people are currently staying home quarantine and not receiving any special treatment at a hospital. On the other hand, there are government general hospitals, specialized hospitals and military hospital providing COVID treatment.
COVID treatment centers
In addition, private quarantine centers like Yoma Yeiktha quarantine center, Thuwanna quarantine center, ZiWaKa quarantine center and Hlaing Myat Lay Center in Yangon are now providing the facilities for the COVID positive patients. There are also some private hospitals receiving COVID patients like Pun Hlaing Hospitals and Ar Yu International Hospital. Moreover, many private clinics and medical centers are also offering COVID test services such as SML Medical & Diagnostic Center, MMDC & LUDU Laboratories, and Aye Diagnostic Laboratory Center, Naing Clinic in Sanchaung Township, Emperor Clinic in Thuwana Township and Doctor Smile which is an online clinic offering home care services. COVID test kits are also widely used at the moment. People with mild symptoms test their result at home with test kit, received the treatment from doctors via online, and have home quarantine. This is the way that many people do in the current situation.
But, the threat of Omicron is still quite serious because there are some people who go out to the public areas just after two or three days of infection. They are silent carriers to the public. Another reason is that experiences from countries with high vaccination rates suggest almost 90 percent of the population would need to be vaccinated to prevent the health system being overwhelmed with COVID cases. But, here in Myanmar, only around 34% of the population was fully vaccinated as of February, 2022.
COVID vaccinations
Despite of the two doses vaccinations and antibodies from a previous infection, this may not be enough to provide the protection of the upcoming variants. So, the government has already started providing booster doses to priority groups. But, the booster program for the general public will depend on the availability of the COVID vaccines which means the majority of people would likely have to wait a long time to receive the booster dose. For affordable people, they just get the vaccines from private providers for around MMK 35,000 to MMK 60,000 for one booster dose.  
Nevertheless, the government and the relevant ministries must prepare for the outbreak of COVID fourth wave ahead to save the lives of more people. Based on the experience from third wave, the focus should be on expanding treatment capacity in order not to happen insufficient supply of oxygen liquids, equipment, medicine, the numbers of beds in hospitals and the doctors and medical staffs. The government must control the spread of the disease while it is still controllable. COVID restrictions might also be set as necessary. The public must also be aware of the danger of the virus and follow COVID prevention rules and regulations.
COVID-19 and Omicron Variant in Myanmar, January 2022
1 February, 2022
After experiencing the COVID third wave in September 2021, the government relaxed some restrictions with the decline of infectious rate. On 28 December 2021, the government confirmed the first four cases of the highly infections Omicron variant in Myanmar from returnees of Dubai.  According to the released statement, only one of the four infected people showed symptoms of Omicron virus and the other three have no symptom.
In accordance with the announcements, most of the omicron infections were detected in returning citizens and a few foreigners who arrived from Malaysia, India, the UAE, Thailand, the Philippines, Singapore and Japan. Throughout January 2022, there were new cases of Omicron variant reaching up to a total number of 283 confirmed cases after 72 more cases were reported on 28 January, according to the release from the Ministry of Health (MOH).  The MOH announced that the patients with Omicron variant are being treated at designated hospitals. Those who have primary contact with them are in strict quarantine in order to reduce the spreading of the disease.
As of January 31, Myanmar has reported 535,532 confirmed cases with 19,310 deaths while 513,273 patients have been discharged from hospitals. With the emergence of the Omicron variant, the MOH should emphasize preparations for providing oxygen, medicines, and medical equipment in cooperation with local authorities and the charity organizations to be able to encounter the possible threats of the Omicron variant. In addition, people must follow the health guidelines issued by the MOH, for example; the use of surgical masks, physical distancing ventilation of indoor spaces, hand hygiene, crowd avoidance – especially during holiday periods.
However, in Myanmar, most of the cases detected are the Delta variant, according to the Department of Health. In the case of 28 December 2021, there were altogether 30 laboratory samples and the 26 laboratory samples detected the Delta variants. On 20 January, 2022, 45 trainees out of over 100 trainees at the Central Institute of the Civil Service in Phaunggyi had tested positive for Delta virus.  People should not underestimate the impact of Delta virus, too, since the symptoms of severe illness and increased hospitalizations are mostly reported in Delta infections.
Moreover, people need to take full vaccination of anti-COVID-19 vaccine in order to prevent the infection up to a certain percentage. As of 25 January, over 18 million people have received the full doses of COVID vaccine and over 3 million people have received the first dose.  Besides, those who suspects need to inform nearby health units about their sufferings to take proper treatments. It is very important to control the spread of diseases before the outbreak in order to reduce the impact of the fourth wave in public. It is the true responsibility of every citizen in the country.
Changing Rules and Regulations in Investment Sector
17 January,2022
Regulations in 2021
In order to recover the impact of COVID-19 and other effect on the investment sector in 2021, the relevant ministry, and departments relax some rules and regulations, for example, on company registrations by reducing the length of time as well as the required documents for the application process.
8 February, 2021- The Directorate of Investment and Company Administration (DICA) has announced to assist and support the companies operating in Myanmar under the Myanmar Companies Law and the Myanmar Investment Law in carrying out the Myanmar Company Online Registration System (MyCO), and the Online Recommendation Letter for Visa Extension system and relief flight for investors, and etc.
29 May, 2021- DICA extended the exemption period for the fine payment of the late annual return submission from 1 May to 31 May, 2021 as the second time. The first exemption period was from 1 February to 30 April, 2021.
31 August, 2021- During the long public holiday from 23 August to 10 September, matters related to investment and company registration were accepted at the Head Office of DICA and matters related to departmental coordination for investment were accepted at the One-Stop Service-OSS office of the DICA.
1 September, 2021- The companies operating under the Permits or the Endorsements of the Myanmar Investment Commission and the Endorsements of the State and Region Investment Committees were obtained the recommendations of the Myanmar Investment Commission for the exportation and importation with the value of less than US $ 100,000 at the One Stop Service (OSS) Center.
22 November, 2021- The DICA notified that a corporate account is required for the companies to deal with financial accounting of the businesses, in exercising the power conferred under Section 462 Subsection (a) (ii) of the Myanmar Companies Law. Every registered company at the DICA has to follow this rule.
25 November, 2021- The Myanmar Investment Commission (MIC) issued a priority list on investment sector as follows:
Fertilizer manufacturing
Cement manufacturing
Iron and steel manufacturing
Agriculture and livestock farming and related industries
Value-added manufacturing of foodstuffs
Electric vehicle manufacturing
Pharmaceutical and medical device manufacturing
Public transportation services
14 December, 2021- Starting from 15 December 2021, the investors shall apply the importation of raw materials, machineries and equipment for tax levy (except for the importation of raw materials in alcohol, beer, cigarettes and etc.) at the Department of Trade and the Customs Department without acquiring the MIC's recommendation, under the Myanmar Investment Rules.
Those related to importation of raw materials in manufacturing of alcohol, beer, cigarettes, manufacturing and installation of vehicles, and commercial sugar, shall be submitted with the requirement of raw materials per annum to the MIC.
FDI inflow during Oct-Dec 2021
Myanmar has drawn foreign direct investment of more than $245 million from 13 countries with 15 projects during October-December 2021 period. The investments are flowing on agriculture, livestock and fisheries, manufacturing, power, construction, transport and communications, hotels and tourism and other services sectors, including expansion of capital by existing enterprises and investments in the Thilawa Special Economic Zone. FDI projects are from China, China (Taipei), Hong Kong SAR, Singapore and the Republic of Korea during the current mini-budget period.
New Rules and Regulations in Trade Sector
3 January,2022
Changing rules and regulations in trade sector in 2021
There were some changes of trade policy, rules and regulations in Myanmar during 2021. The objectives were to relax license requirement of key export items for export promotion and to restrict some import items in order to save foreign exchange and protect domestic production.
The Ministry of Commerce has extended import permits on the reconditioned machine for the small and medium-sized enterprises. The policy supports the establishment of the manufacturing process, improving the entrepreneurs' production capacity, reducing the capital expenditure and to avoid environmental damage.
The Ministry of Commerce granted a temporary exemption for obtaining import/export licenses when importing/ exporting certain goods into or out of Myanmar due to the current situation in the country. According to the list of goods, there are 72 items that will be exempted from obtaining import licenses. Export items with licence exemption include onion, garlic, rice, broken rice, raw sugar, refined sugar, natural rubber and cotton. The exemption covers the following import goods; flour, soybean seed, palm oil, food commodity, cement, gasoline, diesel, pharmaceuticals, fertilizer and lubricant. The Department of Trade extended the licence exemption deadline for 99 exports and imports until 7 June, 2021.
Trade Department of the Ministry of Commerce notified that four food commodities were temporarily restricted for import via the Myanmar-Thailand border. The restricted items include various beverages, coffee mix and tea mix, instant coffee, condensed milk and evaporated milk. However, they can be imported through maritime trade.
Trade Department also suspended soap, detergent and toothpaste from border import.
During the third wave of COVID-19 period, the Department of Trade allowed imports of Oxygen concentrators, COVID prevention and treatment medicines and supplies without licenses and reduces commercial tax.
The Ministry of Commerce released the additional priority lists of products allowed to do retail/wholesale by foreign companies, and public companies of Myanmar citizens and foreigners. This priority list covers 25 products such as consumer goods (including clothing, watches, cosmetics); food products (including agricultural products, fishery products, etc.); household items (including textiles, flooring, glass and glassware), medicines and medical supplies; and so on.
New rules and regulations in trade sector in 2022
From 1 January, 2022, Myanmar exporters have to register with General Administration of Customs (GACC) of China to export Myanmar foodstuffs. The exporters will register at competent authorities under the Ministry of Agriculture, Livestock and Irrigation and Ministry of Commerce for agriculture and fish product exports.
Starting from 1 January, 2022, some import goods are needed to apply for import licenses according to the 2017 Customs Tariff of Myanmar, 1,428 product lines with HS. Code 6 digit or 3,070 product lines with HS. Code 10 digit in order to streamline imports and regulate the use of foreign currency for imports of goods as the aftermath of COVID-19.
The Ministry of Commerce has issued the instruction for businesses to follow in labelling vegetable oil and cooking oil either in Myanmar language or in combination with another language, along with a detailed description of the product labels for each product group. In marking labels, the name of product based on the original ingredient and the net weight of size of the goods written in Myanmar weight units (such as, Viss and Tickle) must be expressed in Myanmar Language. This directive will come into force in June 2022.
Consumer Protection
Myanmar government is focusing to gain trade surplus in foreign trade with trading partners especially China and Thailand. Myanmar-China border trade has been suspended by Chinese side for the reason of prevention of COVID-19 since early 2020. As China adopted more requirements in product quality and standardization on Myanmar export products in border trade, Myanmar trade authority should consider consumer protection measures against Chinese import products which are normally with low quality and sub-standard.
Economic policy changes in Myanmar 2021
20 December,2021
Economic Policies after February 2021
The economic policy of the Union of Myanmar is people-centered and aims to achieve inclusive and continuous development. During the year 2021, there were some changes concerning economic policy in Myanmar. The State Administration Council, new administration sets three economic objectives after taking state powers. These policies focus more on promoting and supporting local business and domestic production:
Enhancing domestic production based on agriculture and livestock and strengthen development in other sectors of the economy
Developing a stable market economy and promote international investment in order to enhance the economic development
Promoting and supporting local businesses to create employment opportunities and increase domestic production.
Reformation of Union Ministries and budget year
The new government comprises 30 ministries and reforms some ministries.
On 3rd May 2021, the State Administration Council reformed the Ministry of Planning, Finance and Industry as the follows:

Ministry of Planning and Finance
Ministry of Industry

On 1st August 2021, the State Administration Council reconstituted
The Ministry of Health and Sports as:
Ministry of Health
Ministry of Sports and Youth Affairs
The Ministry of Labour, Immigration and Population as:
Ministry of Labour
Ministry of Immigration and Population
On 31 August 2021, the State Administration Council has reformed the Union Attorney-General Office as the Ministry of Legal Affairs.
The government changed the practice of its fiscal year from original October-September to April-March in beginning 2022-2023. For the transition period, the government sets a six-month interim budget period from October 2021 to March 2022.
New laws in 2021
Three key laws relating to economic policies are enacted in 2021.
On 30 September 2021, the State Administration Council issued the National Planning Law for the six months of the 2021-2022 financial year, which was came into effect on 1 October 2021. It has the following targets:
(1) To achieve 3.8% growth of the gross domestic product (GDP) in current prices
(2) To implement the share of GDP by agriculture 23.6%, industry 38.2% and service sector 38.2%
(3) To target US $8.2 billion exports and US $8.8 billion imports
The State Administration Council issued the Union Taxation Law on 30 September 2021. Some of the main measures of the law include:
A reduction in the corporate tax rate from 25% to 22%

An increase in the personal income tax bracket thresholds from 0% to 25%

Extension of tax amnesty for unassessed income introduced by the Union Tax Law 2020 until 31 March 2022, which includes progressive rate of up to 30% depending on the unassessed income amount.
The government issued the Union Budget Law for the six months from October 2021 to March 2022. The Ministry of Planning and Finance scrutinized and submitted the six-month estimated budget drawn by Union level departments and organizations in line with policies, financial rules and procedures adopted by the State. It also mentions keeping appropriation for the unusual expenditures, and supervising the financial allotment and undertakings.
Effective economic policy
Due to the impact of COVID-19 and political crisis in 2021, World Bank and ADB estimated Myanmar economy will be contracted by 18.4% in 2021 and warned the danger of lives, livelihoods, poverty, and future growth. Actual GDP growth in 2020-21 is not released by the Ministry of Planning and Finance yet. Effective economic policies are needed to ease the businesses and people from the impact of various crises.
Digital Economy and Online Learning in Myanmar
6 December,2021
COVID-19 pandemic has contributed to a digital economy by emphasizing the importance of digital infrastructure especially during the stay at home periods. The pandemic has resulted in the closure of schools and institutions all across Myanmar and made all children out of the classroom. As a result, education has changed dramatically, with the distinctive rise of online learning, whereby teaching is undertaken remotely and on digital platforms. It also led to build the foundation for virtual learning around the country.
It is the first time not only Myanmar but also the world has faced a long-term lockdown situation with school & institutions shut and the restriction of in-person attendance. So, during that period, Myanmar students should take advantage of online access to continue learning. Online learning, also called electronic learning, is a virtual learning environment in which teachers and students rely on internet-based tools and materials. There are a lot of education website and pages, which offer a range of lessons on different subjects with no charges. Almost everyone in the country has at least one mobile phone with internet access. Therefore, everyone can continue learning simply through his mobiles.
Online Learning Programme in Myanmar
For nearly two years now, schools, colleges and all educational institutions have been closing, re-opening again and again. After February 2021, the military government attempted to reopen the schools and colleges nationwide on 1 June, the start of Myanmar's academic year. However, those schools that did reopen in June were later closed again on 9 July when the third wave of the pandemic hit the country. Despite continued threats of COVID-19, the military government reopened the primary, middle and high schools on 1 November. Due to the threats of COVID-19 and the political instabilities in the country, only a few number of students back to school currently. All students are out of schools for nearly two years already. That's why online courses should be the best options for continuous learning.
In response to the significant demand of online classes for the students at home, a lot of private schools and universities offer a range of classes on different subjects. Well to do families arrange online courses for their children to be ready when the schools are in normal situation. Besides, there are also many non-profit organizations for the students nationwide. For examples, Myanmar best online courses (Myanmar boc), an online learning marketplace founded by Myanmar Web Store in 2020. It provides different kinds of free courses such as foreign languages, programming languages, networking, design (how to draw a logo), business, and other general knowledge. The next one is Khan Academy which is actually an American non-profit educational organization and became famous among Myanmar students during COVID period. It provides free tutorial videos and interactive exercises on mathematics, science, computing, art and humanities, reading and language arts, economics and other life skills. After taking a level test, students can join and learn from the uploaded lesson videos according to their level.
Another one is Run Free Education, which teaches more than 300 subjects under 12 departments such as law, art, economic, engineering, language, health care and etc., by many volunteer teachers across Myanmar. This program is designed to facilitate free education for students and young people around the country. Besides, on 27 January 2021, the International Labour Organization (ILO) launched a digital learning platform – ecampus.iloyangon.org – to share knowledge and skills related to the world of work in Myanmar whether they are an employer, entrepreneur, worker, union leader, academic or government official, keep up- to-date and learn about International Labour Standards, social dialogue, occupational safety and health, and more. Online learning should continue using even after COVID-19 period since people could make use of digital technology to improve their critical thinking skill and other relevant skills.
Challenges of online learning in Myanmar
The first challenge would be the internet access. The broadband internet access in Myanmar is still expensive and not widely available to many areas for online learning. So even-though some courses are provided with cheap prices or free charges, students still have to pay for the expensive internet bill and limitation to access the internet. Currently, news released that the price of mobile data will be up nearly to three times starting from 6 December 2021. In the past, the average price for 1GB was around MMK 1,000 but now according to the release, the price of 1GB will be nearly MMK 3,000 which will lead the students who rely on mobile data more difficult in paying for the bill.
Another challenge would be that many students have lack of tablets/computers and they are weak in technical knowledge about using learning platform such as Zoom or Google Classroom or Microsoft teams. Moreover, along with a decline of income for almost every household in the country, students are facing a challenge to pay for the fees at normal rate. So, some schools and private tuition reduced their charges. For example, before COVID period, the fees of English 4 skills 1 month course with a local teacher will be around Kyat 1 lakh, but now it is reduced to nearly half so that students can continue their learning.
As many private sectors offer online courses, state institutions should extend online learning system in Myanmar. The online learning system launched by private and public sectors will provide a great help for formal, non-formal education and vocational training during COVID and other crises.
Increasing Commodity Prices and Inflation Rate
Increasing prices of essential food items
According to the International Food Policy Research Institute (IFPRI)'s survey report on July 2021, food price inflation over the 12-month period from June/July 2020 to July 2021 amounted to 7.0 percent. Prices of the cheapest available rice and cooking oil increased by 13 percent and 47 percent, respectively, in July 2021 compared to June/July 2020. On the other hand, onions (-26 percent), fresh fish (-14 percent) and chicken (-6 percent) showed price decreases compared to June 2020. Price changes between May and July 2021 were relatively minor, except for green leafy vegetables, which decreased by 17 percent.
Short supply, delays in transport (resulting in high spoilage), as well as high transport costs of perishable vegetables resulted in more than doubling of the average tomato price. According to the September market price rate, the price of a bag of rice has risen from K47,000 ($26.30) to K52,000 ($29.10), while the price of one viss of seasoning powder has soared from K3,500 to K6,500. One viss of cooking oil climbed from K4,000 to K5,500. Although these prices can vary according to regions, the main thing is prices of all essential food items are increasing.
Food price inflation was relatively higher in rural versus urban areas and in the Dry Zone and the Coastal areas. Households in the poorest quintile faced much higher food price inflation (10.4 percent) than those in the richest quintile (4.3 percent) as rice and cooking oils, which prices have increased substantially over the last year. The changes in the retail prices of food products compare to normal periods can be seen as follow.  
Source: IFPRI's Food vendor survey (July 2021)
Increasing prices of essential non- food items
Besides, the prices of household goods like detergent, shower gel, toothpaste, toilet paper and etc. have also increased. Throughout COVID-19 period, there were closure of factories, and shortage of raw materials which cause insufficient supply of household goods to the market. Besides, many people also did panic buying at the beginning of  every Wave. Therefore, the prices of instock goods are higher than before. Moreover, the rise in fuel price and the COVID rules cause transportation charges higher than usual, so prices of the goods also increase in the market. Moreover, there is another reason that cause the prices increase, the Ministry of Commerce has banned the imports of detergent, shower gel, toothpaste and toothbrushes at border trade zones in early June, 2021. People were afraid of the shortage of supply of their essential non-food items, so they try to buy a massive amount and store at home whenever they can get the items they usually use. Another reason of increasing prices is the selfish shop owners. They increase the prices of instock items whenever the lockdown news or banned news released even they have bought them with normal price.
Estimation of inflation rate
Inflation rate in Myanmar had increased to 6.51 percent in July from 5.68 percent in June of 2021, according to Central Statistics Organization's Consumer Price Index (CPI). On 29 September, Reuters mentioned Myanmar's currency has lost more than 60% of its value since the beginning of September, driving up food and fuel price in economy since the beginning of February 2021. The significant depreciation of the Kyat against the US dollar has passed through to the prices of imported consumer goods and inputs. According to the market data, October 2021 had the highest inflation rate as the exchange rate rose to 2,300 kyats per dollar in the first week of October. Moreover, the prices of fuel were also at the peak during that time. On the other hand, the manufacturing PMI data indicate that higher input prices have been reflected in higher output prices in recent months. Overall, average annual inflation of 6 percent is projected for FY 2021, which would be consistent with a significant acceleration in inflation in the second half of the year, according to the World Bank's data. Nevertheless, some prices including food prices are likely to increase more sharply as already discussed with adverse impacts on real incomes and livelihoods for the household in the country.
Foreign Direct Investment (FDIs) in Myanmar 2020-21
FDIs in 2020-21
Foreign investment in Myanmar was first depressed by the COVID-19 pandemic since 2020 and then it has fallen to an eight-year low after the political event in February 2021, based on the released data. According to the Directorate of Investment and Company Administration (DICA), the total amount of foreign investment permitted in Myanmar during 2020-2021 financial year was nearly US $ 3.8 billion, excluding the investments in Thilawa Special Economic Zone, while the approved FDIs during 2019-2020 financial year was US $5 billion (including capital raised to expand existing operations in the country). Myanmar Investment Commission (MIC) intended to reach a target of US $ 5.8 billion during 2020-2021 financial year.
FDI inflows by sectors and countries in 2020-21
By the end of September 2021, the electric power sector leads the list of most invested sectors out of 12 business sectors with 28% of total investment. This was followed by oil and gas sector, accounting for 25.18% and the manufacturing sector, accounting for 14.26%.
According to the meeting on 3rd November 2021, Myanmar Investment Commission approved 13 new projects for agricultural, hotels and tourism, manufacturing, and other service sectors. The approved projects amounted to US $ 204.838 million and K 225,520.015 million, where 2,972 job opportunities are expected to create. By the end of September 2021, the countries/regions with largest investment out of 51 countries investing in Myanmar are Singapore, China and Thailand.
According to the World Bank's Economic Monitor, July 2021, of the FDI projects approved during the first seven months of FY21, 54% were in the electricity sector, 26% in the manufacturing sector, and 6% in the hotel and tourism industry as in the following figure.
FDI commitments in the first seven months of FY21 declined
In terms of countries of origin, Japan accounted for 41 percent of total investment commitments in the first seven months of FY21 – much larger than in previous years. Other major investors were Singapore and China, accounting for 31 percent and 13 percent respectively. It can be seen as follow.
Investment commitments by country
FDI outflows
Throughout the year 2021, a lot of foreign companies have decided to either withdraw from Myanmar or downsize their operations in the country. German wholesale company Metro has announced it will cease its local operations by the end of October 2021. The company built a logistics base in the Thilawa Special Economic Zone, in suburban Yangon, and began offering food ingredients to restaurants and hotels in 2019.
Moreover, British American Tobacco announced that it would leave the Myanmar market at the end of 2021, with business sources in Yangon attributing its departure to commercial decisions. Having begun operating in the country in 2013, with a $50 million investment, BAT's exit from Myanmar after less than a decade reflects the extent to which the business environment has deteriorated in just a few months.
In addition, some franchisees for foreign food and beverage brands targeting Myanmar's growing middle-income segment- including Auntie Anne's, a U.S.-based chain of pretzel shops, and Koi The, a tapioca tea house operator from Taiwan, have closed their businesses in Myanmar. According to DICA, $2.2 billion worth of investments or loans associated with foreign direct investment flowed into Myanmar in 2020. It is likely the total will fall significantly in 2021 since 1,873 foreign investment projects had left Myanmar as the end of September 2021.
The latest example is the closure of the $45 million Kempinski Hotel in Myanmar's capital Naypyidaw, which hosted President Barack Obama during his state visit in 2014. The Geneva-headquartered international luxury hotel chain revealed this month that the flagship hotel would cease operations starting October 13. Besides, an official from Yoma Strategic Holdings (YSH) said that they could sell their assets and businesses in the coming months after facing declines in demand of hotels, restaurants and cafes due to COVID-19 and the changing situations that had even led to the closure of their Auntie Anne's bakeries which was a partnership with US-based Focus Brands.
The current uncertain situations have left these foreign companies unable to decide whether the country's political and public safety situations will return to normal, or whether the business environment might be made worse by tighter sanctions and other factors. Meanwhile, Myanmar is seen to be hurt by the drop-off in foreign currency revenue that is used to support the economy. It is very important to maintain the situations in the country stable in order not to lose further foreign investments, which is followed with the losing of job opportunities for the people in Myanmar. Myanmar Investment Commission together with relevant ministries should support more on existing FDIs and put advice to the government.
Rising Fuel Prices and its impacts
25 October, 2021
Fuel prices in Myanmar have increased more than doubled since February 2021, as the cost of crude oil has jumped in international markets and the kyat has weakened significantly against the US dollar throughout the year 2021. Fuel price inched higher in the global market at US$73.98 per barrel for WTI crude and $78.09 for Brent crude on 26 September. In mid-February, a dollar was worth MMK 1,430 only, then the Kyat continues to weaken in the local market and rising above MMK 2,100 per dollar in mid-October.
Before February, the price of a liter of octane or diesel fuel was around MMK 700. Then, it has soared to over MMK 1,500 since last week of September. In some stations, the prices have reached around MMK 1,900 as the prices are different according to the region of the station being located. By looking at the daily fuel price rate of Denko Trading, while the fuel prices in the stations of Yangon were around MMK 1,550, the stations in Kachin were around MMK 1,700 on 1 October, 2021. The trend of the fuel price from February to mid-October 2021 as be seen as follow:
There is also an insufficient supply of fuel in the stations of some regions so people have to wait a long queue every time they go to the gas station. And sometimes, they don't even get enough gallons they need. It causes a huge harm for the truck owners and drivers. Meanwhile, the prices of engine oil, tyres and other parts have increased due to the weakening kyat. With the increasing of fuel prices, the truck owners have to increase freight charges which causes the price of goods in the market higher as consequences. Currently, freight firms are only carrying basic food and consumer goods. They are struggling at the moment and they might have to halt operations if the situation gets worse.
Moreover, Yangon taxi drivers have been particularly hard hit. Many have stopped driving because they cannot afford fuel. According to a taxi driver in North Dagon Township, it is the worst situation he has ever had in his 40 years of driving taxi. Before September, he earned 30,000 kyats per day and spent 6,000 kyats for fuel in average. But now, he has to spend 20,000 kyats for fuel a day and earn only 30,000 kyats as they cannot ask for more money. They have to struggle a lot during these days with a lot of difficulties. Price of cooking fuel like LPG gas is increased by 30%. vIn addition, the price of cooking oil and other goods have also risen along with the rising fuel prices. The households in Myanmar are facing challenges to cover up the rising of food expenses and charges with low income.
Normally, Myanmar imports fuel oil primarily from Singapore, with monthly volumes touching 200,000 tonnes for gasoline and 400,000 tonnes for diesel. There are about 2,000 fuel stations and over 50 oil-importer companies in Myanmar, Myanmar Petroleum Trade Association stated. Myanmar imported nearly $2.3 billion worth fuel oil in the past ten months (Oct-July) of the current financial year 2020- 2021, according to the Ministry of Commerce. Normally, a monthly oil import is estimated at $400 million, yet the oil importers are facing banking restrictions for maritime trade besides Kyat depreciation. In order to stable fuel retail price and distribute gasoline and diesel in cheaper prices, the Central Bank of Myanmar sold US $50 million dollars to fuel imports with bank rate on 18 October 2021.
Trends of Dollar Exchange Rates in 2020-21
4 October, 2021
In the first six months of 2020-2021 budget year, exchange rates between of Myanmar's kyat currency and US dollar were stable from October 2020 to January 2021 around kyat 1,350/$.  Starting from February 2021, kyat value has fallen day by day. In the second six months of the financial year 2020-21, the Myanmar kyat continues to weaken against the US dollar. The exchange rate reached an all-time highest of K2,700 per USD on 29September,2021. Monthly average dollar exchange rate was increased by 55% in comparing with previous budget year. The trends of monthly average exchange rate can be seen as below;
Since February 2021, the need for dollars grew after the sudden halt to exports and foreign direct investment. The flows of foreign currency into Myanmar stopped after indication of economic sanctions were introduced by some foreign governments and suspension of aid programs. The Central Bank of Myanmar (CBM) is carrying out an auction for foreign exchange to reduce the fluctuation of foreign exchange rates in a short-term period and fulfil the needs of foreign exchange reserves. During the financial year 2020-2021, the CBM reportedly sold US$ 184.8 million in total at its auction rate in the past eight month from February to September 2021. According to the monthly sales, the CBM sold $6.8 million in February, $12 million in April, $ 24 million in May, $12 million in June, $ 39 million in July, $28 million in August and $63 million in September 2021. However it was not affected much to save kyat value.
Rules and directives have been set out for the CBM's auctions. Following these rules and directives, the CBM is trading the foreign currency through three State-owned banks, 19 local private banks and 13 foreign banks, which are holding authorized dealer-AD licenses. Due to differences between CBM rate and market rate were widen, the CBM issued order for AD licensed banks and money changers to follow 0.8% trading band on 8 August 2021. On 10 September 2021, the Central Bank of Myanmar (CBM) removed it, leading to a higher variation in its bank-customer and interbank dealing rates according to the following announcement. The actual market rates have recently seen significant volatility against the regulator's reference rate, and there has been a large discrepancy between the rates at licensed banks and money exchangers in the market.
There are many reasons that causes fallen of Myanmar kyat value like shortage of US dollars in the market due to the withdrawal of foreign investments, closures of international organizations, restrictions of foreign transactions in foreign imports and exports, holding US$ as an investment, increasing gold price and speculation in the market.
It cannot be denied that the decline in the value of Myanmar's currency has resulted from the combined impacts of the political instabilities and the COVID-19 pandemic. Moreover, this is set to push up the costs of imported goods, particularly fuel prices which were up over 70 percent during 2020-2021, contributing to the across-the-board increases in the cost of living. All in all, CBM and related ministries should closely monitor the impact of declining kyat value and unstable foreign exchange market on Myanmar economy and should try to assuage consumer fears about dollar prices.

Covid-19 Third Wave in Myanmar
COVID vaccination plan by government and private sector
20 September, 2021
When COVID-19 virus is spreading quickly and widely, it is crucial that enough people in the community are vaccinated so that it can slow down the spread of disease. Moreover, there are two key reasons to get vaccinated: to protect ourselves and to protect the people around us. Because not everyone can be vaccinated, for example, the infants and those who are seriously ill or have certain allergies. Their lives depend on others being vaccinated to ensure they are also safe from the life-threatening COVID-19 virus.
Government vaccination plan
On 27 January, 2021, a COVID-19 vaccination program has launched across the country. Though there were political instabilities since February, 2021, the Ministry of Health and Sports (MoHS) said it is continuing with its COVID-19 vaccination program. On Jan 22, Myanmar received India's gift of 1.5 million doses of Covishield to cover 750,000 people, with two doses per person. Around 260,000 vaccine doses are planned for health care staff, volunteers on the COVID-19 frontline, all parliamentarians and senior government figures. About 1.2 million remaining vaccine doses will be given to the public. On February 11, two more million doses of Covishield from India were also shipped to Myanmar.
There are 13 priority groups for vaccines, and the main target is over 65 years old persons, health workers, volunteers and other employees, private health workers, monks, nuns, religious organizations, homes for the age and the banking industry, according to Dr. Khin Khin Gyi. Moreover, all the people working in the transport sector also include in the lists. The next one is the employees of state-run and private factories and industry, hotel and guesthouse staff and the ones working at the prisons, restaurants, teashops and SMEs are on the list. The vaccine is currently being administered in different regions and states. There are township-level outlets, such as local schools and health departments, currently carry out the vaccination according to the priority list.
According to the report of the Ministry of Health and Sports (MoHS), as of 14 September 2021, a total of nearly 5 million people were given vaccines across the country. Among them, over 3.3 million people (6.14% of the population) have received both doses while over 1.6 million people (2.96% of the population) have received the first dose with over 8 million total doses delivered. MoHS has planned to meet 50 per cent of the population over the age of 18 to be vaccinated against COVID-19 by the end of 2021. 
Under the vaccination program, three million of Sinopharm and Sinovac jabs had arrived from China in July. At the end of August, a total of two million doses of Sinopharm, purchased from the People's Republic of China had arrived. Then on 12 September, 2021, another 4 million of Sinopharm vaccines out of 24 million purchased from China had also arrived. The newly-arrived COV­ID-19 vaccines are distrib­uted to respective regions and states via roads un­der the necessary tempera­ture and MoHS has been administering the COVID-19 vaccines in states/ regions as per the national pri­ority programme. Currently, the country administrated 150,000 doses of COVID-19 vaccines to the target groups daily. 
MOHS announced extension of priority groups of vaccination on 17 September and they are over 55 years old people, disabled persons, members and families of Ethnic Armed Organizations (EAOs), people in Internal Displaced Persons (IDP) camps, patients who suffering from chronic diseases.
Vaccination plan by private sector
Besides, the private sectors are also allowed to import Covid-19 vaccines and vaccinate at private hospitals and clinics with the approval of Food and Drug Administration (FDA). The vaccine importers must meet the requirements set by the Ministry of Health and Sports (MoHS) such as FDA/ National Regulatory Authority (NRA) approval of vaccine from country of origin, letter of authorization from the owner, manufacture license or GMP certificate, storage and distribution plan, etc. As early as June, besides private hospitals, some companies were claiming that they had already received permission from the FDA to import COVID vaccines. On June 23, a local pharmaceutical company called SML announced on its Facebook page that it was accepting preorders for the vaccine.  Moreover, Myanmar's Chinese Chamber of Commerce (MCCOC) announced its vaccination program of China-made Sinopharm jabs for 50,000 kyats per person in June and those who registered that month had received the first jabs on 24 August as 700,000 doses of vaccines to cover 350,000 people had arrived on the evening of 21 August. Unfortunately, they do not accept another list of people at the moment.
Problems in COVID Vaccination
Some people are reluctant to take vaccination provided by government due to unconfident on Chinese vaccine or following the words of political activists etc.
Application and importation process are complicated and take a long process for private organizations. Importation of one shipment of vaccine needs a minimum of 100,000 doses. Most private hospitals and small organizations could not manage to implement. Some organizations are trying but they are delayed due to complicated process.
In addition, there are different kinds of COVID-19 vaccines available in the market with different prices since there are some pharmaceutical companies importing COVID-19 vaccines in different means. For those who intend to receive vaccination from private sectors, they must choose the reliable private hospital or company or organization as there are some fake or disqualified medicines selling with really high price even offering home service vaccination.
The COVID-19 vaccination program involves the interest of the entire nation and is critical for all citizens. It is very important that a large amount of population needs to be vaccinated in this program and to get higher coverage of vaccination in a short period while achieving herd immunity is a long-term goal in order to reduce both the infection and death rates of COVID-19 in Myanmar. Last but not least, corruption, politicization, and discrimination should have no role in this program.
COVID patients and health care services during Third Wave
6 September, 2021
Due to Third Wave of COVID, the number of COVID patients has been increasing day by day in Myanmar since late May. According to the released data from Ministry of Health and Sports (MOHS), a total of 141,908 cases were reported from 425,119 tests with a positive ratio of 33.38 per cent and daily positive ratio of 40 per cent in July alone. There was a total of 6,000 deaths which is 58 percent of Myanmar's official coronavirus deaths during the same period. In August 2021, the number of positive cases seem to be lower than July since the daily new cases in July was around 5,000 and there are around 2,000 in August. According to the Ministry of Health and Sports (MOHS), the positive cases rose to 392,300 after 3,166 new cases were reported on 29 August 2021. Among these confirmed cases, 346,408 have been discharged from hospitals. Death toll reached 15,183. However, the actual numbers are expected to be far higher since many die at home with suspected coronavirus, according to funeral charities. We cannot count actual number of COVID patients in the country.
There are many reasons that could lead the massive outbreak of COVID-19 third wave in Myanmar. During third wave, almost every house has at least one infected person. Then, it has a high risk of infecting others' family members living in the same house. Those people have to be isolated for at least 14 days at their home or at a quarantine center. However, the number of quarantine center couldn't meet the rising number of infected patients. So, the patients with mild symptoms are allowed to stay at Home-Quarantine. In reality, not every people can follow the rules strictly because of the emergency cases. While one of the family members are in danger of shortage of oxygen, for example, the mildly infected ones have to go outside and find the needed oxygen, medicines and food by themselves. They couldn't care about that they still need to be isolated being an infected person, they just need to save their family member's life, first. There are many volunteers groups who are helping patients at home but they couldn't reach out to everyone. In addition, long queues of people at ATM machines was continue to be common sight during these days as people need cash in their hands to buy the needed expensive medicines and oxygen cylinders or concentrators. Sadly, there was lack of social distancing in these lines which could lead a high risk of being infected. So, the numbers of infected patients are rising day by day but are not recorded in any official data.
There are some government general hospitals, specialized hospitals and military hospital providing COVID treatment. Quarantine centers like Yoma Yeiktha quarantine center, Inya Center (Mayangon), and Myanmar Convention Centers have arranged the facilities for the positive patients. According to MOHS, there are 12 private hospitals and 4 COVID test centers. However, some people use COVID test kits instead of going to the test centers since it is easy to use and can be done at home.  And MOHS also allowed five private hospitals to provide medical treatment for the COVID-19 patients but some hospitals do not accept COVID patients due to lack of facilities. High cost of receiving treatment at private hospitals hinder patients to receive treatment. Indeed, COVID-19 patients have to be treated at ordinary quarantine centers or hospitals depending on their severity. However, every government hospitals and quarantine centers are overwhelmed with patients most of the time. Especially in July, the infected patients had to from hospital to hospital but there are no beds left so they have to seek treatment at home. There are some volunteer quarantine centers but they have limited beds or food and medical supplies. Some patients relied on volunteer treatment centers to receive COVID treatment but they don't have enough medical equipment or medicines. Thus, many COVID patients are being cured at home.  
The healthcare service in hospital or full-facility quarantine center is apparently much better than being at home. There will be doctors and specialists for particular infections and also medical equipment and medicines. However in July, there was a huge shortage of medicines and oxygen, so the family of the patient has to find the needed medicine and oxygen outside. That was a rough time for all those people.
Those patients who stay at home are apparently at a greater risk of dying. There won't be any doctor for emergency cases and no medical equipment to make them feel better. That's why the authorities ask only patients whose oxygen level is good and have no other health problem to isolate at homes. However, there can be emergency at any time. As positive points, those who are at home receive a warmth care and mental strength from their family. Mental strength is crucial to the COVID-19 patients. Once they feel depressed, the virus can beat them death.
The Ministry of Health and Sports, in collaboration with department officials, and charitable organizations, is preparing for quarantine centres in respective townships which are still under operating. So, there are still some people who suffered from COVID and die at home for not being able to receive any proper treatment. We do need research for actual statistics to see true picture and make proper plan of healthcare services for future waves. Nevertheless, this is all our responsibilities to follow the COVID-19 rules and keep ourselves alive in this third wave of COVID-19 pandemic.
Medicines and COVID related materials imports
16 August, 2021
Since the outbreak of COVID-19 third wave began to rise nationwide in early July 2021, priority was given to the importation of anti-COVID-19 medicines and related materials. The third wave make people really shocked and everyone was trying to stock up whatever they think they'll need. With demand soaring for pharmaceutical products and COVID related materials, prices have also started rising even at the wholesale markets throughout the country. The prices of face masks went beyond the reach of everyday people and some commonly used medicines for colds, flu and even supplements such as vitamin pills have also risen. The price of a box of 50 face masks in Yangon, Mandalay and Pyin Oo Lwin immediately jumped from K1,000 to K3,000-K5,000. Almost all COVID-19 related medicines were more expensive than usual.
In addition, one of the key shortages during the third wave is supplemental oxygen. Most pharmacies have run out of oximeters, oxygen cylinders and oxygen concentrators. This caused the prices of these materials exorbitant since there was a shortage in the market during July and most pre-ordered stocks were to be delivered in early August. The price of 10L medical-used oxygen concentrator became over 20 lakh when there was only around 10 lakh in normal days. Besides, even home-used oxygen concentrator came into market with the price of more than 15 lakh while there were under 10 lakh before. However, people had to buy these expensive things since the medical-used oxygen concentrators were out of stock at that time. They couldn't wait till the pre-ordered stock arrive, as they need to save the lives of their family members urgently.
The country imports 90 percent of its medicine and related materials mostly from neighbouring countries. The most widely distributed masks and medicines in the market are imported from China and India. Unfortunately, supplies were limited due to the border closures to prevent the spread of COVID-19 between countries. On the other hand, the government is allowing continuous importation of anti-COVID-19 medicines and related materials in order to meet the urgent need of people in the country.
The Ministry of Commerce has announced that the import of anti-COVID-19 medicines, related materials and liquid oxygen were allowed for three months without having to apply for an import license starting from 12 July, 2021. Moreover, import of oxygen concentrator was reduced by 5% commercial tax, according to the Ministry of Commerce.  The ministry also arranges to take the imports arrived at the airports, jetty and border trade camps at once. The FDA also eases the restrictions on the import of medicine and raw materials.
In July, a total of 727 tonnes of liquid oxygen, 567 tonnes of liquid oxygen cylinder,114 tonnes of oxygen gas cylinders, 40,491 empty oxygen containers, 69,146 household oxygen concentrators, eight oxygen plants, 11 oxygen generators, four oxygen filling machines, 322,878 test kits, 1,104 tonnes of mask and 182,975 PPE suits were imported. However, there was still a shortage in the market of July since the whole country was suffering the massive COVID-19 outbreak in July.
Things become more manageable in August since the importation of anti-COVID-19 equipment has increased and the stocks are arriving daily. In addition, the Republic of the Union of Myanmar Federation of Chambers of Commerce and Industry (UMFCCI) formed a task force on 25 July 2021, with an aim to ensure adequate stock of essential medicine for prevention, control and treatment of the COVID-19 and have a smooth trade flow. The task force is dealing with the import problems and seeking one-time permit of Food and Drug Administration. It will help facilitate the import process. The task force office was launched on 28 July 2021, providing daily service for pharmaceutical imports and distribution.
The Ministry of Commerce is allowing to import the anti-COVID-19 equipment including liquid oxygen, oxygen gas, household oxygen concentrators, and medicines via sea, air and border routes on public holidays. A total of 942 tonnes of liquid oxygen, 72 tonnes of oxygen cylinders, 7 liquid oxygen containers, 6 oxygen distributors, 101,291 empty oxygen containers, 22 oxygen plants, 10 oxygen generators, 72,560 oxygen concentrators, 150,268 test kits, 488,512 PPE suits, 82 tonnes of gloves and 1,036 tonnes of masks have been imported by far in August.
Obviously, the imports of pharmaceutical equipment in 2020-2021 financial year will be more than 2019-2020 financial year because of COVID third wave. The total import of 2019-2020 financial year was US$555 million with US$518 million oversea trade and US$37 million border trade while the import value of Myanmar pharmaceutical equipment was estimated at US$303.5 million in the seven months (Oct-Apr) of the current financial year, 2020-2021, according to Myanmar Customs Department. During the time of COVID third wave, the importation has dramatically increased and the prices were also up not only of the selfish traders but also of the dollar appreciation so much in August. The importers, pharmacy companies and the relevant ministries have to jointly supervise to control the prices of medical supplies in the market to save our people.
.
COVID Third Wave in July
2 August, 2021
Since late June 2021, Myanmar has been suffering from a third wave of highly contagious COVID-19 and July has turned out to be the deadliest month with the deaths of 6,000 as of 31 July, 2021. According to the Ministry of Health and Sports, the daily fatalities of July hadn't dipped below 300. However, the tally could be higher on the ground since there are some people who died at their homes after not being able to attend any hospital or quarantine center.  
Charities that help transport dead bodies to cemeteries in Yangon have reported seeing between 1,500 and 2,000 bodies daily which is about five times higher than MOHS's announced rate. Moreover, the number of daily positive cases released by MOHS was around 5,000 in the last week of July which, however, was expected to be higher than that since four coronavirus strains—Alpha, Beta, Delta and Kappa—have been detected in Myanmar.
According to Ministry of Health and Sports latest updated at 8 PM on 31 July 2021, there were altogether 299,185 cases and 9,334 deaths in total from 3.15 million tests in Myanmar. The number of COVID-19 fatalities in the third wave has exceeded the combined total of COVID-19 deaths in the first two waves of the pandemic. A total of 3,216 people died in the first and second waves between March 2020 and late May 2021.
As of the first week of July, 296 of 330 townships across the nation have reported a spike in COVID-19 cases. COVID-19 deaths have been recorded in all Myanmar's regions and states, with the highest number of fatalities reported in Yangon. There are also rising of fatalities in Mandalay, Ayeyarwady and Bago regions and Mon State. The rising death toll is a direct consequence of the collapsed Myanmar's healthcare system. According to the charities, most of the coronavirus deaths in Yangon were due to hypoxia, where oxygen fails to reach body tissues, a common symptom in serious COVID-19 cases.
MOHS announced that there are 12 private hospitals and 4 centres for COVID testing and there are only 5 private hospitals which are providing treatment for COVID patients. Some private hospitals are under preparation stage. Moreover, prices of COVID medicines and equipment are rocket high by medical companies, traders and pharmacies. Without being prepared to cope with the sharp rise of coronavirus cases, the country is suffering from a severe shortage of medical oxygen. Shortages of medical oxygen have been reported in the regions and townships most affected by COVID-19, including the capital Naypyitaw, Yangon, Mandalay, Bago, and Sagaing region's Tamu and Kalay townships.
The shortage of medical oxygen has resulted in huge price increases for oxygen cylinders being sold on the private market. An oxygen cylinder which can store 40 liters used to cost around 230,000 kyats. Now, the price has gone up to around 500,000 to 700,000 kyats. 15-liter oxygen cylinders have also increased in price from 130,000 kyats to around 300,000 kyats. Moreover, the refilling process is not an easy one in the current moment. According to a press conference, oxygen factories were told that oxygen cannot be sold to individuals and must be supplied to hospitals, clinics and quarantine centers. Any individual seeking to refill empty oxygen cylinders will need a letter of permission from health officials. There are some volunteer groups and charities which help people get oxygen in time but they cannot help and save everyone.
Due to increasing number of COVID cases, 108 townships are regarded as Stay at Home (Semi Lockdown) Townships. The government announced on 8 July 2021 that all basic education schools are closed for two weeks from 9 to 23 July 2021, then extended to 8 August.  In addition, the government announced that in order to control COVID, from 17 July to 1 August 2021 as public holidays. Infected people, especially when whole families are isolate at home, they are hanging yellow or white clothes and flags outside their homes to show they are infected and need help. Yellow signifies that the occupants need medical supplies and white asks for food.
The government issued Announcement on Extension of the Precautionary Restriction Measures Relating to Control of the COVID-19 Pandemic and Restriction on International travels and visas to 31 August, 2021. According to the 7 July MOHS meeting, the number of fully vaccinated people was 1.75 million which were only 3.3% of the country's population. Regarding the press release on 29 July, 2021, a total of three million doses of vaccine arrived in Myanmar in July 2021. Three more million doses will arrive in coming August 2021. The already arrived vaccines are being injected into the people as quickly as possible according to the priority.
Nevertheless, Britain's UN ambassador warned that half of Myanmar's more than 54 million people could be infected with COVID-19 in the next two weeks. What the country currently requires is prioritization to secure lives of people. The government and related ministries should try to understand the real situation to tackle COVID third wave and save the lives of people as much as they can.

Economic Impact of Covid-19 in Myanmar
Impact of COVID-19 Restrictions on Freight and Logistic Market
26 July, 2021
COVID-19 has impacted many sectors of the country economy including logistics. Manufacturing, logistics and retail sectors have witnessed the high impact primarily driven by a combination of demand and supply shocks as supply chains globally were disrupted. In addition, the unstable political situation in the country has also impacted the logistics sector in the country. There is also suspension of shipping lines since the infection of disease remains increasing in most of the countries and this causes freight rates to increase.
Consequently, the shipping rates and the container cost are rocketing in maritime trade during the COVID-19 pandemic period. According to the wholesale traders, the shipping rates and container cost dramatically surged by four to ten times higher than previous freight rates. As a result, the traders are financially not doing well with the purchase price from foreign trade partners. The spikes in shipping cost amid the pandemic-induced container shortage scaled down the imports as well. The arrivals of the container ships declined and it somehow hurts the export sector. When the traders hire the ships with competitive pricing, it pushed up the freight rates. Then, they cannot make profit with high shipping costs. Additionally, container shortage problems also hinder export trading under the Free on Board (FOB) agreement.
Both maritime trade and border trade dropped amid the coronavirus impacts and the political changes. The neighbouring countries restricted the border posts to contain the spread of the virus. Myanmar exports agricultural products, fishery products, minerals, livestock, forest products, finished industrial goods, and other products, while it imports capital goods, consumer goods, and raw industrial materials. The country currently has nine ports involved in sea trade. Yangon Port is the main gateway for Myanmar's maritime trade. It includes the Yangon inner terminals and the outer Thilawa Port.
However, there are some developments in shipping services after February, Yangon inner terminals and outer Thilawa Port received over 152 larger ships of above 30,000 DWT (Deadweight tonnage) in the past five months (February-June) after the draft limit has extended up to 10 metres, and a new navigation channel developed accessing to inner Yangon River. Starting from May, more ships enter Yangon terminals which handled over 11,000 containers and 115,000 metric tons of general cargos, according to the Myanmar Port Authority.
Even though the strategic geographical location of the country is attracting investments, lack of proper transport infrastructure has hindered the growth of the logistics sector in the country for many years. However, the ongoing developments in the country present a lot of opportunities for the logistics players. Most of the logistics players in the country, more than three-fourths of them are involved in provision of common services, such as unloading, loading, customs clearance, and forwarding services, while the remaining companies provide value-added services, such as labeling, shipment tracking, and cold storage. As the demand for these services is growing, more number of companies are adding these kind of services to their existing business portfolio.
According to the Myanmar Freight and Logistics Market Report (2021- 2026), the Myanmar freight and logistics market was estimated to be valued at more than USD 4 billion and was anticipated to grow at a CAGR of more than 7.5% during the forecast period. The logistics sector in the country is under transformation, driven by the increasing trade activity, improving connectivity, and entry of major international players. However, the COVID-19 pandemic affected the country's trade activities. Exports in the past nine months (October 2020- June 2021) of the current financial year 2020-2021, with a drop of 13.5 per cent as against last FY. Moreover, the neighbouring countries have restricted the flights as well as border posts to limit the transmission of the variant COVID-19. In the current situations, the entry of international players to the Myanmar freight and logistics market is under threat. It cannot be denied that the impacts of COVID-19 restrictions have affected the country in various sectors and these sectors can turn into recovery state only after the pandemic has controlled.
Impact of COVID-19 Restrictions on Domestic Transport
12 July, 2021
Passenger transport
Once COVID-19 has spread around the world especially in neighbouring countries, the government has been taking precautionary measures to control and limit the risk of the spreading of corona virus in Myanmar. In order to limit the spreading of corona virus, the restrictions on domestic transportation of passengers and cargo has also been set.
Regarding urban transport in Yangon city with over 5 million population, people in Yangon mostly use public transport such as Yangon Bus Services (YBS) since the use of motorcycles has limited in the Yangon City. In order to reduce the contact among people, the number of passengers on the bus has to be reduced according to maintain a physical distance of 2 meters (6.5 feet). The operation of YBS buses has dropped to 2,300 from 4,500, which are running on 126 routes because of the declining number of passengers. The number of daily commuters is estimated to be over 400,000 which are dropped from about 2 million in normal condition.
Unlike Yangon, with the absence of a functioning public transport system like YBS, Mandalay is the city of motorbikes. However, during the time of COVID-19, people in Mandalay are not allowed to ride the motorbikes with two or more people together on a bike. This policy causes motorbike taxi drivers harm.  
Regarding highway passenger transport, they mostly use highway buses since it is fair price. Since the beginning of COVID-19 period, the number of highway buses has reduced and in some bus lines, the passengers are not allowed are travel but only the goods. Moreover, the number of available passenger seats in a bus has decreased to half, as people cannot sit next to each other as usual. So, the price of the seats has risen. These things make people more difficult in such pandemic period. Highway passenger volume was dropped by 60-80% that made huge losses for transporters during the pandemic period in 2020.
Another public transportation is Myanmar Railway. In order to control the spread of COVID-19 in Myanmar, Myanmar railways have reduced the numbers of trains for long distance as well as circular trains such as Yangon Circular Railway. Before the first COVID-19 outbreak, over 90,000 passengers took the circular train every day with a total of 220 trains were in service. However, during the lockdowns, Yangon Circular Train only served commuters during peak hours.  For some people, they believed that it is better to take circular train instead of taking bus during the COVID-19 period as trains are much roomier inside and have many windows, letting in the fresh air, so it is safer than an air-conditioned bus.
Concerning airlines, both domestic flights and international flights have been under COVID travel restrictions since 2020. Although most domestic airlines are operated in 2021, it has been slow down in COVID Third Wave period.  Myanmar Airways International (MAI) and Air KBZ suspend flights between Yangon and several other areas, including Dawei, Kalay, Kawthaung, Kyaing Yong, Myeik, and Tachileik where they are closed to neighbouring countries in June,2021. Besides, the Department of Civil Aviation (DCA) has continued to suspend all operations of international commercial passenger flights to and from all Myanmar airports until July 31, 2021. This suspension does not apply to relief flights, all-cargo flights, medical evacuation flights and special flights specifically approved by the DCA. All types of visa to all foreign nationals are currently halted until July 31, 2021.
Cargo transport
This has an impact not only on the passengers and the bus lines' owners but also on the traders throughout the country. Goods cannot be arrived with normal cost or in time according to the limitations and the reducing number of bus lines. However, all of them need to operate their specific tasks despite of the danger of virus. More than 400 express bus lines are providing transport service from Yangon-based highway terminals to the regions and states. The express buses and cargo trucks had to pass the necessary COVID tests and inspections by the related teams to get terminal access. Some highway express bus lines are turning to freight transport mode and some bus lines are providing parcel forwarding service. Moreover, the transport cost for commodities from other states and regions to Yangon has increased more than double amid the coronavirus crisis. Following the double increase rate, only 20 to 30 trucks are entering Yangon cargo terminal while hundreds of trucks were flowing into before the COVID period. The local products could not easily be transported to the other regions owing to high truck fares and COVID restrictions in 2020. Cargo Transport Association estimated that the cargo volume was dropped by more than 60% during COVID Wave one and two. Passenger and cargo transport will be faced similar challenges during COVID Third Wave in 2021. These transport difficulties directly affect not only transporters but also consumers.
Impact of COVID-19 on Job Opportunity and HR
5 July, 2021
The global pandemic, COVID-19, has various impacts on different sectors. Among these sectors, job opportunity and human resource is also the one which is strongly affected by the restrictions of the COVID-19 since these restrictions lead even the temporary closure of some businesses. There are also many businesses which are adopting the work-from-home policies.  This effect has direct impact on the employees. The number of unemployment has increased throughout the pandemic period while the incomes of employed ones are decreasing.
According to the International Labour Organization (ILO), July 2020, the pandemic had led to temporary business closures, especially in Yangon Region and Mandalay Region by Mid-May. Moreover, temporary closures among formal establishments registered with the Social Security Board were reported by more than 5,100 firms as of 18 May. At the time of reporting the closure, these enterprises employed a workforce of more than 129,000 in total. Geographically, around 51 per cent of the impacted workers were based in Yangon Region. Conversely, the bulk of the affected establishments (60 per cent) were concentrated in Mandalay Region. The survey conducted in May found that 16 per cent of firms reported stopping operations for an average of eight weeks due to the pandemic.
The ILO estimated that at the onset of the COVID-19 crisis in Myanmar nearly 19.9 million women and men worked in the industries at medium to high risk of economic disruption. Half of these workers were based in agriculture, which has suffered a notable decline in exports primarily due to supply chain disruptions with China. More than one-quarter of the workers in the medium to high-impact sectors were employed in construction and wholesale and retail trade, the latter of which has been hurt by restrictions on the opening of retail outlets and on the movement of consumers.
Likewise, manufacturing, which employed 2.4 million workers before the onset of the pandemic, has witnessed a marked drop in exports. In addition, a sizeable workforce at risk was also employed in transport and accommodation and food services, which underpin the tourism and hospitality industries. An estimated 6.9 million to 7.3 million jobs could be disrupted in Myanmar during 2020 as a result of the pandemic and related containment measures.
The disruptions will vary from unpaid leave to reduced earnings and working hours to complete job and income losses. By industry, the disruption in jobs could amount to nearly 3.5 million working women and men in agriculture, 1.5 million in wholesale and retail trade, 1.2 million in manufacturing, and around 400,000 in both construction and transport. Overall, the impact on jobs could equate to nearly 37 per cent of total pre-crisis baseline employment, with the disruption in manufacturing even higher.
Currently, the danger of COVID-19 third wave and political instabilities in Myanmar has led not only local brands and businesses but also international brands like Auntie Anne's, KOI, Jelly Bunny to closure. Such cases are threating Myanmar labour market with a lot of unemployment and decreasing job opportunity. Myanmar Garments Manufacturers Association (MGMS) said over 130,000 workers in 500 garment factories were out of jobs in difficult times. Nevertheless, even the COVID-19 pandemic and other cases have exposed many long-standing social and labour market fragilities, it also presents a rare opportunity for Myanmar to build a new and better normal that is environmentally sustainable and inclusive of all. So, it will be better if Myanmar could overcome current situations and build a strong labour market with well-established brands and businesses.
(Reference: Covid-19 Impact on Employment and Labor Market in Myanmar, July 2020, ILO)
Economic impact of COVID-19 restrictions on business
28 June, 2021
The first COVID-19 case was confirmed on 23 March, 2020, and then the Myanmar government initiated measures including social distancing, cancelation of public gatherings, and limited business hours in order to reduce people's risk of exposure to the virus. Although these measures are potentially effective in slowing the pandemic, it had serious negative impacts on businesses.
According to the Myanmar Business Environment Index (MEBI), COVID Impact on Business 2020 survey, about 90 percent of businesses had suffered a fall in sales due to COVID-19 restrictions. Moreover, three out of four businesses had faced sharp revenue decreases of half or more of their normal transactions. For more than one-fifth of businesses, sales had ceased completely.
It can be assumed that about half of the businesses reported their business survival being at either moderate or high risk due to COVID-19 restrictions. According to the survey, the manufacturing sectors of textiles, garment & apparel, and leather, as well as the accommodation sector (hotels, motels and guest houses) are among the industries facing the highest levels of risk.
The Joint survey on the impact on business operating in Myanmar by 10 foreign chambers in April 2021 shows that the most impacted sector was the tourism and hospitality sector with 68% of the companies recorded a decrease in their activity between 25% to 75%, and nearly 16% of them had to completely terminate all their activities in 2020.
Accommodation and food and beverage services are suffering from the stalled mobility of national and international travellers, while instructions to stay home and limitations on gatherings of groups of more than five are particularly impacting the food and beverage sector. These measures have also affected the manufacturing sector where a high number of workers usually share the same space but are now limited by social distancing regulations. The retail and wholesale industry reported facing relatively smaller risks to survival. Among different locations, businesses in townships belonging to the Yangon City Development Committee (CDC), Mid-dryzone and Lower Valley expressed the highest risk to their survival.
The surveys show that the COVID-19 pandemic is having a severe impact on businesses in Myanmar. While most businesses had either closed or reduced their operations due to COVID-19, the survey results highlight that this was often not a direct result of government restrictions but due to other reasons such as market decline for health concerns or buying power of customers. However, almost all businesses reported practicing the forms of measures to protect their employees and customers from COVID-19.
In order to give those businesses a hand, the Myanmar government launched the COVID-19 Economic Relief plan on 27 April, 2020. Under that plan, there was an initial K100 billion COVID-19 Fund to provide immediate loans with 1% rate of interest  to businesses in priority sectors hit hard by the COVID-19. The priority sectors of the first batch included Cut Make Pack (CMP) manufacturing enterprises, hotels and tourism and small and medium enterprises. Then the second batch of K100 billion COVID-19 loans was paid out to the businesses in the last week of September. At that time, the priority sectors were agriculture and livestock enterprises, manufacturing businesses, import-substitution businesses, food and beverage businesses, overseas employment agencies, export and import businesses, and vocational schools.
Currently, a large majority of the businesses are trying to maintain employment contracts and salaries by limiting the amount of salaries and bonuses to the minimum as long as they could. Indeed, data showed that in January 2021, most of the companies were planning to maintain or even to increase their operations and investments in Myanmar. However, these plans came to a halt after the political event of February 2021 which has a stronger impact on businesses than a whole year of pandemic. Moreover, businesses should do preparations for the possible COVID-19 third wave restrictions since the rate of positive cases in Myanmar is increasing day by day in June 2021.
.
Economic impact of COVID-19 restrictions on households
21 June, 2021
Restrictions resulting from COVID-19 have had an almost universal economic impact. It affects all three types of households such as poor, vulnerable, and secure conditions. According to the Household Vulnerability Survey (2020) conducted by Central Statistical Organization (CSO), the containment measures have been particularly harmful to small-scale, family-owned businesses, further increasing the vulnerability of the households owning them. More than four-fifths (83.3 percent) of households have reported a drop in income since the beginning of 2020. Evidence also pointed to disruptions across sectors and reduced remittances due to global and regional lockdowns. Among 15 states and regions, households in the regions have experienced a larger drop than those living in the states. Household businesses that are not a farm, for example, selling goods at the market, hairdressing, and, tailoring etc. have been hit hardest, and those households in the regions running their own business reported a 62 percent drop in their household income.
The survey results show that previously financially secure households have experienced the biggest drop in their incomes. Only 35.8 % of workers were working as usual while over a third were temporarily not working because of COVID-19 restrictions. Professionals, permanent job holders and urban households were most likely to be temporarily not working. Overall 4.9 % of the waged workers have lost their job because of COVID-19 issues. Poor and vulnerable households, however, who are even less able to afford a loss in income, have also suffered large losses. By the end of 2020, reduced incomes and minimal coping mechanisms among vulnerable households, in the wake of the COVID-19 pandemic, have set the stage for an estimated increase in the poverty rate from 6 to potentially 11 percentage points.
In addition, the major impact on food insecurity runs through loss of income, which limits household economic access to food. It is reported that almost a half of the households living in the states are eating less than usual since March 2020. Moreover, almost two-fifths of households had purchased food on credit or borrowed food from shops or neighbours. The situation was worse for poor households where more than half of households had resorted to this. Concerning farming households, overall 44.0% of them had eaten most of their crop production and this rose to 59.4% in farming households without a tractor or tiller. Eating the majority of own production was particularly widespread in households relying on paddy as the main source of agricultural income.
During the COVID-19 period, nearly half of surveyed households had received cash allowance from the government in relation to the COVID-19 situation. Payments had generally been targeted with poor households almost twice are more likely to receive cash than secure households. The majority of poor households have received one or more support packages. However, since March 2020, nearly half of households have to borrow money, as borrowing is most common in the regions and in rural households. Among them, 37.6% had taken on a formal debt which is the highest among households with children and vulnerable households while 21.3% had relied on the help of extended family members to cover living expenses which is highest among financially secure households and urban households.
Furthermore, the current situation of the country is disrupting economic activity such as factory closures and lost in remittances as the bank activities can't perform as usual. It can be assumed that the ongoing crisis in the country will further compound the socioeconomic impact of the pandemic, reducing incomes. In the worst-case scenario, nearly half of the population of Myanmar (48.2 percent) will live in poverty (compared to the 24.8 percent in 2017), reversing gains made since 2005. If the situation on the ground persists, the poverty rate could double by the beginning of 2022. By then, the shock from the crisis will have resulted in significant losses of wages and income of households, micro and small businesses, and a drop in access to food, basic services and social protection.
Relevant ministries of the government sector, NGOs and international organizations should prepare a plan and other initiatives to response similar situation for the danger of COVID-19 third wave in Myanmar.
(Ref: Household Vulnerability Survey, Dec 2020, CSO)
Current Situations of COVID-19 in Myanmar, June 2021
14 June,2021
Coronavirus Disease (COVID-19) is spreading all over the world and cause many people had suffered since 2019. Myanmar is still threatened and hit hurt by COVID-19. In Myanmar, the first wave of COVID-19 was from late March to early August 2020 and recorded 360 cases and 6 deaths. The second wave started in mid-August, after almost a month without local transmissions. There was a dramatic increase in the number of cases in the second wave compared to the first wave. The number of total cases on 31 January 2021 was 140,145 with 3,131 deaths.
Starting from 27 May 2021, the number of COVID-19 infections has been rising again with about and over 100 new cases however situation in June is more serious. According to the Ministry of Health and Sports, the daily infection rates from 1 to 13 June 2021 were 7.28% with 148 new cases on average per day:
| | | |
| --- | --- | --- |
| Date | Infection Rate | Confirmed Cases |
| 1 June | 6.05% | 122 |
| 2 June | 4.5% | 27 |
| 3 June | 8.4% | 122 |
| 4 June | 11.9% | 212 |
| 5 June | 6.5% | 96 |
| 6 June | 5.9% | 64 |
| 7 June | 6.3% | 139 |
| 8 June | 6.1% | 123 |
| 9 June | 7.78% | 136 |
| 10 June | 6.86% | 161 |
| 11 June | 6.76% | 188 |
| 12 June | 4.8% | 166 |
| 13 June | 12.8% | 373 |
(Source: Ministry of Health and Sports)
Myanmar's COVID-19 positive cases rose to 145,603 after 373 new cases were reported on 13 June 2021. Among these confirmed cases, 132,928 have been discharged from hospitals. Death toll stands at 3,244 after 3 died on 13 June 2021.
According to the released data on 13 May 2021, the number of fully vaccinated people was 1,222,723 which was only 2.3% of the country's population while 3.3% of the population, 1,772,177 people has received at least one dose.
As the infection of the disease remains increasing in most of the countries, the current effective period will be further extended with the approval of the Central Committee on Prevention, Control and Treatment of COVID-19, until 30 June 2021, to prevent infection of COVID-19 to Myanmar through passengers of international airlines. Moreover, Kalay in Sagaing Region and the four cities in Chin State; Teetain, Phalan, Htan Ta Lan, and Hakha are under the Stay at Home order on 2 June and 4 June respectively, with the increasing number of  positive cases.
Currently, the B.1.617.1 variant was recorded first in India and it was also found in Pakistan, Nepal and Bangladesh. In Southeast Asia, Singapore, Malaysia, Indonesia, and Thailand have detected the same variant. Thus, the Myanmar Government made announcement on the restrictions for travelers from the India and Bangladesh visiting Myanmar since 27 April 2021 in order to control and limit the risk of transmission of the new COVID-19 infection to Myanmar.
Moreover, the Ministry of Health and Sports is conducting genetic testing to determine whether the recent infections are caused by the variant COVID-19 or not. Since the outbreak of the neighboring countries, disease surveillance has increased while preparing to make protections in various fields such as provision of medicines and medical supplies. Although the infection rate in Myanmar is not as high as neighboring countries, everyone in the country must follow the COVID-19 rules and regulations to avoid the danger of COVID-19 third wave in Myanmar.
Possible Area for Digital Economy and Online Payment During the Crisis Period
7 June,2021
Due to COVID restrictions that limited people to people engagement, Myanmar's digital economy and online payment was active during COVID crisis period in 2020. Online payment system has faced a lot of difficulties and challenges during February to April 2021 according to limitation of internet accessibility.
The bank services couldn't perform as usual and customers could withdrawal only a limited amount of cash from the banks and ATMs. Thus, people are increasingly reliant on cash payment transactions. As the demand for cash is much higher than before, the economy is moved back to cash-based economy.
Due to relaxations of mobile internet in May, there are many places where people can do online payment. There are some supermarkets which accept cashless payment such as City Mart, Market Place, Makro Myanmar, Ocean and etc. But the convenience store like City Express doesn't accept online payment. There are only a few petrol stations which accept online payment such as Max Energy; it accepts only with AYA pay or MPU. Moreover, if people don't want to use cash in buying food, they can use the applications like FoodPanda, Grab Food, Yangon Door2Door, etc. and pay with MPU or debit/credit cards.
Besides, people can pay for the internet bill, some ticketing bill, insurance bill, and also entertainment bill (E.g., Skynet bill / Canal+ bill) by using mobile pay applications of the banks depending on the business that they are partnered with. 
Concerning paying taxes, the mobile banking or internet banking are possible with arrangement of Internal Revenue Department. Bill payments (like Meter bill and YCDC bill) are still impossible on some mobile banking yet. According to the meeting of State Payment System Supervision Committee on 1 June, the electronic payment system is planned to use for national payment with the enactment of the law to protect service provider and customers. By using the CBM-Net System which is the payment platform of Central Bank of Myanmar, tax payments (such as taxes on building and lands, water tax, meter bill and other payments) can be done via digital payment platform of Mobile Financial Service Providers like Wave Money, OK Dollar, MPT, Ooredoo,MyTel, and MMQR system besides the mobile banking system of the banks.
Income tax payment by company employees can now be done via online payment, mobile banking, or MPU Debit Card by linking with relevant banks. In order to contribute financial stability of the country in current situation, people should try using online payments as much as possible. And a secure national payment system is also needed to establish.
Some retail shops and services are accepting payments through mobile banking or other payment system like AYA Pay, CB Pay. Some hospitals and polyclinics accept half cash and half online payment for medical services. There are many rooms to expand online payment system in trading and service sector that will encourage digital economy and be convenient to buyers and sellers. If we can buy things by mobile phone like India /China , we don't need cash any more.

Brief Note on Myanmar Business Sector 2021
Brief Note on Current Banking Services, May 2021
31 May,2021
The situations of the banks in April/May are as follow:
People who join in CDM and against military government forced to stop the banking services to break down the country's economy. Besides, the numbers of staff in banks were absence as some joined in CDM and some were not able to come back from their native towns since Thingyan holidays. As the Central Bank of Myanmar (CBM), they took actions on CDM staffs, analyzed money transactions in banks, and set strict regulations.
Therefore, there were a lot of inconveniences to the customers due to the slow services of the banks which couldn't run as usual. Since the banking transactions couldn't perform normally and people couldn't withdrawal the requited amount or could get only a small amount from ATMs, the number of people who line up and withdrawal money at the banks has increased.
Those who forced the banks were doing political attacks but people were overly worried so they withdrew their money from the banks.
The businesses and importers/exporters were not able to do regular payment transactions under the tight control of the Central Bank of Myanmar.
There are (3) types of people in the queue:
Those who do regular transactions for businesses
Those who deposit/withdrawal interest to/from the saving books/certificates for demand deposit or time deposits
Staffs and SMEs who do regular withdrawal from ATMs
The cooperation among the Central Bank of Myanmar, private banks and customers is required to function the banking services normally. The things that the banks should do are:
To release the restrictions so that there will be no difficulties and delays of regular domestic /foreign transactions of the businesses (especially the import/export businesses)
To encourage online payment system and to make sure there is no technical error concerning online transactions, and if so, try to fix the error immediately.
To widely arrange the number of businesses, services and fees and charges of government utilities to accept the MPU, Credit Card/Online payments.
To manage the services of all private banks to be standardize
To provide full banking services as usual without any booking and token system except for the cash withdrawal.
To open new internet banking, mobile banking, and MPU card applications without delay
To provide a more systematic system for cash withdrawal, have transparency and an easier one.
To arrange to announce the available daily services of every private bank constantly.
To arrange to be able to withdrawal in cash when the remittance is in cash (including bank to bank transfer or other cities).
The things that the customers should do for the banks to function normally are:
The market in which people who have cash in hand take benefits with percentage in exchanging cash on those who need cash without making any deposit to the banks is growing and the amount of percentage becomes 1-5% to 15%. So, a lot of customers are harmful, so do the public because of those who exploit upon others' need.
The accounts opened at the banks and the money saved at the banks is receiving the stated interest monthly so that your savings will be safe and increased.
Considering that people who encourage to withdrawal all the money from the banks are those who try to make the banking system collapse, customer shouldn't be overly worried.
Customers should understand that the tight bank rules and regulations are to make their money secure.
Instead of using cash, people should apply and use mobile banking, MPU and Credit card by linking with the banks.
Instead of lining up at the ATMs for many hours or exchanging cash with percentage, people can buy at the shopping center, sale center and online shopping which accept MPU and Credit Card payment (such as City Mart).
In order to facilitate the banking process, taking advantage over the linking of two systems which tend to ease the processes should not be done. (For e.g., the linkage between Mobile Banking and Wave Money).
Small money transfer businesses- such as Wave Money. It is the one mostly used by the staffs who work at the city in transferring money to their parents at the small towns. It is also the financial service that most working class people use. So, the authorities should take control and action to such unsympathetic agents who are earning extra service fees with percentages besides the normal transferred fees.
Brief Note on Energy Sector May 2021
24 May,2021
Oil & Gas Sector
According to the petrol stations in Yangon, the petrol prices in domestic market has continuously increased.
On February 17, the world oil price (WTI) was around $60 per barrel and the domestic market price rose by 105 MMK per liter compared to February 1.
On April 24, the world oil price (WTI) was US $62.14 per barrel and the domestic market price rose accordingly.
On May 13, the world oil price (WTI) was over $65 per barrel and the average price of petrol has risen by more than 33% in three months, from 990 MMK to nearly 1,100 MMK per liter.
The increasing fuel rate within three months can be seen as follow:
| | | | | |
| --- | --- | --- | --- | --- |
|           Petrol Type Date | Diesel (per liter) | Premium Diesel (per liter) | Octane 92 Ron (per liter) | Octane 95 Ron (per liter) |
| February 3 | 660 MMK | 670 MMK | 620 MMK | 750 MMK |
| February 17 | 800 MMK | 810 MMK | 760 MMK | 870 MMK |
| April 25 | 920 MMK | 930 MMK | 920 MMK | 1,005 MMK |
| May 13 | 995 MMK | 1015 MMK | 995 MMK | 1080 MMK |
(Source: The Global New Light of Myanmar/ Daily Eleven)
According to the Ministry of Commerce, Myanmar imported nearly US$1.2 billion worth 2.7 million tonnes of diesel and gasoline during the past seven months (Oct-Apr) of the current financial year 2020-2021, indicating a sharp drop of 1 million tonnes ($663.347 million) compared to the corresponding period of last year.
In the current budget year, Myanmar imported 1.6 million tonnes ($721.173 million) of diesel and over 1 million tonnes (536.113 million) of petrol.
There are about 2,000 fuel stations and over 50 oil importer companies in Myanmar, Myanmar Petroleum Trade Association stated. Typically, a monthly oil import is estimated at $400 million, yet the oil importers face banking restrictions for maritime trade. 
Ninety per cent of fuel oil in Myanmar is imported, while the remaining 10 per cent is produced locally. In the Q1 of the current financial year2020-2021, about $600 million worth of petroleum products were imported. The figure plunged by half compared to a year-ago period.
Moreover, Myanmar's exports of natural gas in the seven months (Oct-Apr) of the current financial year, 2020-2021 was US $ 1.238 billion, due to the data released by Ministry of Commerce.
These figures indicated a sharp drop of $800 million compared to the year-ago period. During the corresponding period of last FY, Myanmar's natural gas export generated an income of $2.124 billion.
Natural gas is included in the list of major export items of Myanmar which stands over 10 per cent of the country's total export earnings.
Electric Power Sector
Myanmar emphasizes the improvement of the renewable energy sector by generating 40 per cent of electricity from hydropower, 14 per cent from solar, 34 per cent from natural gas and 14 per cent from LNG up to the end of 2020. Current generation mix is 54 per cent from renewable energy and 45 per cent clean energy.
  Rural electrification has been implemented since the 2012-2013 financial year. In 2020-2021 FY, the household solar system will be implemented to benefit 48,974 houses from 757 villages, while 17 small-scale solar power projects will be undertaken with 4,704 sets of public solar systems.
On May 8, the Myanmar Investment Commission (MIC) approved the project to generate electricity from LNG with a large capital intensive investment amount of US$2.5 billion which is expected to support the goal of 100% nationwide electrification from the national grid by 2030.
Collection of meter bill payment is still in cash. All players (MOEE, YESC, MESC) should implement online meter bill payment through mobile banking and other payment methods for the convenience of consumers and smooth bill collection.
Brief Note on Transportation and Logistics Sectors 2021
18 May,2021
Transportation
Land transport
Highway passenger transport was controlled due to prevention of COVID and Cargo transport was allowed under COVID control measures in 2020. Passenger transport bus lines have been active since March 2021 although some COVID restriction is to follow.
Yangon Region Transport Authority (YRTA) was reformed to be Yangon Region Private Transport Committee (YPTC) in April 2021. Yangon Bus Service (YBS) is being operated by 55% of its strength in May with 2,400 buses in 97 lines out of 6,600 buses in 102 lines.
Railway
Myanmar Railways has stopped operations for various reasons since the beginning of February.
On 24 March, Yangon Circular Railway service has resumed, so does freight train operations. Besides, starting from 7 May, the Ministry of Transport and Communications has increased the numbers of operation of Yangon circular train into two shifts.
Moreover, on 4th April, passenger trains run along Yangon-Nay Pyi Taw-Yangon, Nay Pyi Taw-Mandalay routes. Myanmar Railways has expanded other routes like Yangon- Mawlamyaing and Yangon -Pyay.
Airline
Starting from 23 March, State-owned Myanmar National Airlines and Air KBZ resume domestic flights.
According to a statement from the Ministry of Health and Sports, all passengers on domestic flights will no longer need the COVID-19 test but have to comply with other health standards.
International flights are under restrictions till end of May.
Logistics
Myanmar Port Authority has reported a drop in container arrivals at Yangon Port and rising demand for export containers since the COVID-19 incident.
Moreover, the number of ships arrive at Yangon ports was low between February and March. During February and March, export containers were 19,594 and import containers with 22,417 that totaled 42,001. It is still far below the average volume of containers in 2019 before COVID (93,000 TEUs /month)
So, it is needed to increase the volume of shipping and reduce the need of containers for international trade. In order to facilitate international trade, import and the flow of goods, a total of 24 container vessels are to be launched by each shipping line in May.
According to the Yangon Port Authority, special routes will be added to meet the market demand.
Working Committee on Ensuring Smooth Flow of Trade and Goods is facilitating export and import cargos in Yangon Ports which handled over 80% of foreign trade volume in Myanmar.
Domestic transport and logistics services move to normal position but they are facing with high fuel cost which is over 30% higher in May than April.
Brief Note on Investment Sector 2021
11 May,2021
The number of new registered companies declined in four months
According to the statistics released by the Directorate of Investment and Company Administration (DICA), the number of new companies registered on the online registry system, MyCO, topped 1,978 in the first four months of 2021 which was only half in compared to 2020.
In 2021, the number of registered companies on MyCO was 1,373 in January, 188 in February, 163 in March and 254 in April while in 2020, the figures stood at 1,415 in January, 1,298 in February and 1,015 in March, and 348 companies in April that totaled 4,076.
At present, 100 per cent of the applicants are using the online registration platform.
All registered companies need to file annual returns (AR) on the MyCO registry system within two months of incorporation, and at least once every year (not later than one month after the anniversary of the incorporation), according to Section 97 of Myanmar Companies Law 2017.
As per DICA's report, more than 16,000 companies were suspended as of September 2020 for failure to submit AR forms within the due date.
Foreign Investments in Myanmar
New Myanmar Investment Commission (MIC) is formed with 9 members and the new team has approved 25 new investment projects in 2021.
The meeting held by Myanmar Investment Commission (MIC) on 4 March approved ten new projects for telecommunication service, manufacturing, hotel and electricity sectors, with approved amount of US$ 580 million. The meeting held by Myanmar Investment Commission (MIC) on 7 May approved 15 new projects for electricity generation, livestock, manufacturing and other services sectors, and the increase in capital of two existing projects. The approved projects amounted to US$ 2,784 million and K153.67 billion.
A total of 25 projects are expected to create 3,418 job opportunities for the local labours. 
By the end of April 2021, the countries with the largest investment out of 51 countries/ regions investing in Myanmar were Singapore, China, and Thailand.
The electric power sector leads the list of most invested sectors out of 12 business sectors with 26.57% of total investment.  It was followed by the oil and gas sector, accounting for 25.72% and the manufacturing industry, accounting for 14.61%.
A Brief Note on Manufacturing Sector 2021

(Feb-April)
Sector growth
Myanmar's manufacturing sector recorded an accelerated downturn in February 2021 according to the political changes.  
Due to the current situation, in March, the last month of the first quarter, Myanmar's manufacturing sector declined significantly and factories and customers remained closed.
At the same time, volatile demand led to a near-record decline in the workforce leading to the largest number of unfinished jobs in survey history.
According to the IHS Markit Myanmar Manufacturing PMI, Myanmar fell from a record low of 27.7 in February to 27.5 in March and 33 in April 2021. (Average index should be 50)
Both production and new orders in Myanmar's manufacturing sector fell fivefold in April. The April PMI data show that manufacturing conditions across Myanmar are declining sharply, with many businesses continuing to close due to the current situation. Around 60% of firms recorded lower production in April than in March.
A garment expert estimated that about 200,000 garment workers lost their job during February to April 2021.
Looking to the future, large companies expect output to rise by April 2022 but overall expectations were the weakest in over two years.
Manufacturing sector export
Exports of finished industrial goods drastically plummeted to US$3.209 billion between 1 October 2020 and 19 March 2021 in the current financial year 2020-2021, a severe drop of $1.7 billion compared with the corresponding period of the previous FY, according to the Ministry of Commerce.
Myanmar's manufacturing sector is primarily concentrated in garment and textiles produced on the Cutting, Making, and Packing basis, contributing to its GDP to a certain extent.
Myanmar's garment export dropped by over 25 per cent as of the first quarter of the current FY compared with a year-ago period, according to the Ministry of Commerce.
The government reformed that Ministry of Planning, Finance and Industry to Ministry of Planning and Finance and Ministry of Industry on 3 May. Ministry of Industry will emphasize more manufacturing and processing sector for the development of industry sector.
New Rules and Regulation 2021 (Feb- April)
New Rules and Regulations on Finance and Banking Policy
Announcement of the Central Bank of Myanmar
March 1
In order to reduce cash based transactions, bank customers are encouraged to apply electronic payment system in transaction as much as possible
Current restrictions on cash withdrawal will be-  maximum amount of withdrawal from ATM/POS (including cardless withdrawal) is 5 lakh each day, maximum amount of withdraw from the bank account of an individual person is 20 lakh a week and for the company/ organization, it is 200 lakh a week. 
Above restrictions could be relaxed for salary payment of government departments and large organizations and restrictions will be reviewed and revised as necessary.
Cask withdrawal /account transfer will be provided when time deposit saving is dued as normal
Relief measures on taxation
March 19
The government has been conducting relief measures on taxation to help ease for businesses affected by the COVID-19 pandemic, and made an exemption for the 2-per-cent withholding tax on exports from 1.4.2020 to 31.4.2021.
Announcement of the Central Bank of Myanmar
April 15
It is known that a new market has emerged in which some business owners keep cash in hand instead of depositing money in the banks and provide people in need of cash at a profit percentage.
It is notified such actions are against the law and will be taken in accordance with the law.
Press Release of the Central Bank of Myanmar
April 27
Due to current situation, people are worried about safety of cash in hand. If the people wish to entrust their cash to the banks, they will be allowed to open new bank accounts at the banks as of 3 May 2021 to authorize their money. If they wish to take out the cash from the new bank accounts, they will be allowed to take out cash from the entrusted amount without limit.
Those who opened the accounts at the banks before 3 May 2021 will be allowed to take out cash in line with the original restrictions adopted by the Central Bank of Myanmar.
Arrangements are underway to ease such restrictions.
Press Release of the Central Bank of Myanmar
April 30
Efforts were made to regularly apply the monetary systems and applications that bank and mobile monetary service providers operate through the Internet during the period of temporarily interrupting the mobile Internet.
The Central Bank of Myanmar has announced some banks that can provide services to customers on 29 April.
Currently, Ayeyawady Bank, Kanbawza Bank, Cooperative Bank, Innwa Bank and Ayeyawady Farmers Development Bank give services of account to account transfer, Wallet to Wallet, Bank to Wallet, Wallet to Bank and CCT function of CBM Net through the mobile banking, Internet banking, mobile top-up, other cards top-up, bill payments, Visa/Master credit card payment, MPU cards, all ATMs and bank pay.
Mobile monetary service providers, namely Wave Money, OK$, M-Pitesan, MyTel Pay and MPT Money, are giving their services as usual for a mobile top-up, wallet to wallet, bank to the wallet, wallet to the bank, air time top-up, and merchant cash in/cash out.
New Rules and Regulations on Trade Policy 2021

The Ministry of Commerce (MoC) extends import permit on reconditioned machine for SMEs
3February, 2021
The Ministry of Commerce has extended import permits on the reconditioned machine for the small and medium- sized enterprisesd
Those reconditioned machines are to be remained usable up to 10 years starting from the import date. The machines shall be repaired to have the usable condition.
The import requires a 10-year warranty by foreign sellers. Moreover, the machine parts and accessories of those imported machines shall be easily purchased in the domestic market.
The preshipment inspection certificate with six-month validity is also required to ensure the running condition of those machines, as per the notification.
Nevertheless, the permit does not cover home appliances such as refrigerator, air-conditioner, washing machines, copier, printers, televisions, computers and office machines. Those machines which are designated for commercial sales are also not included.
The notification comes into effect within 60 days of the issue date (20 January 2021). Those reconditioned machines can be imported only via maritime trade.
Temporary Relaxation of Licensing Requirement for Importation and Exportation of Certain Goods in Myanmar
10 March, 2021
The Ministry of Commerce ("MOC") recently issued Newsletter no.02/2021, dated 3 March 2021, granting a temporary exemption for obtaining import/export licenses when importing/exporting certain goods into or out of Myanmar due to the current situation in the country.
According to the list of goods, there are 72 items that will be exempted from obtaining import licenses. Most of the exempted goods are essential items, including basic foods, medical products, and certain other items that are important for the development of the country. In addition, 32 items are listed as export license-free items; these are all agricultural products. Details are provided in the table below:
| | |
| --- | --- |
| List of goods exempted for import license | List of goods exempted for export license |
| Fish and fish fillet (HS code 0320) | Onion and garlic (HS code 0703) |
| Wheat goods (HS code 1001 and 1101) | Rice and broken rice (HS code 1006) |
| Soybean (HS code 1201) | Raw sugar and refined sugar (HS code 1701) |
| Oil goods (HS code 1511 and 1516) | Natural rubber (HS code 4001) |
| Raw food products (HS code 2102 and 2106) | Cotton (HS code 5201) |
| Cement products (HS code 2523) | |
| Petroleum, diesel (HS code 2710, 2713) | |
| Medical products (HS code 3006) | |
| Fertilizer (HS code 3102, 3105) | |
This temporary relaxation is aimed at speeding up the importation and exportation procedure, particularly throughout the current situation. However, this exemption is currently in place from 8 March to 7 May 2021 .
Department of Trade announced the four food commodities which are temporarily restricted for import via the border trade
12 April, 2021
According to the Department of Trade, under the Ministry of Commerce, the following four food commodities are temporarily restricted for import via the border trade starting from 1 May.
Various beverages
Coffee mix and tea mix
Instant coffee
Condensed milk and evaporated milk
However, they can be imported through maritime trade.

Development of Digital Economy in Myanmar
Digital Economy and Online Payment
Cash payment has been widely used for a long time and it is very convenient in paying between the customers and businesses while they are together at the same place and the payment is small. But it has limitations. While these people are at different places, or large amount of payment, there will be inconveniences in keeping a lot of money and problems of transferring money from place to place. Moreover, especially, in the time of COVID-19 pandemic, cash payment is quite dangerous as the virus can spread through the cash. So, in order to overcome these inconveniences, it is needed to use digital payment than cash based transaction.
Concerning next new normal lifestyle, it is believed that there will be many competitions in information technology field so that digital economy will widely take place in the future. In transforming into digital economy, one of the most important things is changing into online payment. There are different types of payment like payment between individuals, payment between businesses and people, payment among the businesses, payment between government and businesses; payment between government and public, etc., The next thing is about transferring the possessions according to the sharing economy. In this case, online payment is the most effective way as payments are done easily from different places.
For businesses, they begin to use Information and Communication Technology (ICT) in their core business processes. Schools begin to teach from online and shops also sell their products online. In this case, services should be provided without any regional limitations. At that time, online payment is needed. Moreover, in the time of pandemic, online payment has a lot of benefits. It can save time, cost effective and safety.
Online Banking and Digital Payment in Myanmar
Myanmar has been using 11 million automated teller machines (ATM) cards which are linked with the bank account since 2012. Then there is point of sale machine (POS) which these cards can be used in shopping. There are also gateway for shopping from e-commerce. Moreover, there are internet banking and mobile banking which can be used by linking with the bank account since 2013. On the other hand, for those who don't have a bank account, mobile money or mobile wallet is available when telecommunication sector has been developed since 2015. Later, they are called mobile pay. Numbers of people using the digital payments have been increased years to years.
After the COVID first wave, it is noticed that digital payment is mostly used in paying bills to government especially the meter bills. People pay for their bills from mobile banking, internet banking and mobile pay. In November 2020, Ministry of Commerce permits the applications of export and import via online and the payment also can be done online. The government also actively participates in transforming into online payment. The other prominent changes are having one stop service from online in registering the new company and extension of the companies' registrations on DICA.
COVID-19 is not only a big challenge for our community but also a good chance in transforming into digital economy.  People do businesses from online and payments via online. Schools offer online classes with online payment. Moreover, there are health care and consultant services online with online payment. It can be seen that transforming into digital economy happens very fast after the second wave of COVID-19 in Myanmar.
Transforming into Digital Payment
In order to transform into digital economy, it is needed to educate all people about the pros and cons of online payment. People need to know that the passwords of the bank accounts must not tell anyone, how does online payment work, how to use internet effectively, and also about cyber security. On the other hand, the government has plans to engage online payment. According to the MERRP plan, government will use online payment in providing supply to the households and giving pension fees.
The main points of transforming into online payment include being convenient, secure and easy to use. Apart from the ATM, mobile banking and mobile pay, the Central Bank of Myanmar is planning to provide the QR code system in payment as in international. This system is currently termed as MMQR. In MMQR system, only one application is needed to scan the code and payment can be done even from different pays. The government should also offer tax incentives, for example, in the cash payment, there will be 5 percent of commercial tax, but if people use online payment, the percentage of commercial tax will be reduced. Myanmar needs to improve numbers of bank account holders which is currently 26% of adult population and the figure is far below than other countries.
All in all, it can be said that online payment is beneficial to government sector, public sector and economy sector. Indeed, digital payment is more secured than cash payment as there are many security steps in online payment system. So, all we have to do is to use and follow up the changing digital economy and online payment systems occurring in new normal life bravely. [1]
[1] Myanmar Alin Newspaper (3.12.2020) Discussion on Digital Economy
Digital Economy in Agriculture Sector
Myanmar is an agricultural country and most people make their living on the agriculture sector. So, economic growth of Myanmar and food security is mainly concerned with the development of agriculture sector. In the time of COVID-19, everything has been changed. The international market needs have also changed, so does the domestic market. Regarding to these changes, both small, medium and large enterprises are trying to adopt the changes and work together. The point is that the agricultural, and fisheries sector depends mainly on the market demand. During COVID-19 when the market demand is low, the digital platform which provides online sales processes is needed. 
Moreover, there are some plans which are established more quickly because of COVID-19. The first one deals with 'wholesale traders'. They are situated at different parts of the country. People trade agriculture and livestock products from them. So, there is a plan to transform the wholesale market into an e-marketplace which is an online market so that not only domestic producers, traders, technicians, and experts but also international companies can understand the demand and supply of the Myanmar market easily. The next plan is to adopt 'sharing economy' policy which encourages the businesses to share with partners and work collaboratively. In some villages, sharing economy has already established as people share their tractors, harvesters, dryers and warehouse with other people.
Transforming into digital agriculture sector
Besides the points mentioned above, it is important to encourage all players in agriculture sector to be involved in the digital platform. Based on the digital platform, they can have not only the domestic buyers but also international buyers. In addition, even the small and medium enterprises can sell their agricultural products directly to the buyers based on that digital platform. The next point is to create job opportunities for Myanmar employees who came back from foreign countries. So, it is needed to do investments in the infrastructures of agriculture, livestock and fisheries. There can have some foreign investment. So, domestic businesses need to upgrade their production process from the normal one to the more advanced one. 
The next point is building the habit of working together in the time of COVID-19. People in both urban and rural areas use online technology and find ways to work together. When the government gave loans according to CERP, food production industries and upgrading agricultural businesses have received a lot. Concerning MERRP, it will create opportunities for Myanmar employees who came back from the foreign countries and MERRP will also encourage food production enterprises, including agriculture and livestock sectors. The development of rural areas is a fundamental need for the country's development. Therefore, in order to develop agriculture and livestock sectors, a digital law has already reformed in the year 2019-2020. On the other hand, based on MERRP, there is a plan to provide loans and support from the government's Myanmar Agricultural Develop Bank and other private banks to agriculture and livestock sectors.
Information is very important in the time of COVID-19 pandemic, so do the digital technology and online platform. So, it is needed to build the social platform which can provide a network where people can search domestic job opportunities by sharing experiences and knowledge from all over the country. Besides, in order to avoid keeping the experts at one organization, it will be better to stand as a freelance and self-contract so that the whole economy can share the experts and it will be more beneficial. This process is termed as 'gig economy' in international. In carrying out this process, MERRP will build an online or digital-based platform which can fulfill the market needs and find the suitable expert for the business. When domestic businesses can use the digital technology based website in selling their products, it will be able to sell Myanmar's products on international online platform broader. From these steps, Myanmar market can have a chance to extend to the global market.
Growth of agriculture sector in 2021
The development of agricultural sector can be achieved by changing traditional practice to new normal during COVID crisis period. Everyone in the sector has to work together and cooperate together. On the other hand, those who are doing agriculture have to work together with those doing livestock businesses. For these processes, MERRP has planned how to carry out the development projects and reorganizing procedures in agriculture and livestock sectors. So that, businesses, themselves, will have to prepare in order to adopt the changing situations.
If players in the agriculture sector transform into digital economy, it can be believed that 2021 will be a big changing year in Myanmar Agricultural Sector. [1]
[1] Myanmar Alin Newspaper (27.11.2020) Discussion on Digital Economy
Digital Economy and MERRP
Digital Transformation during COVID-19
During the COVID-19 period, there has been a dramatic increase in the use of digital technology in various aspects of daily life. Companies are adopting 'work-from-home' policy to reduce contact and hold online meetings by using social applications like zoom, Microsoft teams and google meet. This is the 'new normal' lifestyle of COVID-19. Even after the COVID-19 period, there will still be some businesses which prefer work-from-home policy. They will have online meetings and even their whole business-processes will be changed. Businesses are under digital transformation. In the first step 'digital awareness' which means knowing the benefits of digital technology has been gradually improved. The second one is the 'digital presence' which refers availability of technologies. Every business is using its own Facebook Page, Google Map address, Website and Email address. The third one is 'integration', instead of a phone-call order, businesses have to make it possible to order from online and deliver to the customers' home. The fourth one is about the changes in working processes. The last one is about 'innovation'. If Myanmar can grab a chance and change these five steps in digital transition, it can be believed that the stronger businesses and social sector will be created.
MERRP and Transforming Digital Economy
Concerning the Myanmar Economic Recovery and Reform Plan (MERRP) to be launched in near future, it is the plan not only for all types of businesses but also for the different social roles such as farmers, women, entrepreneurs and etc., Moreover, the most prominent part of MERRP is to develop transforming into digital economy of the country. There are five main sectors in transforming digital economy. The first sector is to change 'cash based payment system' to 'online payment system' through mobile or computer. The online payment can be done at anywhere and anytime and relied on its security. Since there are many security steps in transferring the money and the amount and the beneficiary account can be checked again and again before the actual transfer. Besides, during this COVID-19 period, online payment can reduce contacts among people. So, to meet this first sector, the first plan of MERRP is to support the household hit hurt by COVID pandemic by transferring the money to their phone from online. The second plan is for the public sector. The government has arranged the online payment system to pay for the individual tax and bills. The third plan is for businesses; they can also transfer the tax and charges to the government from online.
The second sector deals with the government's online services to businesses. For example, in applying the business licenses and allowances, the government is planning to work form online so that people do not need to go to the different ministries or government offices during the COVID-19 period. The third sector concerns with the release of announcement and information by the government to the public or to the businesses. MERRP aims to create the central website of the government so that every announcement and information from different ministries can be reached to the public together.
The fourth sector is about 'e-commerce' which will be a very important factor in the future economy development. First of all, the government will set the rules and license procedure of businesses. Moreover, there is a plan which promote the online payment system so that MERRP aims to create new technology to make the transitions process of the different banks as one. Moreover, once the e-commerce process is managed to be carried out well, the government will release the rules to encourage selling domestic and foreign products at the e-commerce website. In this case, not only the large businesses but also the small and medium business, also farmers will have a chance to buy and sell the products at the online information network created by the government.
The fifth sector is about finding the job opportunity from online. This can be done at the network mentioned in the fourth sector. This is for both the local employees and the employees who come back from the foreign countries by using the mobile system. Besides these five sectors, the government also has extension plans which will be carried out under the MERRP. The first plan is 'online education'- online library and online classes, which allow everyone to learn different kinds of topic from online. And the last but not least plan is 'sharing economy' which is a successful model in foreign countries. In the 'sharing economy', people share things that are exceeded to the other needed people so that they can make use of it.
The Next New Normal and Digital Economy
After the new normal lifestyle, there will be the next normal lifestyle which is more concerned with digital technology in almost all aspects like education, health and economy. In general, technology is used in almost everywhere. It is used in finding new diseases and vaccine. In transforming the normal education system to digital system, it is not about the teaching anymore. It becomes learning focus and known as 'outcome-based' education. Later, the learning management system is widely used in our country. For businesses, sharing economy will become a fundamental change for the country's economy as it can create a win-win situation.
All in all, the main thing here is not the technology only. It is 'people, process, and technology'. Firstly, people need to learn about the new things and they have to give their time and effort in learning these things. They also have to think for their employees. And they need to know how to make well use of it and what kind of benefits they will get. Then, it is needed to change the 'process' to adopt the next new normal features. Then, at the final stage, 'technology' comes. It is believed that if Myanmar could make the MERRP work well, we can catch up digital transformation achieved in the other countries. [1]
[1] Myanmar Alin Newspaper (26.11.2020) Discussion on Digital Economy
MERRP and Economic Recovery in Myanmar
Myanmar Economic Recovery and Reform Plan (MERRP)
As an extension of the CERP (COVID-19 Economic Relief Plan), the government set out a recovery plan, Myanmar Economic Recovery and Reform Plan (MERRP), aimed at rebuilding Myanmar economy over the long term[1]. The MERRP will focus on macroeconomic and financial stability and prioritise growth strategies in energy sources that are renewable. It will also include support for agriculture, infrastructure that boosts connectivity as well as human capital and innovation.[2] The MERRP will also align with the long term Myanmar Sustainable Development Plan by reinforcing exciting economic reforms started by the current government.
According to an early draft seen by Asia Focus, the MERRP comprises six broad goals:
Strengthen the macroeconomic environment,
Strengthen private sector participation and promote private sector-led growth,
Promote inclusive rural growth through agricultural development,
Promote financial sector stability,
Facilitate reverse migration,
Mitigate economic shocks and aftershocks affecting the most vulnerable groups.
This is broken down into 16 strategies and more than 130 action plans, some of which involve extending some of the support packages that were part of the CERP for sectors still struggling to survive the effects of COVID-19. Meanwhile, the government is putting the finishing touches on the Myanmar Economic Resilience and Reform Plan (MERRP), in response to the economic damage triggered by the pandemic. This plan is meant to cascade down through the ministries into effective plans of action. Already ministries are developing their individual recovery plans. For example, the ministry of tourism has just released its strategic recovery roadmap, based on what it touts as "enchanting Myanmar's health and safety protocols for safe tourism". The states and regions are also in the process of announcing local five-year economic plans.[3]
Recovery projection of the World Bank
The COVID-19 pandemic has severely affected Myanmar's economic stability and growth, and while Myanmar is expected to narrowly escape a recession, helped by a strong start to the fiscal year, policy responses, and the limited disease outbreak, the growth recovery is at great risk. Prior to the COVID-19 pandemic, economic growth in Myanmar was projected to pick up to 6.3 percent in FY2019/20 and 6.4 percent in FY2020/21. However, Myanmar's economy is now decline sharply due to direct and indirect impacts of the pandemic. Economic growth in a baseline scenario was to drop from 6.8 percent in FY18/19 to just 1.7 percent in FY2019/20 as all sectors are hit. [4]
According to WB's Myanmar Economic Monitor, Dec 2020, the economy is projected to grow by 2 percent in FY20/21, with domestic economic activity gradually recovering. The report said partial recovery is expected in subsequent quarters as mobility restrictions are gradually relaxed and cases of local transmission slow. The medium-term growth outlook is positive, with growth estimated to recover to 7 percent on average supported by: (i) new investments in construction activities in industrial and urban development projects; (ii) road transport and communication infrastructure development; (iii) power and energy; (iv) a gradual resurgence in manufacturing activities and (v) increased use of digital technology, which could boost productivity across a broad range of sectors. Due to the slowdown in economic growth, poverty rates are simulated to increase from 22.4 percent in 2018/19 to 27 percent in FY20/21.
How MERRP will support economic recovery of Myanmar
Myanmar government forecasts its GDP growth by 6% in 2020-21. For building a resilient economy during and in the wake of pandemic, the MERRP will be the base since it includes expanded expenditure on health, infrastructure – for both long-term economic development, as well as counter-COVID stimulus. This plan is meant to cascade down through the ministries into effective plans of action. According to the data, the two key areas for future development are agriculture and the digital economy. So, most business leaders strongly endorse the MERRP's strategy of promoting value-added industries. It is also believed that the government should provide more assistance to the agriculture sector, such as for improving access to markets and access to the latest technology to digitize the agribusiness market. [5]
Economic recovery in Myanmar would be depended upon capability of new government, successful implementation of MERRP and transforming into digital economy.
[1] https://mifer.gov.mm/speeches/keynote-speech-by-he-u-thaung-tun-union-minister
[2] Myanmar Times (18.10.2020)
[3] Bangkok Post (23.11.2020)
[4] The World Bank, Myanmar Economic Monitor , Dec 2020
[5] Bangkok Post (23.11.2020)
Myanmar New Normal Under Covid-19 in 2021
COVID situation in Myanmar at the end of Dec 2020
COVID-19 was first found in Myanmar on March 23, 2020. The first wave of COVID-19 infections began from end of March till mid-May. Since the first wave was well controlled, there were only 374 confirmed cases and eight deaths. The second wave of infections began in Sittwe, Rakhine State in August and spread Yangon Region quickly through September to December 2020. During the second wave, daily infections surged to around 2000 and the number of deaths also increased. The Ministry of Health and Sports and related authorities issued orders on Restriction Measures relating to control the COVID-19 Pandemic.
At the end of December 2020, the number of new COVID cases was declining in Yangon and other areas in Myanmar by 600 cases per day on average. The number of infections was declining as the year ended. As of 31 December 2020, there are altogether 124,630 confirmed cases of COVID-19 with 2,682 deaths in Myanmar. The daily new cases can be seen as follow:
Government control measures on COVID in Myanmar
The government extended Stay at Home townships and restrictions as below:
26 December 2020- the government issued orders on Stay at Home township;
39 townships in Yangon Region
7 township in Mandalay Region
1 township each in Bago and Ayeyawaddy Regions
17 townships in Rakhine State
30 December 2020- the government issued Announcement on Extension of the Precautionary Restriction Measures Relating to Control of the COVID-19 Pandemic until 31 January 2021.
30 December 2020- the government issued Announcement on Extension of the Restriction on International travels and visas until 31 January 2021.
How Myanmar will be healthy in 2021
The Ministry of Health and Sports announced on December 23 that the public must learn to coexist with COVID-19 as it had ushered in a "new normal" in the social, education and health spheres during the past nine months in Myanmar.[1] Myanmar is trying to get COVID-19 vaccines once they become widely available. There is a joint programme implemented by the WHO and GAVI for vaccination against COVID-19, named COVAX programme. Under the COVAX programme, Myanmar is due to receive Covid-19 vaccine only for 20 percent of its population. Besides, all doses will not come at a one time, said the Union Minister for Health and Sports during the meeting of the COVAX National Coordinating Committee, on December 5, 2020.[2]
According to the State Counsellor on 24 December 2020, a Myanmar team has been to India to buy the COVID-19 vaccines for 15 million Myanmar citizens.[3] It is also claimed that everyone in the country will get the vaccine. But for the injections, health workers and old people are the first priority. It will take several months to provide vaccine for the whole country. Private hospitals will be allowed to provide vaccines to increase coverage in 2021. Moreover, the efficacy of the vaccine needs to be closely monitored and Myanmar has to overcome challenges in cold storage facilities in rural townships due to electricity supply. Myanmar would be building back better in 2021.
[1] Myanmar Times (31.12.2020)
[2] The Global New Light of Myanmar (12.12.2020)
[3] Mizzima (26.12.2020)
Growing Online Shopping in Myanmar During Covid-19
December 2020
In the first week of the official announcement about COVID-19 in Myanmar in March 2020, there was a panic buying especially among people who lives in urban areas. However, it is controlled after one or two weeks as consumers aware that COVID-19 will be a long-term battle. Then people started to reduce panic buying and try to adapt the situations during the time of COVID-19. The COVID-19 demands social distancing which makes most people stay at their homes. They have to work from home and even shop from home that is a better option that keep them safe. Therefore, the number of internet users in Myanmar has increased followed by the number of online shops. Especially during COVID-19, the online shops are useful to us from buying groceries to even cars and apartments.
After social media has become a part in our daily life, in Myanmar, Facebook is the most popular one. So, many retail sellers are using Facebook in order to reach their customers easily. Moreover, there are a number of online shopping websites, which become more popular during COVID-19.
Popular Online Shopping Websites in Myanmar during COVID-19
Shop.com.mm
OneKyat
Rgo47.com
MogoZay
City Mall Online
These websites are also available in applications which be installed in the mobile phones. These websites sell both local and international products in many categories such as clothes, shoes, groceries, mobile phone gadgets, household products, beauty care products and much more. Especially in the time of COVID-19, they also focus from vitamin supplements which support antibody and health to products like mask, face shield and hand gel. Unlike other websites, OneKyat is a Buy and Sell C2C marketplace where users can sell, buy or trade used or news items with each other. OneKyat is especially popular for mobile phones, electronic items and cars. Nevertheless, it is sure that every website manages to provide quality products in order to satisfy people who don't want to go out.
In placing the order, the customers can buy the goods on the website or from the hotline call. They can also put the order via Facebook Page, too. Then, the customers can choose whether to pay by online payment like credit or debit cards or cash on delivery. They also have delivery service to cities across Myanmar.
Food and Restaurant
During the time of COVID-19, most of the restaurants are starting to do home deliveries by connecting with different food delivery companies or by their own. They mainly used facebook for informing the customers about their new delivery services. On facebook, almost all kinds of food, from breakfast toast to seafood dishes and nearly all restaurants, from fast food shops like KFC, Lotteria to first class restaurants are available. Moreover, many homemade food like fish paste sauce to Burmese curry dishes are also available on their personal facebook pages.  Customers can place the order by a hotline call or from chatting.
Facebook Live Sale
Apart from Facebook Online Shopping Pages selling by chatting or phone calls, the current popular method is Facebook Live. Currently, many online shops especially jewellery shops are selling their products from Facebook Live by inviting actress, actors or social influencers to get good engagement from people. In Myanmar Facebook Live Sales trend, the current most popular actress is Htet Htet Moe Oo and she is selling for different jewellery shops and even luxury car and house companies on Facebook Live. There are also some people selling clothes, shoes, bags and their homemade food from Facebook Live.
Benefit of Online Shopping
The main benefit of online shopping to consumers is being convenience and having anything you need. Shopping can be done within a minute without moving an inch as well as almost anytime. Moreover, we can shop anything we need from online, from a paper to even a house. The second benefit is having variety of choices with better prices. Almost every brand or item can be found in online shopping. Moreover, when the product comes to the customers from the manufacturers directly, better prices are available since there are no traders in the middle. The third benefit is that consumers can send gift easily even to the person in different city. All they need to do is to choose the item and pay for the gift. Then, all packaging and shipping will be done on the day and time they want. For the fourth, online Shopping has always been a good choice for those who don't like crowd. Especially during this COVID-19 period, it can also ensure safety.
Online sale creates benefits to businesses
Almost all businesses are suffered by the impact of COVID-19. At that time, they have to manage the risk and look for the opportunities to survive. Then, they become to sell their products from online by using their own websites or from facebook pages. Even though online sales cannot normally reach their normal sale, it creates benefits to business. By selling from online effectively, their brand name is reached to more consumers and can gain new consumers even from other regions. It can also help save their marketing, operation and labour cost.
Challenges of Online Shopping
The biggest challenge in online shopping business is 'trust' between business and consumers. In buying from online, customers have to give their personal information like their address and phone numbers. In this case, it is important for the online shops to keep these data private. The other problem is the quality of the products. They have to give to the customers as they promise. In the earlier times, there were some cases about lying people from online shopping pages. But now, people know that they must check carefully about the pages or the person when they buy from online or else, they can choose the official websites and pages which are more secure.
For businesses which sell from online, they have to care about their reputation. They need to have good reputation for quality of their products. In such case, they need to manage good packaging and delivery system well. They have to make sure their products reach to the consumers as promised.
Prospect for future online shopping
All in all, it cannot be denied that online shopping businesses are great help to people especially in the time of COVID-19 and it is surely to continue growing in post COVID period.  Potential products and services via online shopping in future can also be customized items for a specific consumer based on that consumer's preferences and choices.
Growing Delivery services in Myanmar During Covid-19
November 2020
Before the time of COVID-19, delivery services were not widely used as most Myanmar people like to buy things by checking with their own eyes. Nevertheless, since COVID-19 is mostly spread through coughing, sneezing and droplets left on surfaces, the local authorities ordered the bars, dine-in restaurants, entertainment facilities throughout Myanmar to close. Besides, more and more people are practicing social distancing and staying at home. Therefore, services that deliver food, groceries, home essential, clothing, cosmetics, electronic devices, medical supplies and packages are widely used since March, 2020.
Yangon Delivery Services (Popular Food Delivery Services)
Food2u
Food Panda
Grab Food
Hi-so Mall
Yangon Door2Door (Not only for food but also for packages and letters)
During COVID-19 period, these food delivery services are spreading their network with as many restaurants as possible in order to provide more varieties of food to the customers. They also offer a lot promotions with free of charge delivery to customers. Colorful bicycles from these companies can be seen in the streets of Yangon delivering food and goods to customers everyday.
People use delivery services in order to avoid the risk of getting infected by the corona virus. However, there is still risk of being infected between customers and delivery staffs. As delivery staffs have to enter several restaurants, touching the doors, counters and cash. To reduce the contact, customers can choose to leave the deliveries at doors. In addition, cashless payment can be chosen rather than cash on delivery.  But there are many customers who still use cash on delivery payment. So, it is needed to wash the hands for 20 seconds before eating to be safe.
Moreover, the delivery staffs also need to pay attention to the condition of food in delivering to the customers. If something happened to the food while delivering, they make sure to satisfy the customer as soon as possible or they will lose a customer soon as there are many choices.
In addition, customers can set the time and date to deliver as they want. So, if you set the perfect time for breakfast, your food will be at the door by the time you wake up.  Since the location can be changed each time, customers can also send food to their friends and families by paying for them from online.
Direct distribution and Door to door delivery services are widely used today's distribution channels. Manufacturers/distributors deliver their products directly to retailers and end consumers through online sales. Mini vans are being used to carry goods during COVID period.
City to city Delivery Services in Myanmar
During this pandemic, there is an increase in demand of delivery services not only within the city but also city to city in Myanmar. Since people are not allowed to go to other cities without any apparent reasons so far, these deliver services are mainly used to deliver the packages or letters. There is also the door to door service which can keep the customers safe in their house. In delivering other cities, customers can choose the relevant packaging as well as shipping according to the kind of package. Moreover, the instant tracking is also available so that people can feel secure about their shipping. People mainly use the parcels andcourier services such as Royal Mail, Royal express, SBS Express and Marathon Express to deliver their packages or letters. They provide same day pickup and delivery in Yangon city. In the time of COVID-19, the Marathon Express also connect with taxi drivers and freelance cyclists in order to cover the increased delivery demand within the city. Moreover, the highway express company like Shwe Thia also offers city to city delivery services of packages even their main service, the passengers transportation, isn't allowed so far. For major cities within Myanmar, overnight or next-day delivery service is provided since these companies have partnered with many local buslines and transportation providers nationwide. Efficient delivery services become active from China border (Muse) and Thai border (Myawaddy) to domestic market.
Inbound and Outbound Delivery Services
DHL Express
UPS
EMS (International)
Royal Express
BeeXprss Courier Service Myanmar
Others
Inbound and outbound delivery services are widely used especially during the COVID-19 period. These companies offer delivering small packages to oversized packages and products to and from other countries. There are also a number of available services such as pick-up services, door-to-door service and internet tract and trace services etc. Based on the size of package, the cost of shipping and shipping methods are differed. The common words they all assure are "security and reliability". They are offering the secured and reliable inbound and outbound delivery services to the clients all across the world.
Other delivery services
With a population of 54 million and 22 million internet users, and 6.6% annual growth in those users, the country's digital transformation is now very underway, alongside increasing demand for online services. There are also delivery service providers who work privately without connecting with express companies. These providers mainly use social media like Facebook in finding the clients. They post about their services on their personal pages as well as on the public groups. They also assure the safety and hygiene of the track and package so that the clients feel safe with the delivering process. Development of cold chain logistic in Myanmar is expected and huge market potential along with growing advanced delivery services.
Assistance and Support for Covid-19 affected business and Communities in Myanmar
Assistance and support to businesses
In an effort to meet the exigencies faced by Myanmar as a result of the COVID-19 pandemic, the Myanmar Government has launched the COVID-19 Economic Relief Plan since 27th April, 2020. The COVID-19 Economic Relief Plan (CERP) comprises seven goals, 10 strategies, 36 action plans and 76 actions, each with an estimated timeline and designated authority in charge, covering a broad range of extraordinary fiscal measures, combined with a set of human-focused and commonsense policy responses. Moreover, the implementation of the plan is monitored in order to enhance transparency and accountability of the government. Therefore, Goals and Action Plans contained within this Comprehensive Response Plan are taken place in a coordinated manner, with appropriate and sufficient oversight. The flow of information must be organized, timely and coherent. Among the actions the government has committed to, a total of K1908 billion were provided including K200 billion from COVID-19 MSME fund, K100 billion to restaurants and teashops, K600 billion to the local farmers at MMK 50,000 per acre of farmland through Myanmar Agricultural Development Bank according to the data on 4th September, 2020. [1]
First MSME Fund Loan
The Myanmar Government set up an initial K100 billion (K50 billion from the Social Security Fund and K50 billion from the government budget) COVID 19 Fund to provide immediate loans to enterprises designated in priority sectors hit hard by the COVID-19 shock in late March,2020. The categories included Cut Make Pack (CMP) manufacturing enterprises, hotels and tourism, and small and medium enterprises. These businesses can submit loan applications to COVID 19 Fund at 1% rate of interest for a one-year period. Loan applications can be submitted via online as well as in person and the application period is from 30th March to 9th April,2020. In this batch, more than 4,250 businesses applied through Union of Myanmar Federation of Chambers of Commerce and Industry (UMFCCI) for the loan and 3,393 of them received the loan in line with the loan procedures, according to the Ministry of Investment and Foreign Economic Relations. [2]
The businesses are distinguished into six different sectors under the categories of (1) Garment industry, (2) Hotels and Tourism, (3) Manufacturing and Production sectors, (4) Basic commodities and Restaurants, (5) Service sectors, and (6) others. Allocation of the first MSME loan with types of business can be seen below:
Allocation of Financial Assistance and Loan to the Affected Businesses
| | | | | |
| --- | --- | --- | --- | --- |
| No. | Business | Quantity | Amount (Kyat mln) | Percentage |
| 1 | CMP (garment) | 45 | 6,312 | 6.24% |
| 2 | CMP (others) | 2 | 75 | 0.07% |
| 3 | Hotels | 340 | 15,721 | 15.55% |
| 4 | Tour Industry | 236 | 3,757 | 3.72% |
| 5 | Restaurants | 220 | 5,182 | 5.12% |
| 6 | MSME for foodstuffs, commodities, Products manufacturing industry and services | 2,550 | 70,081 | 69.30% |
|   | Total Amount | 3,393 | 101,128 | 100.00% |
Source: Global New Light of Myanmar
Second SMSE Fund Loan
The second batch of COVID-19 loan is planned to be paid out to the businesses stricken by the coronavirus impacts starting from end of September. The loan applications were received between 29th July and 10th August. Over 7,600 businesses from the regions and states other than Yangon manually applied for the loan at the UMFCCI State and Region offices. The UMFCCI received more than 10,000 applications including 800 online applications. The amount of second loan will be K100 billion but only K20.77 billion was issued to 1,041 businesses in the first round. 
The priority sectors for the second batch of COVID loan are agriculture and livestock enterprises, manufacturing businesses, import-substitution businesses, food and beverage businesses, overseas employment agencies, export and import businesses, and vocational schools.[3]
Agriculture Loan
Myanmar Agricultural Development Bank (MADB) under the Ministry of Planning, Finance, and Industry has lent agricultural loans to farmers every year. The MADB lent Ks 1,684 billion in 2018-19 FY and Ks 1,747 billion in 2019-20 FY. The government increased the per-acre agricultural loan from Ks 100,000 to Ks 150,000 in 2016-17 FY. The loan for other crops is raised from Ks 50,000 to Ks 100,000 per acre during 2019-20 fiscal year.  During COVID-19 period, the ministry arranges up to K600 billion COVID-19 special loan for 12 million acres of land with an interest rate of five percent. The plan is to support an additional loan of K50,000 per acre to farmers in addition to the regular agricultural loan for the monsoon season. [4]
Other remedies
Other non-financial assistance can be seen as follows;
Interest rate cut
      The Central Bank of Myanmar (CBM) has cut its key interest rates for three times, 3 percentage points in total within two months. The changes on the rates were effective on 1st May 2020.
1st time – 0.5 percentage point cut on 12 March 2020
2nd time – further 1 percentage point reduction on 24 March 2020
3rd time – a further 1.5 percentage point cut on April/May 2020 [5]
2) Extend tax payment deadline
In late March 2020, the government pushed back the income tax deadlines for both the second and third quarters, as well as the monthly commercial tax deadlines. Income tax payments that were originally supposed to be paid by March 31 for the second quarter, June 30 for the third quarter and September 30 for the fourth quarter can now be made through December 31st. The monthly commercial tax for the period from March to November in the current fiscal year can also be paid by 31st December 2020.[6]
3)   Relief license and registration fees
As part of the COVID-19 relief programs, the Road Transport Administration Department (RTAD) has relieved overdue payment of vehicles and driver licenses by notifying those people who did not register their vehicles and driver's licenses in March, April, May and June. [7]Moreover, RTAD has also lowered the vehicle registration fees for imported private used cars starting from August 7 to mitigate the impact of the COVID-19. For the vehicles with the engine power of 1,350 CC and below, the department reduced the registration fees to 15 percent from 30 percent, and to 25 percent from 50 percent for 1,351-2,000 CC engine power, 40 percent from 80 percent 2,001-5,000 CC and 60 percent from 120 percent for 5,000 CC and above.[8]
Additional support for businesses
Other support and remedies are essential for business to survive under COVID crisis. The government should provide fiscal support without endangering debt sustainability. It includes tax concessions and cash flow support to business sector other than MSMEs. More measures will be required to achieve economic recovery in Myanmar and proper arrangements for smooth supply chain are also essential.
[1] The Global New Light of Myanmar (27.9.2020)
[2] Eleven Media (19.6.2020)
[3] The Irrawaddy (28.4.2020)
[4] Myanmar Times (8.7.2020)
Assistance and Support for COVID affected business and communities in Myanmar (2)
Assistance and support to community
It has already been 6 months since Myanmar was suffered due to the coronavirus pandemic. Even though some people have learned to adapt their day-to-day living with the current pandemic, there are still many people in Myanmar who are having a hard time coping up with the aftermath of COVID-19. The 2017 Myanmar Living Conditions Survey (MLCS) reveals that 24.8 percent of the population was poor.[1] Urban poverty in 2015 was 14.5% according to Myanmar's Urbanization Report of the World Bank. So, the Myanmar government is making the necessary effort to remedy the impact of COVID-19 from different aspects.
The Government has taken a number of concrete measures to ease the impact of COVID-19 on industries as well as households, including rolling out an electricity subsidy scheme across the country and distributing basic food items to people without regular income.  According to the released data in September 2020, the government provided a total of K1655 billion to community. [2]
Government assistance to community
| | | | |
| --- | --- | --- | --- |
| No. | Title | Subject | Kyat Billion |
| 1. | Household Support | 1st time (5 Rations) 5.3 million 2nd time (Kyat 20,000 for 2 times) 5.4 million | 71.103 218.112 |
| 2. | Household (3rd time) | (Insurance of 20,000 kyats rate) 5.6 million | 113.535 |
| 3, | Ministry of Social Welfare, Relief and Resettlement |   | 35.923 |
| 4. | Exemption of Electricity Charges | April, May, June   | 107.379 |
| 5. | Electricity Charges in Taninthayi Region |   | 1.518 |
| 6 | MFI loan | Microfinance sector | 100 |
| 7 | Health care | Ministry of Health and Sports provides intensive care, personal protective equipment and healthcare services | 915.38 |
| 8 | Department of Rural Development (MOALI) | Cash for work for rural populace | 92.6 |
|   | Total |   | 1,655.55 |
(Source: Official sources)
Other supports
There is an underway plan to provide the loans to the people engaged in the film, music, theatre, periodical and media fields under separate programmes according to the committee to remedy the economic impacts caused by the pandemic.[3]
Since Myanmar confirmed its first COVID-19 cases in March 2020, volunteer groups across the country have helped local authorities and health workers to transport patients and prepare quarantine centers. In the response to the pandemic, the Myanmar government formed a new National Volunteer Steering Unit to systematically organize volunteers. According to the President Office, the new unit will track the number of volunteers at quarantine centers across the country, monitor the needs of quarantine centers, prepare free health care and medical checkups for volunteers and arrange preventive equipment, food, drinks and transportation for volunteers. [4]
Donation and support of well-wishers to the community in various means such as donation of test machines and testing equipment, food and medicines, support in quarantine centres and hospitals are also much effective to community.
Support for poor community
As one fourth of population in Myanmar are poor, COVID-19 affected poor communities. Poverty is related to rural residents, bigger household size with more young children, education level of household heads and main income earners, agro-based livelihood, disabled persons and limited access to infrastructure and market. Urban households have been affected by lost employment and lost income since May 2020. According to food security survey, many households are facing in security and adequate diet. COVID has also impact on negative education outcome. Since less than 20% households received government support, the government should plan for well-targeted and social assistance programs to cover all poor communities.[5]
[1] Myanmar Living Condition Survey 2017 by Central Statistical Organization
[2] The Global New Light of Myanmar (27.9.2020)
[3] The Global New Light of Myanmar (11.9.2020)
[4] The Irrawaddy (27.4.2020)
[5] Ending Poverty in Myanmar, World Bank Webinar 15 Oct 2020
Assistance and Support for COVID affected business and communities in Myanmar (3)
International assistance to Myanmar to response COVID
Assistance from other countries
In order to recover from the economic and social impacts of the COVID-19 global pandemic, the implementation of COVID-19 Economic Relief Plan (CERP) is estimated to cost US$2-3 billion. So, Myanmar is set to receive around US$2 billion from other countries as well as international organizations. In the early stage of COVID in June 2020, Myanmar received the loans of US$700 million from International Monetary Fund, $270 million from Japan, $250 million from the World Bank and $30 million from the Asian Development Bank, in total $1.25 billion. [1]Mobilization of funds from government budget and international assistance has reached over 4 trillion kyats (about US$ 3 billion) topping 3.4% of GDP.[2] Myanmar has to receive more than US$ one billion from other countries (government to government support) and UN and international organizations.
During April to October 2020, Myanmar receives over US$ 300 million in cash and other medical assistance from other countries to response COVID as follows;
Japan provided US $280 million on COVID-19 Crises Response Emergency Support Loan
On 1st September 2020, the Ambassador of Japan and the Deputy Minister for Planning, Finance and Industry of the Republic of the Union of Myanmar signed Exchange of Notes regarding COVID-19 Crisis Response Emergency Support Loan (Investment Promotion and Financial Sector Development Program Loan) of 30 billion yen (approximately 280 million US dollars), with the aim to provide emergency budget support for the coronavirus crisis response in Myanmar. The repayment period of the loan is 40 years (including a 10-year grace period) with 0.01% interest rate per annum. [3]
In addition, the loan is the second financial support provided under the overall emergency support package for Myanmar, following 5 billion JPY low-cost financing for SMEs launched in June. In parallel with the implementation of such projects, JICA is working on the next emergency support project under the package in close cooperation with the Myanmar government to provide greater thrust to the recovery of the private sector and the livelihoods of the people.[4]
US$18.5 million support from U.S Government Health and Humanitarian Assistance
As one of the largest bilateral donors to Myanmar's COVID-19 response, the U.S Government is providing more than US$18.5 million including approximately US$10.3 million for health and US$8.2 million in disaster and humanitarian assistance, including to support vulnerable people and host communities.
Six European Union states deferred debt payments from Myanmar worth nearly US$100 million for 2020 in July 2020 to help the country's efforts to focus on economic recovery from the COVID-19 pandemic. EU also set up Euro 5 million (Kyat 7.9 billion) emergency cash fund through Myan Ku project. The fund has supported over 5.4 billion kyats to over 70,000 garment and footwear workers.
India also pledged to assistance to Myanmar to help treat the growing number of COVID-19 positive patients. At the meeting of 5th October 2020, India officials handed over 3,000 vitals of Remdesivir, an antiviral medication approved for the treatment of COVID-19.  [5]
The Chinese government has donated medical supplies to Myanmar by four times to assist in the fight against COVID-19. The medical supplies included disposable masks, N95 masks, googles and personal protective equipment (PPEs).[6]
The Export-Import Bank of Korea will provide US$ 30 million Emergency Equipment loan from its Economic Development Cooperation Fund (ECDF). The loan term is 40 years with 0.01% interest rate.
[1]   State Counsellors discusses remedies to lessen COVID-19 impacts on economy, Global New Light of Myanmar, 17 June 2020
[2] Election 2020: Key Issues for business webinar by AustCham and EuroCham Myanmar, 16 Oct 2020
[3] https://www.mm.emb-japan.go.jp/profile/english/press/20200901.html
[4] https://www.jica.go.jp/myanmar/english/office/topics/press200901.html
[5] Myanmar Times (6 October 2020)
[6] http://www.xinhuanet.com/english/2020-06/09/c_139126200.htm
Assistance and Support for COVID affected business and communities in Myanmar (4)
International assistance to Myanmar to response COVID
Assistance from UN and international organizations
During April to October 2020, Myanmar receives over US$ 680 million in cash and other material assistance from UN and international organizations to response COVID as follows;
Support from UN organizations
More than 20 UN agencies in Myanmar are joining to respond to the COVID-19 pandemic, and support the organization's efforts to protect lives and boost livelihoods. These efforts have involved technical and capacity building support, including delivery of 95,000 test kits to scale-up testing capacities, provision of personal protective equipment (PPE), support to migrant workers returning from abroad and socio-economic and livelihoods support. The United Nations emergency agency World Food Programme (WFP), one of the UN in Myanmar agencies, has provided food and nutrition to tens of thousands of people affected by COVID-19 in Myanmar. WFP has teamed up with the Government to provide food and nutrition assistance to the migrants who have arrived Myanmar which contributes to a well-organized quarantine management system. In July, WFP has provided nutritious meals for 41,500 returning migrants upon their arrival through various border gates, and for 43,000 in quarantine sites in Kachin, Kayin, Mon and Shan states; as well as Ayeyarwaddy, Bago, Magway, Tanitharyi and Yangon regions. [1]
International Monetary Fund (IMF) approved US$ 356 million emergency assistance
IMF Executive Board Approves a US$ 356.5 Million Disbursement to Myanmar to address the COVID-19 Pandemic. To address the urgent balance-of-payments and fiscal needs, the IMF has approved US$ 356.5 million emergency assistance for Myanmar under the Rapid Credit Facility and the Rapid Financing Instrument.
The Asian Development Bank (ADB) approved a US $250 million loan
On 21st August,2020, The Asian Development Bank (ADB) approved a $250 million loan to help the Government of Myanmar respond to the coronavirus disease (COVID-19) pandemic by mitigating the impacts on people's health, livelihoods, and the economy, while also ensuring that the poor and vulnerable benefit from the country's economic recovery.
Moreover, as safe piped water with better sanitation and hygiene is critical in controlling the spread of COVID-19, the Asian Development Bank (ADB) has approved a US $180 million loan to develop and upgrade the water supply system in Yangon.[2]
US$ 50 million credit from the World Bank for the Myanmar COVID-19 Emergency Response Project
In April 2020, the World Bank approved a US$50 million loan for the Myanmar COVID-19 Emergency Response Project to help Myanmar fill a critical gap in its contingency plan to urgently increase hospital preparedness and surge capacity in order to reduce the spread of COVID-19, protect health workers, and treat patients. [3]
The U.S Agency for International Development (USAID)/ Burma support
Since February 2020, the U.S. Agency for International Development (USAID)/ Burma provided a total of US$ 8.3 million in Heath funding for COVID-19 activities. In April and May 2020, USAID provided US$ 6.5 million in COVID supplemental funding to the multi-donor Access to Health Fund. USAID assistance through this fund has already supported 350 health facilities and community quarantine centers and facilitated reaching 135,275 people through community-based surveillance work including contact tracing and fever testing.
Moreover, USAID allocated US$ 1.8 million of its Emergency Response Fund to Myanmar through existing global agreements with the World Health Organization (WHO), UNICEF, and the Breakthrough Action activity, implemented in Myanmar by Save the Children, for health activities beginning in late March. In addition, USAID donated 31,500 surgical masks, 1,500 each of face shields, face masks, gowns, and shoe covers and 1,000 safety goggles. [4]
US$ 15.8 million support from Livelihoods and Food Security Fund
Livelihoods and Food Security Fund LIFT has announced funding of USD 15.8 million to support Myanmar's COVID-19 preparedness and response. The funding is estimated to benefit 5.9 million people in Myanmar at a time when the country is making urgent preparations to respond to the challenges of the COVID-19 pandemic. LIFT's assistance will be delivered through a front-line response by its implementing partners and it focuses on supporting the most vulnerable: migrants, the elderly, internally displaced people, pregnant women and those with children under the age of two. LIFT's donors are the United Kingdom, the European Union, Switzerland, Australia, the United States of America, Canada and Ireland. [5]
Myanmar Economic Recovery and Reform Plan (MERRP)
Myanmar Economic Recovery and Reform Plan (MERRP) is a new, comprehensive and inclusive medium-to longer-term plan, being developed by the government to achieve speedy recovery of Myanmar economy. The plan consists of six goals, 16 strategies and 135 action plans. Myanmar needs more support from International organizations and other countries for the implementation of the MERRP.
[1] United Nations in Myanmar (15 July 2020)
[2] Asian Development Bank (21 August 2020)
[3] The World Bank (29 September 2020)
[4]  U.S. Embassy in Burma (21 July 2020)
[5] Relief Web (9 April 2020)
Changing business model during and after Covid-19 Crisis in Selected Industries
Impact of COVID-19 and Business Sector Respond to Crisis
All ASEAN countries are suffering from the socio-economic impact of the Covid-19. In the early stages of the pandemic, the rapid spread of the virus in China led to the disruption of supply chains and freezing demand limiting the flows of travel, trade, and investment. As the rate of infection increased in Southeast Asia, the impact of the pandemic brought immediate interruption in all sectors of the economic activity, primarily by containment measures imposed through lockdowns, community quarantines, temporary business and school closures, necessary social protection for the vulnerable population and measures to further assist SMEs and other affected firms, according to the Organization for Economic Co-operation and Development (OECD).
Containment Measures in ASEAN Member States
   Source: OECD
Governments of the ASEAN Member States imposed strict domestic containment measures. The restriction of large-scale events, restaurants and travel, as well as school closures and lockdowns are having a negative impact on economic activities. These lockdown measures, although to a different scale and scope, imposed by the ASEAN countries are slowing down or even stopping economic activities in certain sectors, having a ripple effect to others. Other western countries were also significantly affected by the outbreak, including the US and the EU, are also among the region's largest trade and investment partners. The WTO has estimated that world trade is expected to fall by between 13% and 32% in 2020, exceeding the decline brought on by the Global Financial Crisis.[1]
Since the COVID-19 crisis struck, organizations in vulnerable sectors worldwide have seen their revenues drop substantially in a matter of weeks. Countless companies have taken reactive steps to ward off major losses, such as establishing remote work arrangements, securing supply chains, reducing employee workload, cutting costs, and applying for government support. One of the business sector responses to COVID-19 was offering the same (or similar) products and services through an online channel, which occurred through the digitization of physical products or through a technology-mediated delivery solution. Another response was by companies and factories which took advantage of market demand by deploying existing infrastructure to produce different products or to offer new types of services. Suddenly struggling to meet the demand for their products and services, some companies needed to quickly maximize their infrastructure to increase production and delivery capacity. As a response, a number of organizations worldwide are changing their business models and taking inventive steps to find new infrastructure and collaborate with external partners to increase their production or delivery capacity amid Covid-19. For example, Amazon hired an additional 100,000 employees in the United States to meet increased demand from homebound online shoppers, so it partnered with the ride-booking company Lyft. Lyft was encouraging its drivers to pursue positions as warehouse workers, delivery people, or grocery shoppers to earn additional income, and applications for Amazon positions are available through the Lyft driver web portal.[2]
[1] COVID-19 crisis responses in ASEAN Member States. OECD
[2] Three Response Strategies to COVID-19 Business Challenges, MIT Sloan  Management Review
Changing Business Model during COVID-19 Crisis
All the companies and businesses in all sectors have to be predictive and proactive in their decision-making to preserve business continuity and build enterprise resilience. According to the EY, the immediate responses and implementing plans by the businesses and companies worldwide during the Covid-19 pandemic are as follow.[1]
Source: MMR/ Ref: EY
Prioritizing employee and customer safety with continuous engagement
Ensuring the safety and wellbeing of the employees in the workplace is essential as it would help to engaging and reassuring the business continuity plan (BCP). One of the adjustments companies make is to initiate or expand flexible work arrangements and other policies that allow people to work remotely and safely. Depending on the sector, companies reorganize teams and reallocate resources, and establish employee wellbeing programs and policies that support a safe working environment. Additionally, companies produce regular communications that align with current government and health authorities' policies to help employees remain engaged as they and the organization navigate through the crisis.
Developing strategy for business continuity plan (BCP)
Most businesses were experienced significant disruption to their business-as-usual operations and faced business underperformance throughout the duration of the COVID-19 crisis. To responses this, companies and businesses evaluated short-term liquidity, assessed financial and operational risks, considered alternative supply chain options and determine how the COVID-19 crisis affects budgets and business plans.
Communicating with relevant stakeholders
Clear, transparent and timely communications are necessary when creating a platform to reshape the business and to secure ongoing support from customers, employees, suppliers, creditors, investors, government and regulators.
Applying the government support programs
Government from ASEAN nations has released several financial, social insurance and tax-related policies to support companies. Companies identified and determined which support from the government is best for their organization.
Planning for business recovery
Companies made decisions and took actions during crisis with recovery in mind. Companies plan to reshape their business strategy to thrive in the future when the crisis is over.
Covid-19 also accelerate the developing new business models and improving risk management process, restoring the supply chain management, promoting the digital platform applications, and producing customized products and services are included in the changes of business models in the medium-term.
Prior to the COVID-19 crisis, the drivers of technology were focused on cost reduction and productivity. The goal was to make well run businesses run better. As businesses adapt to the new realities caused by COVID-19, the roles of technology will be a critical for developing the long-term business model changes as follow, according to the SAP survey developed by the South Asia Press Room.[2]
Achieve resiliency – to steer the company through challenging times with agility.
Deliver profitability – with transparency across both the top and bottom line, supporting business growth and increased productivity and
Act sustainably – by reducing carbon footprint, minimizing waste and transitioning to the circular economy.
Adapting and aligning marketing, sales and customer service techniques will be vital if businesses are to survive in the future. Smart businesses will align insights and behavior data across teams to build a digital picture of their prospects and customers. Digital led businesses will be data driven and would not be focused on aligning their processes internally.  In the Longer term, companies will need to consider how robust their business, management team and initiatives were in facing the crisis. It will also be important to consider and reset the business assumptions that support the supply chain and other concentrations that many businesses have been exposed to over time.
[1] COVID-19 business continuity plan: Five ways to reshape, EY
[2] Businesses must 'innovate and transform' post Covid-19 disruption to be competitive, South East Asia Press Room
Changes and Development of Business Models in ICT Sector
The ICT sector has the potential to be one of the more resilient segments and would rise again quickly. The sector does not appear to have been as badly hit as others. In the immediate days and weeks after the Covid-19 crisis hit, most of the companies have changed to digitize at least some part of their business to protect employees and serve customers facing mobility restrictions as a result of the COVID-19 crisis. The crisis has stimulated company observations and the need for businesses to re-evaluate near-term and long-term supply chains, resource deployment, and liquidity. Major technology companies have ceased marketing operations, canceled essential events and conferences, and announced financial results below market expectations. For example, Microsoft lowered its revenue estimates in the quarter ended March 2020 due to the impact of the epidemic with lower sales of Windows software and surface devices.
During the Covid-19 pandemic, there was historic deployment of remote work and digital access to services across every domain as part of plan to change the business models. Most B2B, G2B and G2G meetings are online. People use all types of teleconferencing such as audio, audio graphic, computer, video, business television (BTV), and distance education etc. Banks have transitioned to remote sales and service teams and launched digital outreach to customers to make flexible payment arrangements for loans and mortgages. Grocery stores have shifted to online ordering and delivery as their primary business. Schools in many locales have pivoted to 100 percent online learning and digital classrooms. Doctors have begun delivering telemedicine, aided by more flexible regulation. Manufacturers are actively developing plans for lights-out manufacturing which are fully automated and require no human presence on-site. Thus, players in ICT industry shifted their business models in targeted customers by directly providing ICT services to all players from various industries which are in need of computing platforms to operate their businesses. In the short-term, ICT players are providing a lot of the tools to enable companies, schools, hospitals, etc. to operate remotely and there has been a huge push to make that happen. For the longer term, companies are holding discussions and engaging with their customers to work out what more robust, sustainable solutions ought to be implemented.[1]   
  Source: MMR
As a common, ICT companies reduce the cost base and capital of their operations, supply chains, and organizations overall and to transition their fixed costs to variable costs aggressively wherever possible. Many organizations have shifted to remote-working models almost overnight. A remote-first setup allows companies to mobilize global expertise instantly, organize a project review with 20 or 200 people immediately, and respond to customer inquiries more rapidly by providing everything from product information to sales and after-sales support digitally. In effect, remote ways of working have driven the faster execution and this step change in remote adoption is now important enough to reconsider current business models, according to the McKinsey. Moreover, companies have already launched analytics and artificial-intelligence (AI) initiatives in their operations. Companies have laid out an agenda that focuses on four efforts: refocusing and accelerating digital investments in response to evolving customer needs, using new data and AI to improve business operations, selectively modernizing technology capabilities to boost development velocity, and increasing organizational agility to deliver more quickly.[2]
While the major impact in ICT industry is expected to be on Hardware business, the Software and Services businesses are also expected to slow down as the spread of Coronavirus goes beyond the boundaries of Asia. Thus, the ICT companies are focusing on the adoption of collaborative applications, security solutions, cloud services, big data and Artificial Intelligence (AI) which have huge potentials to see big growth in the future.[3] Meantime, ICT companies are strategically looking for funding and investment over the next six months as institutions focus on existing portfolios, and waiting to see the longer-term impact of the economic shock. As ICT companies need funding and investment for the long-term to operate businesses, they are reorganizing to form the quality management team and develop new business plan to attract the investors. In addition, ICT companies apply business models that support changes to the way companies work, such as working from home, virtual meetings, online consultations, and the accelerated use of data to allow businesses to be more agile. On the other hand, well capitalized ICT companies are accelerating their strategic plans through acquisition.
Furthermore, ICT companies are changing their business model to focus on providing technology services such as digital media, Over the Top (OTT) content players, Virtual Private Networks (VPNs), Big Data, Cyber security, and Data security technologies which would become rapid growth as most workforces are operating remotely. In addition, most of the ICT business are more investing on providing cloud services which is significantly growing due to the higher usage of content, gaming downloads, video conferencing, and the impact of remote access to corporate networks. For example, Huawei, equipment maker, recently posted a surge in its technological services comprising AI, video conferencing, and wireless network coverage across the Asia Pacific, given the on-ground communication challenges to ensure smooth connectivity.[4]
As the Covid-19 pandemic increases the reliance on digital technologies, the ICT sector expects the growth opportunities. ICT firms are anticipating introducing new services, products and solutions as part of plan developing new business model. ICT companies in the sector are substantially investing in their digital strategy and balancing short-term efforts with long-term measure along with practical steps such as refreshing plans, updating employee policies, communicating frequently, and carrying out succession planning. Even though businesses are struggling with current losses, the ICT industry might be one of the few sectors which would be growing in the long run.
[1] How new Covid-19 realities impact ICT sector M&A, Comms Dealer
[2] The COVID-19 recovery will be digital: A plan for the first 90 days, McKinsey Digital
[3] How Covid-19 will change and open new opportunities for ICT Industry, Industrial Automation India
[4] COVID-19: Consequences and opportunities for the ICT sector, Fractal
Changes and Development of Business Models in Food and Beverage Sector
Covid-19 is having a profound effect on the business world. Recent community lockdown and quarantine in many countries have forced people to stay home, which have dramatically reshaped the food and beverage sector by surging the demand for retailers and decreasing for food service. During the Covid-19 pandemic, disruption in supply-chain has forced businesses to search for alternative delivery routes and types of products. According to Reuters, a decline in air traffic, as well as world-wide enforced quarantines have reduced the capacity for companies to move fresh produce long distances, which have caused issues for both farmers with product they cannot move and importers needing raw materials.[1] Some food & beverage businesses that are able to keep up with demands have been doing very well, when startups, which usually can adapt faster to the changes, are having an advantage when they seek and obtain funding. Some changes in the Asia food and beverage industry is as follow:
(a) Packaged-food businesses, retail services and online sales are on the rise while the restaurants' revenues have decreased substantially.
(b)  Restaurants have been forced to rely solely on takeout and delivery options rather than dine-in customers for revenue, which has changed many of their business models.
 (c)   Smaller manufacturers are being shutout as large retailers are not placing orders with them and are instead focusing on big orders from larger manufactures to satisfy customer demands.
Source: MMR
While online grocery sales are growing rapidly, it cannot take additional demand because of the logistics capacity. Businesses are trying to resolve the rapid increase in the number of orders and shortage of labor to fulfill these orders. One of the significant business model changes in food & beverage sector is that liquor companies re-directed their production lines to manufacture sanitizer hand sanitizer to supply the rising market demand. Furthermore, food and beverage businesses alter shifts to around-the-clock, take new safety precautions, change product mixes, increase delivery options and redefine business as usual. With these measures, the food and beverage industry has adapted at a rapid pace, responding with ideas and plans to protect employees and customers, and keep up with demand.
Additionally, many businesses changed the way to reach their customers by selling through via mobile order-and-pay system along with free delivery services.  Stores and restaurants found that they could no longer rely on their old business models, so they changed from traditional sales to online selling. Supplier such as farmers began selling direct to consumers, although some simply dumped produce, creating images of a severed supply chain. Manufacturers stepped up to shift production for safety and medical equipment, while grocers started working around the clock to restock shelves, and big food companies shifted production to meet the needs of the public.[2]Most of businesses are trying their best to keep staff as long as they can by utilizing them to perform multiple functions such as delivering, cooking and cleaning.  For example, PepsiCo, Mondelez and Hormel Foods are a few among the businesses rewarding their workers with bonuses, additional leave time and raises. As for the workplace safety, stores and manufacturers took precautions to protect their workforce and customers. Restaurants and retailers are also limiting the number of shoppers permitted through their doors at any one time, with monitors managing lines at three or six feet intervals.
As people have adapted to working from home, business in food & beverage industry are also establishing D2C (Direct to Consumer) delivery and investing in food delivery directly to homes and offices is a key growth area during the Covid-19 pandemic. Using digital and online platform becomes the main strategy for most of the food % beverage companies. For example, Carlsberg Malaysia is pinning its hopes on digital marketing and e-commerce to recover from huge revenue and profit drops suffered during the Covid-19 pandemic outbreak. In hopes of recovering from this revenue decline, Carlsberg Malaysia has opted to shift focus away from the traditional on-trade channel such as coffee shops despite this having customarily always been its strongest performer, and focus on digital efforts instead.[3]Moreover, it has planned to optimize its cost saving measures, building on an existing business strategy along with other initiatives such as offering limited-edition packaging promotion, changing the packaging styles to attract the customers, and take away services.
Thus, continuing the business successfully in amid and post Covid-19 pandemic will depend on the each company's ability to shift with the demand for current products needed in the market with changes and development of the new business models. Food & beverages companies and businesses which can survive in the crisis are the one which can develop the adaptive business model by fulfilling the customer demand with effective and innovative ways such as offering free online food delivery services to customers, making value added products, and changing the production line to manufacture products which have huge market demand.
[1] Changes in Food and Beverage Industry, Green Hasson Janks
[2] Food And Beverage Companies Evolve, Innovate And Contribute Amid COVID-19 Crisis, Forbes
[3] Carlsberg Malaysia pins hopes on e-commerce after Covid-19 sinks financials, Food Navigator Asia
Changes and Development of Business Models in Garment and Fashion Sector
Covid-19 pandemic has shaken the global fashion industry which is worth US$ 2.5 trillion by destabilizing the whole supply chain. The industry has been hit hard by the COVID-19 pandemic. Billions of dollars of clothing orders placed with manufacturers around the world have been cancelled. COVID-19 has exposed a fundamental weakness in the traditional fashion system: matching supply and demand. Industry leaders have aware that the old way of doing businesses, for example, seasonally manufacturing items abroad without any advance customer feedback and then these items sell in retail stores around the world does not work. Thus, apparel and fashion companies have put their assets to good use in the crisis, for example, turning over their factories to make face masks or hand sanitizer, donating products and services to healthcare workers, or helping employees find temporary roles with companies that are hiring. Industry expert in apparel and fashion sector assume that on-demand manufacturing is an important part of the plan of changing business model during Covid-19 pandemic. Major players believe that there would be no inventory, no fabric waste, and no warehousing if the major players practice the on-demand manufacturing in the garment and fashion sector. On-demand production allows fashion brands to reduce their upfront cash need and minimize excess inventory. Therefore, top players in the industry are changing their business model with both economical and sustainable plan.[1]
Meanwhile, the common immediate responses of apparel and fashion companies during Covid-19 pandemic are – (a) lead with compassion and protect the employee (b) manage the cash flow (c) review in-year inventory position and assess the supply chain (d) increase digital marketing and online platform and (e) maintain decent connections with consumers. As the plan for medium term, companies anticipate on preparation of reopening stores which were closed in huge amount, reassessing merchandising plans for fall 2020 and spring 2021, and connecting with brand loyalists. For the long-term plan, many companies in the sector focus on developing the portfolio and financial resilience, building their operating model around digital and Omni-channel marketing, and anticipating shifts in consumer sentiment and behavior.[2]
Source: MMR/ Ref: McKinsey
As for the garment sector, development of a new business model by Bangladeshi apparel makers would be relevant and applicable for other ASEAN nations during the pandemic. The new business model state that suppliers and buyers will hold similar responsibility for placing orders and buyers will contribute to purchasing raw materials to avoid the order cancelation.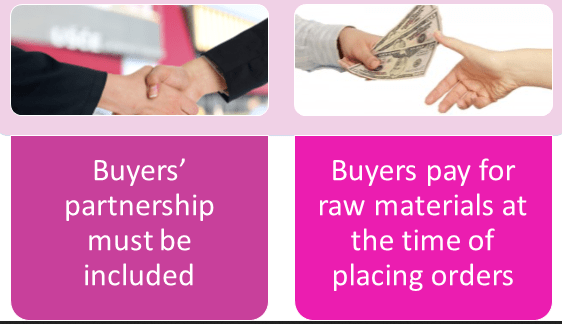 Source: RMG Bagladesh
As a way to save bank charges, almost all brands/retailers have stopped working through irrevocable letters of credit which are usually called "Master LC." Instead, they have started the practice of using sales contracts or purchase orders. An irrevocable letter of credit is a financial instrument used by banks to guarantee a buyer's obligations to a manufacturer. It is irrevocable because the letter of credit cannot be modified unless all parties agree to the modifications. In addition, brands and retailers or clients need to engage in financial investment in the supply chain.[3]
[1] How Fashion Manufacturing Will Change After The Coronavirus, Forbes                                                                   
[2] Perspectives for Fashion Industry in a time of crisis, McKinsey
[3] Covid-19 pandemic: New business model a must for the sustainable fashion industry, RMG Bangladesh
Business Model Changes and Recommendations for Businesses in Myanmar
Rapid growing of COVID cases in Myanmar and the global COVID-19 pandemic is dealing a severe blow to Myanmar's economy and business sector. Economic growth in a baseline scenario is projected to drop from 6.8 percent in FY18/19 to just 0.5 percent in FY2019/20, according to the World Bank's Myanmar Economic Monitor. All restrictions together clearly have negative impacts on businesses and socio-economic sectors, including international trade (border, air and maritime). As various containment measures were imposed, companies located in the main business hubs ensure that employees were able to work remotely. Some firms in Yangon began to trial work from home policies in mid-March, following the lead of international companies with remote working experience. By the end of that month, the list of firms allowing at least part of their workforce to operate from home included banks, media outlets and telecoms operators. Working remotely in Myanmar has been made more feasible in recent years by expanding internet access: the total number of internet users rose from 18m, or 33.1% of the population, in July 2019, to 22.2m, or 40.8%, in January 2020 and it is believed to increase more in July 2020.[1]
These factors led to the development of the digital economy in Myanmar, with the pandemic leading to the businesses rising online sales. Grocers, pharmacies, and e-commerce marketplaces are sustaining consumer access to essentials food, medication, toiletries, and others via online. Thus, most of the retail and service businesses in Myanmar shifted to online and digital purchasing. Consumers who would like to avoid going crowded area and direct interactions orders foods and other products via online, so smaller retailers and brands are having opportunity to deliver goods and take online orders. For those businesses which does not set-up with solid E-commerce capabilities can reach consumers and take orders through social platforms such as Viber, Twitter, Instagram, Facebook accounts and local Facebook pages.
With COVID-19, people are cooking more at home. As a result, the supply may shift more towards local producers, whose focus was mainly on the grocery stores, rather than more exotic foods that are often ordered by restaurants. This may also find the support from the government to secure the production of the essential product within the county borders as a precaution to secure the supply chain in case of future pandemics. Farmers began selling direct to consumers, although some simply dumped produce, creating images of a severed supply chain. Hence, investing in food delivery directly to homes and offices is a key growth area in Myanmar, as people have adapted to working from home and establishing D2C (Direct to Consumer) delivery will be likely be prevailing trends even after COVID-19. Due to the rising e-commerce activity, there is also huge demand for the warehouse services.
For the garment sector, it is recommended that manufactures must attract the foreign investors by number of certified green factories and the apparel makers have invested a lot in technology to make the industry sustainable in terms of environment and labor rights. Meanwhile, government should provide technological support to the local companies and businesses for producing value added services and products to substitute the imported goods and products.
The future of businesses circumstances in the post-pandemic period would be a lot different from the old situations. The expected Covid 19 -driven macro trends would be look like as the following:
Source: OC&C Consultants
[1] The post-Covid-19 future of Myanmar's office market, Oxford Business Group
Impact of Covid-19 on Myanmar and Potential Industry Sectors
COVID-19 and World Economy
The COVID-19 pandemic is an ongoing global pandemic of coronavirus disease 2019 (COVID‑19), caused by severe acute respiratory syndrome coronavirus 2 (SARS‑CoV‑2).[1] The outbreak was first identified in Wuhan, China, in December 2019. Then, the World Health Organization declared the outbreak a Public Health Emergency of International Concern on 30 January 2020, and a pandemic on 11 March. As of 30 July 2020, more than 16.8 million cases of COVID-19 have been reported in more than 188 countries and territories, resulting in more than 662,000 deaths; more than 7.37 million people have recovered. (WHO Report)
Starting from mainland China, the pandemic spread across the world, killing people in the North America, Europe, Asia and Latin American and pulling the world economy down.  The pandemic has spread with alarming speed, infecting millions and bringing economic activity to a near-standstill as countries imposed tight restrictions on movement to halt the spread of the virus.
The economic impact of the COVID-19 pandemic on emerging market economies far exceeded that of the global financial crisis. According to the World Bank, the coronavirus pandemic has taken a devastating toll on the global economy, and the global economic growth is forecasted to shrink by 5.2 percent in 2020 when the IMF said it shrink by 3 percent. Advanced economies are anticipated to shrink 7 percent when the emerging and developing economies will shrink by 2.5 percent.
The economic impacts have been even more severe as emerging market economies were hit by multiple shocks. Particularly hit are tourism-dependent countries due to a decline in travel and oil exporters as commodity prices dropped down. With global trade and oil prices projected to drop by more than 10 percent and 40 percent respectively, emerging market economies are likely to face massive struggles.[2] Moreover, the situation of global stock markets raises serious concerns as the stock prices seem to be dropped down since the beginning of the crisis.
Many people have lost their jobs or seen their incomes cut due to the coronavirus crisis. Unemployment rates have increased across major economies as a result. Millions of workers have also been put on government-supported job retention schemes as parts of the economy, such as tourism or hospitality, came to a standstill under lockdown. Even in the countries with low unemployment levels presently, there are no guarantees that employers can avoid layoffs after the wage supports end, but all of these countries have seemingly traversed the worst wave of peak COVID-19 deaths and cases, and they are gradually re-opening.
The decline of World Economy due the Covid-19 pandemic is the worst since the Great Depression of the 1930s, according to the IMF. The travel industry has been badly damaged, with airlines cutting flights and customers cancelling business trips and holidays as many countries introduced travel restrictions to try to contain the virus.
According to OECD, the GDP declines more than 20% and a surge in unemployment in many countries. Even in countries where containment measures have been relatively light, early data are already making clear that the economic and social costs of the pandemic will be large. Growth prospects depend on many factors, including how COVID-19 evolves, the duration of any shutdowns, the impact on activity, and the implementation of fiscal and monetary policy support. In the wake of the Global Crisis, uncertainty in the world economy led many firms to reassess their business models.[3] Rather than relying on global supply chains, an increasing number of firms invested in robots and advance technologies.  
[1] Naming the Coronavirus disease (Covid-19), WHO
[2] COVID-19 Response in Emerging Market Economies: Conventional Policies and Beyond, IMF
[3] OECD Economic Outlook June 2020
Impact of COVID-19 to Myanmar economy
The coronavirus was confirmed to have reached Myanmar on 23 March 2020. As of 31 July 2020, about 353 confirmed cases have been reported in Myanmar and resulting as 6 deaths and 295 recovered, according to the Ministry of Health and Sports (MOHS).
Since the world economy is slow down as a result of the Covid-19 pandemic in worldwide, the growth of Myanmar's economy also drastically declined due to its major trade partners in Asia and Europe are at risk for economic recession due the virus impacts.
Initially, economic growth is expected to reach 6.4% in 2019-2020 FY due to the growing investment in the transport and telecommunication sectors and government's planned infrastructure spending before the 2020 elections, according to the Ministry of Planning, Finance and Industry (MOPFI) and the World Bank. Myanmar had strong performance in the first six month period from October 2019 to April 2020 and its GDP growth rate was estimated to 6.3%.
However, the GDP growth for Myanmar will likely slow down significantly to 4.2% in 2019-20 due to the Covid-19 pandemic, but if the virus is confined quickly, it would recover to 6.8% in 2021, according to the Asia Development Bank (ADB). Meanwhile, the World Bank has downgraded Myanmar's GDP growth forecast for 2019-20 fiscal year to 0.5% percent down from 6.4%,[1]  as all sectors are hit, with adverse effects of varying intensity projected across all sectors.
Among the various sectors which are highly affected by the Covid-19 impacts in Myanmar, Tourism, Cut-Make-Package (CMP), and Small-Medium-Enterprises (SME), are in high vulnerability. People in poor conditions are impacted by the loss income and negative impacts of the economy. The net profits of private banks went negative for the first time in a decade as their ability to lend at a profit is severely limited by high interest rates required by the Central Bank of Myanmar, according to the World Bank.
Still, Myanmar has seen a moderate domestic impact from the global COVID-19 due to its reliance on international trade, investment and technology. Export volumes for simple manufactured goods have seen the biggest impact. The garment sector, which employs over 700,000 workers and accounts for $4.6 billion in export revenue, has faced both supply and demand shocks and Myanmar exports 70% of garment products to European countries. China supplies 90 percent of raw materials for the sector; however, exports to Myanmar were halted between January and March. Just as supplies were returning to normal in April, demand for Myanmar garment products collapsed.[2] According to the Ministry of Labour, Immigration and Population, more than 60,000 factory workers in Myanmar have already lost their jobs since the start of the crisis, including those working in the garment factories that supply some of the world's biggest fashion brands. About 175 factories stopped operations and 105 factories have not been able to pay wages to the workers yet, according to the Myanmar Times on 28 April 2020. Many garment factories have reduced working hours and cut jobs, while some have permanently or temporarily shut down. Without new orders, many factories will be forced to reduce their workforce and working hours, and close either temporarily or permanently.
Meanwhile, the foreign investment sector is unable to provide the desired investment flows. Outbreaks in key investment partners have already caused delays to projects valued in the billions of dollars. Most of the foreign investors and infrastructure developers has been suffering financial losses due to the outbreak and scaling back on the planned projects. However, investments are unlikely to be enough to rise up the entire economy and Myanmar must formulate a medium-term economic plan to deal with the uncertainty in the future.
According to the World Bank, the COVID-19 pandemic has interrupted Myanmar's economic expansion, and while Myanmar is expected to narrowly escape a recession, helped by a strong start to the fiscal year, policy responses, and the limited disease outbreak, the growth recovery is at great risk.
[1] Myanmar Economic Monitor June 2020, World Bank Myanmar
[2] Covid-19 Threatens Myanmar's Economy, The Diplomat
Impacts of COVID 19 on Myanmar Business Sector
The impacts of COVID-19 on Myanmar businesses shows that nearly two-thirds of businesses expect to face cash flow problems and the majority of the businesses are operating with lower turnover, according to the Asia Foundation. The survey developed by The Asia Foundation, backed by the DaNa Facility and aid from the UK, revealed on June 8, 2020 that the businesses in the survey estimated that they require about 18 million kyats (US$12,851) in additional cash flow in order to survive until September 2020. The survey also estimated that as a nationwide, businesses need an additional 900 billion to 2.1 trillion kyats (US$642 million-1.5 billion), equivalent to 0.7-1.7% of the International Monetary Fund 's (IMF) projection of Myanmar's GDP for the 2019-2020 fiscal year.
That survey is a nationwide poll of 750 local businesses and is the largest survey so far of the impact of the pandemic which covered the two weeks ending May 10. During that period, 29% had completely closed and 92% reported lower sales due to Covid-19, with 74% losing more than half of sales. The key reasons for reducing operations or closing were employee safety and lack of customers[1]. The manufacturing sectors for textiles, apparel and leather as well as the accommodation sector are among the industries facing the highest levels of risk. Additionally, accommodation and food and beverage services were also suffering because potential national and international customers have been unable to travel. The government's instructions to people to stay home and avoid gathering in groups of more than five have had a particularly large impact on the food and beverage sector, according to the survey. The retail and wholesale industry reported facing relatively smaller risks to its survival. The profitability of enterprises were declined and it was reported that only 22 percent being profitable due to the Covid-19 impacts.
The Asia Foundation survey found that businesses had laid off on average 16% of their employees due to Covid-19. With many small businesses yet to access government funding, many could run out of cash soon. Among the composition of the laid-off employees due to Covid-19 impacts, the non-executive and non-managerial employees of the companies such as manual rank and file employees are the most with 84% while the technicians follows with 10%. Only a few amounts of accountants, supervisors and managers are laid-off during this covid-19 period, according to the Asia Foundation.
Moreover, 9 out of 10 businesses in Myanmar are severely affected by the Covid-19 impacts according to the Business Sentiment Survey released by the Myanmar Marketing Research & Development (MMRD). MMRD has conducted online survey and face to face interviews to around 2,000 businesses in Myanmar, and the survey on 30 June 2020 revealed that about 94% of the businesses replied their businesses are running in poor situation.
Businesses from export sector were also largely affected by the Covid-19 pandemic according to the "Myanmar COVID-19 Impact Survey" conducted by the Market Research Association of Myanmar and International Trade Centre (ITC) in May 2020. Nearly 300 exporters, which are operating in the 12 priority sectors of the National Export Strategy (NES) 2020-2025, were surveyed and it was reported that all the companies interviewed were affected by the pandemic and its containment measures in varying degrees. Nearly 30% of the businesses were strongly affected, while 46% were moderately affected. The tourism sector was hit the most, followed by the textile and garment sector, and micro-businesses with less than five employees were disproportionately affected. Resulting from the containment measures and lockdown order, many companies had to reduce the logistics services and shut down the businesses temporarily. Delays due to increased border checks/closures, additional sanitary regulations/procedures, logistics arrangements, shipping, new circulars and temporary measures from the Covid-19 Control and Emergency Response Committee were the most cited issues according to the survey.
Small businesses are essential for Myanmar's economy to recover fast from the pandemic as the economic growth is forecasted to slow down to the 0.5% in 2019-2020 FY. Meantime, Covid-19 is threatening to devastate Myanmar's business community, especially the developing MSMEs, which are the backbone of the economy and main drivers in the economic recovery. Thus, it is recommended to increase more of the publicity of government policies and schemes to support MSMEs, and to encourage businesses and banks to actively seek an agreement to restructure loan interest and principal payments, according to the Asia Foundation.
[1] Covid-19 shuts down a third of Myanmar businesses, Myanmar Times
Government Measures to response COVID-19
In order to tackle the socio and economic issues resulted by the coronavirus pandemic in Myanmar, government and stakeholders from private sectors are cooperating and attempting to recover the country's economy with relief plans and business models. This pandemic has extensively disrupted economic activities and it is expected to have a long-term impact on various sectors.
The coronavirus was confirmed to have reached Myanmar on 23 March 2020. On 31 March, the Committee for Corona Virus Disease 19 (COVID-19), headed by Vice President-1 and made up of members from the various union ministries, was formed by the President to combat the spread of COVID-19 in Myanmar.[1]
To relieve the impact on the country's economy, the government announced a series of stimulus packages in late March, including a COVID-19 fund for small or medium-sized enterprises (SMEs) and textile and tourism businesses. The government also announced a deferral of commercial taxes and quarterly income taxes as well as exemptions from the 2 percent advance income tax on exports. The deadline for payment of income tax, which is due on 31 March and 30 June 2020, has been extended to 30 September 2020 for the most affected sectors such as hotel & tourism, manufacturing, and SMEs. Similarly, the deadline for payment of commercial tax, due from 31 March to 31 August, is also extended until 30 September, 2020.
On 18 March, the Ministry of Planning, Finance and Industry (MoPFI) announced the establishment of the Covid-19 Fund to help boost the economy. The initial 100 billion Myanmar Kyats (50 billion from Revolving Fund, and 50 billion from Social Security Board Fund), equivalent to approx. EUR 64.5 million, will be managed by the Myanmar Economic Bank. The fund is to provide support, in the form of low-interest loans, to the business sectors that are most affected by Covid-19 such as Cut-Make-Pack (CMP – i.e. garment companies), Hotel & Tourisms and SMEs. The fund is aimed to help the local business owners run the business and be able to pay wages. The loan with 1% interest rate will be available for one year. On 19 March 2020, the Ministry of Health and Sports issued guidelines with instructions for factories and workplaces to prevent infections of Covid-19. [2]
On 27 April, the government launched the 'Overcoming as one: Covid-19 Economic Relief Plan' which includes seven short term goals to be completed before the end of year. This includes the plans to provide monetary stimulus packages, exemption of tax and fees, easing the strains on banking sector and affected firms, promoting investment and international trade. For labour and workers, the plan is to provide health care benefits including medical and travel benefits for unemployed workers registered under the Social Security Board from six months to one year from the date of unemployment.
The Ministry of Labour, Immigration and Population (MoLIP) has provided social security benefits to a total of 26,305 workers of factories, workshops and workplaces affected by the restrictions against COVID-19 pandemic on 26 May 2020. As part of a move to contain the spread of COVID-19, all local factories had to close from 20 April to 15 May for mandatory inspections by the ministry concerned. Garment factories are allowed to reopen only after inspection, because they are not listed under 'essential businesses'. Workers from those factories who registered for social security under the Social Welfare Program will receive 40 percent of their salaries for the unemployed days in accordance with the Social Security Law.[3]
On 6 July 2020, the MoPFI announced the government's decision to provide additional 100 billion Kyats to the "Covid-19 Fund" which had set up in April 2020 to assist local businesses which are the most adversely affected by the covid-19 situation. The MoPFI also notified that the special loans with the 1% interest rate for 1 year have been made available by the government as a measure for the businesses to survive in the Covid-19 period. The additional loan would be granted as priority to the businesses in the agriculture and livestock sectors.
Currently, the government has allocated about 101 billion Kyats in loan to the 3,393 businesses which conform to the specifications in announcement dated 29 March 2020 of the work committee by diving into seven times.
Allocation of Financial Assistance and Loan to the Affected Businesses
| | | | | |
| --- | --- | --- | --- | --- |
| No. | Business | Quantity | Amount (Kyat mln) | Percentage |
| 1 | CMP (garment) | 45 | 6,312 | 6.24% |
| 2 | CMP (others) | 2 | 75 | 0.07% |
| 3 | Hotels | 340 | 15,721 | 15.55% |
| 4 | Tour Industry | 236 | 3,757 | 3.72% |
| 5 | Restaurants | 220 | 5,182 | 5.12% |
| 6 | MSME for foodstuffs, commodities, Products manufacturing industry and services | 2,550 | 70,081 | 69.30% |
|   | Total Amount | 3,393 | 101,128 | 100.00% |
Source: Global New Light of Myanmar
In addition to the current financial assistant to the affected businesses, government will allocate around 1.5 trillion Kyat in 2020-2021 FY to support those struggling from disruption caused by Covid-19, according to the MoPFI. The funds have been provided by international institutions such as IMF and JICA.
Regarding with the measures related with foreign direct investment (FDI) and foreign workers, the Directorate of Investment and Company Administration (DICA) is facilitating the stay permit and visa extension process to be conducted digitally. Meantime, the MoPFI called for investments for manufacturing COVID-19 related medical products using vacant state-owned factories. Initiatives have also been taken to better support and ease processes for high impact investments, e-commerce, infrastructure, and agriculture enterprises. For the trade sector, government announced on March 17, 2020 that the advance income tax of 2.0% on exports will be waived until the end of the fiscal year on September 30, 2020. As for the measures regarding with protection of essential products, the Ministry of Commerce (MOC) has banned speculation in the market of selling and distributing health aid equipment related to COVID-19, medicines, and consumer goods. Moreover, there will be waiver of the "specific goods tax," customs duties, and commercial tax on "critical" medical supplies and products related to the prevention, control, and treatment of COVID-19.[4]
[1] Myanmar leader forms new anti-COVID-19 committee, Myanmar Times
[2] Covid-19 impact and responses: Myanmar, Fair Wear
[3] Myanmar gov't provides social security benefits to Covid-19-affected workers, Xinhua Net
[4] Government and institution measures in response to COVID-19, KPMG
COVID-19 Economic Relief Plan (CERP)
The COVID-19 Economic Relief Plan (CERP) was launched on April 27, 2020 by the government to tackle the coronavirus crisis which resulted impacts on socio and economic problems. The CERP focuses on improving the macroeconomic environment through monetary stimulus; easing the impact on the private sector through improvements to the investment, trade and banking sectors; assisting laborers, workers and households; promoting innovative products and platforms; strengthening the health care system; and increasing access to COVID-19 response financing, including contingency funds.
The CERP comprises seven goals, 10 strategies, 36 action plans and 76 actions, each with an estimated timeline and designated authority in charge, covering a range of fiscal and social measures. It also includes commitments to increase funding for local businesses from 100 billion kyats (US$71.4 million) to 200-500 billion kyats. Under the plan, the government plans to establish a separate 100-billion-kyat fund by the end of 2020 for designated commercial banks to promote trade financing. According to the Ministry of Planning, Finance and Industry (MoPFI), the government is preparing to spend up to 5 percent of GDP for economic recovery from the pandemic. Myanmar's GDP is more than US$70 billion, which means that $3-3.5 billion is expected to be spent on stimulus efforts.[1]
The goals of the CERP are as follow:
Goal 1: Improve macroeconomic environment through monetary stimulus
Goal 2: Ease the impact on the private sector through improvements to investment, trade & banking sectors
Goal 3: Easing the impact on laborers and workers
Goal 4: Easing the impact on households
Goal 5: Promoting innovative products and platforms
Goal 6: Health care systems strengthening, and
Goal 7: Increase access to Covid-19 response financing.
The CERP is a timely intervention by the Myanmar Government to cushion the financial, social and economic impact of the Covid-19 pandemic. Several of the measures have already been implemented and has gradually aided the management of the crisis. It has received a positive response from the public as it benefits both businesses and individuals. The CERP will see the government increasing its spending to the extent necessary to support the Myanmar economy and its people. The measures are targeted at both large and small enterprises as well as the at-risk population who are undoubtedly feeling the adverse impact of the pandemic harder.[2]
Still, there are concerns regarding with the government's CERP. It was pointed out by the researchers and academics that the two major concerns about the CERP were the lack of a clear implementation strategy and the huge amount of borrowed funds it requires as Myanmar loans could end up being an additional burden on the country. Nevertheless, CERP is intended to support the trade and investment environment and with the concrete measures to protect and promote MSMEs. It is included easy access to credit, tax incentives, credit guarantee and waiver and deferent of different types of levies and fees. All are aimed to ensure that the sectors can recover and restore production capacity and employment as soon as the movement restrictions are eased. In order to ensure the efficient and effective relief plan for the businesses and all relevant sectors, government should work in close coordination with stakeholders from private sectors, trade bodies like UMFCCI and trade promotion specialists like ITC for investment and exports especially for the MSMEs, and the researchers and academics for the policy recommendations.
[1] Two-Thirds of Myanmar Businesses Struggle to Survive Pandemic, The Irrawaddy
[2] Myanmar: The COVID-19 Economic Relief Plan, Global Compliance News
Impacts on Garment and CMP Sector in Myanmar due to Covid-19
Myanmar garment and CMP industry constitutes one of the main exports of the country, bringing substantial revenues to the country and employing around 600,000 workers, more than 90% being women, in over 600 factories, according to the Myanmar Garment Manufacturers Association (MGMA).  Myanmar's manufacturing sector is largely concentrated in garment and textiles produced on the cutting, making, and packaging (CMP) basis, and it contributes to the country's GDP to a certain extent. The CMP industry has emerged as a very promising one in the export sector. The garment sector's export earnings are projected to reach up to 10 billion US dollars in 2024, according to the government's initial goals.
However, as the Covid-19 pandemic occurs globally, a number of garment factories in Myanmar are shutting down or limiting their operations due to a shortage of raw materials, a consequence of the closure of factories in Mainland China and cancelled and reduced orders from Europe and elsewhere. Moreover, the majority of the CMP enterprises import raw materials, mainly from China. These businesses have faced shortages of raw materials starting from February-end, owing to the current negative impact of the corona virus. At present, some CMP garment factories have shut down on the reason for the lack of raw materials due to the Covid-19 negative impacts, leaving thousands of workers unemployed.
Thus, exports of garments in Myanmar under the cut-make-pack (CMP) system were only worth $3.6 billion from October to July in the past ten months of fiscal 2019-2020 FY, according to data from the Ministry of Commerce (MOC).[1] The export volume of CMP garment decrease about US$ 60 million compared to the same period in the last fiscal year. Anyhow, the CMP and garment products export accounts for over 25% of overall country exports during 10 months in 2019-2020 FY. When garment export markets are analyzed, Myanmar exported 45% of garment to EU and the rest were Japan, South Korea and the US in 2019 and show that the sector is diversified.
Currently, the Covid-19 pandemic is having a significant impact on global garment supply chains.  Global brands and retailers are cancelling orders from their supplier factories and many governments are imposing restrictions on travel and gatherings.  As a result, many garment factories are suspending production and either firing or temporarily suspending their workers and trying to reduce the overall wages. The apparel industry in Asia is also highly sensitive to labor costs increases. Many garment manufacturers have relocated from China where wages have been increasing steadily for over a decade. 
One of Myanmar's big advantages is that its labour costs remain extremely competitive, and in particular are significantly lower than labour costs in Cambodia and Vietnam, where both of those countries have large garment manufacturing sectors.  Wage costs in Myanmar can be as low as approximately USD$64 per month. In Thailand, the monthly wage for a factory worker is approximately USD$358, in Vietnam approximately USD$150, and in Cambodia approximately USD$88. In the post Covid-19, the setting and scene are most likely that many economies and industries of the world would be pulling out of China, and that new investors might be looking for fresh territories for investment.[2] Therefore, lower labour costs in Myanmar could attract the global garment companies which are trying to reduce their worker wages and Myanmar garment and CMP industry would have huge potential for the post Covid-19 scenario.
[1] Myanmar exports CMP garment worth $3.6 bn in 10 months, Fibre2Fashion News Desk (DS)
[2] Manufacturing in Myanmar, Charltons
Manufacturing and Processing Sector
Manufacturing and processing sector contributed 24% of GDP in 2018-19 FY. The Myanmar manufacturing sector was recorded an accelerated downturn in April as a result of Covid-19, according to a survey from IHS Markit. The manufacturing Purchasing Managers Index (PMI) is a composite single-figure indicator of manufacturing performance. It is derived from indicators for new orders, output, employment, suppliers' delivery times and stocks of purchases. Any figure greater than 50.0 indicates overall improvement of the sector.[1] Indicators for output, new orders and employment, accounting for 75 percent of the weight of the PMI, all sank to new record lows in April.
The IHS Markit pointed out that Myanmar Manufacturing PMI was 29.0 in April, 38.9 in May and 48.7 in June 2020 from 45.3 in March, which signal a severe decline in manufacturing business conditions in Myanmar. Although the PMI figures seemed to improve, the manufacturing sector was continued to decrease in June with a manufacturing PMI score of 48.7. It remained beneath the boom-or-bust line of 50 that separates expansion from contraction. Individually, output and new business both expanded for the first time since February, while there was a further drop in employment.
However, Myanmar manufacturing sector was recovered in July 2020 and the PMI score increased to 51.7. It is stated that recovery of Myanmar manufacturing sector and economy is faster than regional countries due to the China's quick economic recovery, according to the Oxford Business Group (OBG). Although demand from Japan, India, Europe and US decreased, manufacturing and new orders from China have increased and thus, the Myanmar manufacturing sector has recovered from the downturn cause by the Covid-19 pandemic. Still, the local manufacturing labor force is on a decline although manufacturing and new orders increased in July, 2020.[2] 
According to World Bank's Economic Monitor June 2020, industrial production is expected to contract by -0.2 percent in FY2019/20 as lockdown measures restrict access to labor, the closure of the overland border with China disrupts the supply of industrial inputs, and both domestic and international consumer demand remain soft. Myanmar which has a labour force of 22.4 million in over 50,000 registered industries and other SMEs offers a large pool of low-cost workers for foreign manufacturers and has emerged as one of the most popular production bases in Southeast Asia for labour-intensive industries, namely industries that require substantial amounts of human labour to produce products. The government of Myanmar and international organizations focused and committed to support small firms to mitigate the Covid-19 impact. Despite Covid-19 crisis period, FDI approved amount for Manufacturing Sector stood third place by 18% (US$ 795 million) after the investment in Real Estate Sector of 21% (US$ 896 million) and Power Sector of 39% (US$ 1.7 billion) in 2019-20 FY (from October to June).  The manufacturing businesses permitted up to June in 2019-20 FY are rubber, shoes, animal feeds and aqua feeds, purified drinking water, lighting fixtures and accessories on CMP basis, assembling and manufacturing motor vehicles, processing rice and rice related products, garment, processing value added agriculture products,  and fiber cement board.
[1] Myanmar PMI, The Global Economy
[2] Myanmar economy to recover fast from pandemic, PMI rising: business report, The Myanmar Times
Agro-based food industry Sector
An agriculture account nearly a quarter of Myanmar's GDP and employs over 12 million people, or around 54% of the labour force. It has also contributed to around 20% of export value over US$3 billion annually. Rice is the most common crop in the country, followed by pulses and maize. Impacts of Covid-19 on agriculture sector were delayed commodity flow, loss of markets, suspension of export sector, crops destroyed due to lack of supply chain facilities, strict restriction on trade policy of neighboring countries and decline of investment.[1] The Ministry of Agriculture, Livestock and Irrigation (MoALI) announced on May 13 that jobs and financing for farmers will be made available under the CERP plan.  MoALI will harness a total of 400,000 acres of farmland on which it will work under a joint venture with the Myanmar Rice Federation to produce seeds for planting. This will take up half the land. The remaining half will be used for the growing and harvesting of crops. Funds are expected to come from the government budget as well as international financing. This also aligns with the CERP plan, under which the government has pledge to support farmers with small-scale faring and seed production.[2]
The CERP plan also details specific measures to support the agricultural sector, including cash or lending support for smallholder farmers who have lost revenue in order to support input purchases in time for monsoon planting, the establishment of rural cash-for-work programs, to be implemented by the end of the year, and the facilitation of rice exports to maintain incentives for farmers to plant this season.
World Bank approved on 26 June 2020 for a $200 million credit from the International Development Association (IDA) to increase agricultural productivity and diversification and enhance market access for Myanmar farmers.[3]
Agriculture sector (20 % of the economy in 2019-2020 FY) has proved resilient with growth estimated to slow by less than in other sectors, to 0.7 percent in 2019-20, thanks to strong crop production offsetting a weakening livestock and fisheries sector. Therefore, both governments' measures for agriculture industry and incoming demands of agriculture products from abroad made the agro-based food industry as one of the potential sector to be growth under the Covid-19 crisis. Currently, the exports of agriculture products have been valued at about US$ 3.07 billion for the 9 months since October to June in the 2019-2020 fiscal year, an increase of US$ 504.7 million compared with the year-ago period which earned US$ 2.56 billion, according to the Ministry of Commerce. The chief items of export in the agricultural sector are rice and broken rice, pulses, corn, and rubber. Fruits and vegetables, sesame, dried tea leaves, sugar, and other agro products are also shipped to other countries.
Currently, the Ministry of Commerce is working to help farmers deal with challenges such as high input costs, procurement of pedigree seeds, high cultivation costs, and erratic weather conditions.[4] Myanmar has already set the goal of turning itself into an agro-based industrial country as it possess huge swathes of vacant and fallow land, plenty of labour, and ready internal and external markets. Moreover, the government has added Fresh Fruits and Vegetables Sector and Food Processing Sector as part of the potential export sectors to prioritize under the National Export Strategy (NES) 2020-2025. Meanwhile in 2019, Myanmar signed a memorandum of understanding (MoU) with Japanese business entity to set up a new industrial zone in Yangon, where quality food-based products will be manufactured and in which the main raw material will come from domestic sources. Thus, Myanmar has huge potential to become value-added exporters of agriculture products and to fulfill the world's food requirement under the global Covid-19 pandemic.
[1] Discussion on Impact of COVID-19 on Agriculture sector, The Global New Light of Myanmar, 19 June 2020
[2] Myanmar Livestock sector decline may pose longer term food security issues as the result of  COVID – 19, ThaiBizMyanmar
[3]   Press Release-Myanmar: Project to Boost Agricultural Productivity, Support Farmers in Wake of COVID-19, World Bank, 26 June 2020
[4] Agro exports up $466 mln as of 12 June, The Global New Light of Myanmar
Rise of E-Commerce and E-Payment amid Covid-19 pandemic
The size of Myanmar's E-commerce (electronic commercial) market was approximately USD 6 million in 2018. However, it is expected to see strong growth in 2020 and expand rapidly within the next 5 years. To avoid being infected by the Covid-19 virus, consumers who have formed the habit of online shopping are becoming more likely to order food and choose daily necessities and fresh food online instead of going to an offline supermarket. Food and clothes e-commerce is seeing an explosive growth in Myanmar under the Covid-19 epidemic. Current foundations in place to spur future growth in Myanmar's E-commerce sector include a growing young and tech-savvy population, increasingly innovative door-to-door logistics solutions that have been adapted to meet local needs, and a vibrant start-up scene, with more of the young entrepreneurial generation looking to develop new business solutions.[1] Growth is set to begin in Yangon and Mandalay, the two largest economic cities, and sectors set to benefits from the growth of E-commerce are retail, healthcare, clothing and entertainment. With 30 percent of Myanmar's people living in cities, and 70 percent of the population is under 40 years old, there is a massive potential for huge growth of E-commerce industry.
E-commerce is getting more active in Myanmar due to COVID.  Most activities are;   
Online shopping by retail sales direct to consumers
Online marketplaces, which process business-to-consumer (B2C) or consumer-to-consumer (C2C) sales
Business-to-business (B2B) buying and selling
Digital marketing
E-payment
One of the factors to boost the E-payment in Myanmar, the Department of Trade under the Ministry of Commerce announced in April 2020 that it will grant e-license for over 190 import items in the third time. To carry out the fully online licensing system during the emergency period of Covid-19, H.S codes for 91 import items and 73 export items have been issued for the first time, 455 more import items are available for the online licensing system in the second time, and 196 import lines for the third time. Government has launched the online licensing system for export and import businesses starting from 1 April, intending to reduce the person-to-person contact and mitigate the spread of Covid-19. Therefore, the process of license applications, fee payment and receiving licenses can be done with the MPU E-commerce pay and the MCB E-commerce Pay of the Myanmar Citizens Bank under the new service.[2]
Meantime, local retailers have called for a law to regulate E-commerce and help grow the industry. The government needs to improve its legislative and regulatory framework to effectively govern the industry and take care of concerns regarding consumer protection, information privacy, security of financial transactions and cybercrimes, as well as a need for better logistic infrastructure and higher online payment penetration to improve the better E-commerce industry. Thus, the Ministry of Commerce (MOC) aims to increase trust between the buyers and sellers by increasing selling through marketplaces and platforms and so, voluntary registration of online shops is setting to do with the announcement in July 2020. This registration system will build further trust between online businesses and consumers. Moreover, it will also allow disputes to be settled in a fair and legal setting. Therefore, the informal social e-commerce businesses are going to transform into registered marketplaces. In addition, the MOC is regulating the E-commerce industry via instructions and orders as it prepares to draft a policy framework to adopt E-commerce laws and guidelines at the end of 2020.
Myanmar's Covid-19 Economic Recovery Plan (CERP) also identifies the need for expanding the digital connectivity to support e-commerce, digital mode of service delivery and in giving a big push for e-governance. According to Myanmar Economic Monitor June 2020 released by the World Bank, developing ICT skills among entrepreneurs, building out electronic-payment systems, expanding digital literacy, retailed licensing and clarifying the legislative and regulatory framework for e-commerce could enable the retail sector to cope with the impacts of social distancing while providing a digital platform to support the development of small and medium enterprises (SMEs). 
[1] E-Commerce in Myanmar: A Rising Tide, AEC Business Advisory
[2] Third-time e-licence for 190 import items to be granted: MoC, The Global New Light of Myanmar
Covid-19 Impacts on Transports and Logistics
Movement restrictions imposed to prevent the spread of COVID-19 have left many people confined to their homes. Offices have instituted work from home policies, while factories and workshops were forced to close in late April pending government inspections. Some businesses have shuttered altogether, either permanently or until COVID-19 prevention rules are rolled back. While COVID-19 has brought parts of the economy to a halt, the transport and logistics sectors have to keep moving. Although demand for transport had dropped because of the pandemic, there were still exports to send to port and imports to deliver to factories and warehouses, shops around the country in need of restocking and markets that require fresh produce.[1]
Many orders for garments being cancelled and shutdown of some factories led to the less need for trucking industry. Of the 2,500 trucks under the Myanmar Container Trucks Association, only about 30 percent were on the road at the moment during the April and May 2020. Ships were still coming to the ports and unloading goods and still picking up exports, but many of the goods were resting around at the ports because many factories were closed, or there were not enough workers at the factories or warehouses to accept deliveries. To ease the cost on businesses and to help keep the transport system running, the Myanma Port Authority reduced charges for demurrage, imposed when a ship is not loaded or unloaded within an agreed time, as well as storage fees on April 6, 2020.
Moreover, the customs department has announced that importers will be able to secure online customs clearance for their goods on a national basis as a measure to support businesses during the ongoing coronavirus outbreak. This can be secured via the Myanmar Automated Cargo Clearance System (MACCS) which is the country's existing online customs clearance system. By using the MACCS, the user can pay duties via any computer that has an Internet connection. So, the user will not need to go to the Customs Department offices to pay duties and the trade would be faster.
Although demand for transport and logistics services in Myanmar decreased in April and May 2020 due to the containment measures and lockdown orders from the government, rising online shopping customers makes the market opportunities of logistics companies goes up. Starting from June 2020, transportation services become normal again after government lifted the lockdown orders and night curfews.
Meanwhile, the small package delivery businesses under the logistics industry increase in huge amount when the trucking industry declined in the April and May. This is due to the increasing e-commerce and online shopping industry as the packages bought by the customers are needed delivery services. Community lockdown led to the more people staying at home and bought the things they need via online, so the small package delivery businesses needed to recruit more people to deliver the packages door to door on time. These courier services and small package delivery businesses will increase more in the future along with the growing E-commerce industry.
Currently, there are over ten express and delivery service companies registered officially, but there are more than 150 small package delivery businesses which are unregistered. Growing express, couriers and parcel delivery services, which is part of the logistics sector, could generate taxes for government budget if the government could release the new postal law and regulations to license the unregistered delivery businesses. 
[1] Keep on trucking: transport sector remains on the move despite COVID-19, Frontier Myanmar