Rising Commodity Prices and Inflation Rate
Increasing prices of essential food items
According to the International Food Policy Research Institute (IFPRI)'s survey report on July 2021, food price inflation over the 12-month period from June/July 2020 to July 2021 amounted to 7.0 percent. Prices of the cheapest available rice and cooking oil increased by 13 percent and 47 percent, respectively, in July 2021 compared to June/July 2020. On the other hand, onions (-26 percent), fresh fish (-14 percent) and chicken (-6 percent) showed price decreases compared to June 2020. Price changes between May and July 2021 were relatively minor, except for green leafy vegetables, which decreased by 17 percent.
Short supply, delays in transport (resulting in high spoilage), as well as high transport costs of perishable vegetables resulted in more than doubling of the average tomato price. According to the September market price rate, the price of a bag of rice has risen from K47,000 ($26.30) to K52,000 ($29.10), while the price of one viss of seasoning powder has soared from K3,500 to K6,500. One viss of cooking oil climbed from K4,000 to K5,500. Although these prices can vary according to regions, the main thing is prices of all essential food items are increasing.
Food price inflation was relatively higher in rural versus urban areas and in the Dry Zone and the Coastal areas. Households in the poorest quintile faced much higher food price inflation (10.4 percent) than those in the richest quintile (4.3 percent) as rice and cooking oils, which prices have increased substantially over the last year. The changes in the retail prices of food products compare to normal periods can be seen as follow.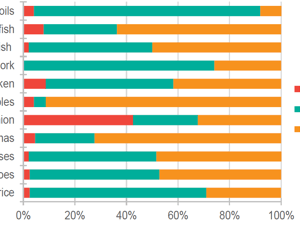 Source: IFPRI's Food vendor survey (July 2021)
Increasing prices of essential non- food items
Besides, the prices of household goods like detergent, shower gel, toothpaste, toilet paper and etc. have also increased. Throughout COVID-19 period, there were closure of factories, and shortage of raw materials which cause insufficient supply of household goods to the market. Besides, many people also did panic buying at the beginning of  every Wave. Therefore, the prices of instock goods are higher than before. Moreover, the rise in fuel price and the COVID rules cause transportation charges higher than usual, so prices of the goods also increase in the market. Moreover, there is another reason that cause the prices increase, the Ministry of Commerce has banned the imports of detergent, shower gel, toothpaste and toothbrushes at border trade zones in early June, 2021. People were afraid of the shortage of supply of their essential non-food items, so they try to buy a massive amount and store at home whenever they can get the items they usually use. Another reason of increasing prices is the selfish shop owners. They increase the prices of instock items whenever the lockdown news or banned news released even they have bought them with normal price.
Estimation of inflation rate
Inflation rate in Myanmar had increased to 6.51 percent in July from 5.68 percent in June of 2021, according to Central Statistics Organization's Consumer Price Index (CPI). On 29 September, Reuters mentioned Myanmar's currency has lost more than 60% of its value since the beginning of September, driving up food and fuel price in economy since the beginning of February 2021. The significant depreciation of the Kyat against the US dollar has passed through to the prices of imported consumer goods and inputs. According to the market data, October 2021 had the highest inflation rate as the exchange rate rose to 2,300 kyats per dollar in the first week of October. Moreover, the prices of fuel were also at the peak during that time. On the other hand, the manufacturing PMI data indicate that higher input prices have been reflected in higher output prices in recent months. Overall, average annual inflation of 6 percent is projected for FY 2021, which would be consistent with a significant acceleration in inflation in the second half of the year, according to the World Bank's data. Nevertheless, some prices including food prices are likely to increase more sharply as already discussed with adverse impacts on real incomes and livelihoods for the household in the country.