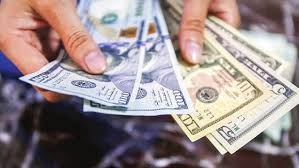 THE US dollar exchange rate keeps falling in the local forex market. However, the Central Bank of Myanmar (CBM) purchased US$12.7 million in the auction market within four days, forex market data showed. In a bid to keep the exchange rate stable, the CBM purchased 1.8 million dollars on 21 September, 3.3 million dollars on 22 September, 3.8 million dollars each on 23 and 24 September at an auction market rate.
The CBM has purchased $30.9 million in the auction market between 1 and 24 September. Despite the CBM's purchase, a dollar touched a low of K1,312 at the opening time on 24 September. The instability in the exchange rate posed difficulties to those stakeholders engaged in the agriculture and livestock supply chains including farmers, traders and exporters. That is why the stable exchange rate is vital of importance for the businesses. At present, the local forex market sees the weak sentiment amid the coronavirus outbreak and the trade disputes between the US and China, the business experts shared their opinions.
This year, the exchange rate moved in the range of K1,456-1,493 in January, K1,436- 1,465 in February, K1,320-1,445 in March, K1,395-1,440 in April, K1,406-1,426 in May, K1,385- 1,412 in June, K1,367-1,410 in July and K1,335-1,390 in August. Last year, the rates are pegged at K1,508-1,517 in July, K1,510-1,526 in August, K1,527- 1,565 in September, K1,528- 1,537 in October, K1,510-1,524 in November and K1,485-1,513 in December. On 20 September 2018, the dollar exchange rate hit an all time high of K1,650 in the local currency market.
Source: The Global New Light of Myanmar